This post contains references to products from one or more of our advertisers. We may receive compensation when you click on links to those products. For an explanation of our Advertising Disclosure, visit this page.
There's a new travel essential you will want to tuck between your wallet and your phone. It's your face mask. The best face masks for flying and travel in 2022 are airline-compliant while providing optimal safety and comfort. If you're planning on flying, check out these options. There are a lot of mask options on Amazon or at the end of the grocery aisle to consider so we reviewed some of the top masks for flying below.
Editors note: Looking for airline miles? Check out these new travel miles credit card offers worth over $1,000 in travel.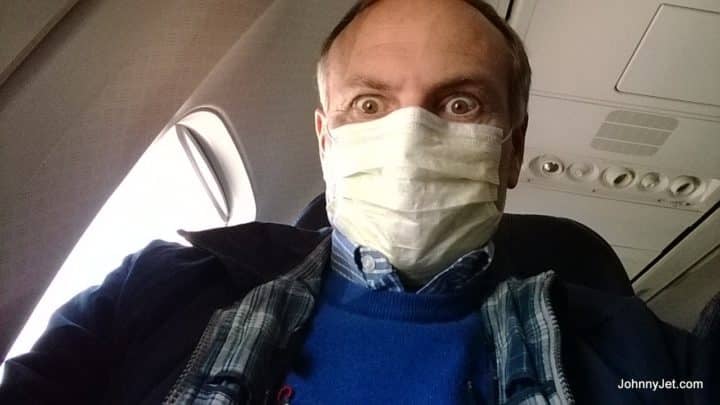 The Best Face Masks For Flying & Travel 2022
Airline Face Covering Guidelines
Bringing the wrong mask means you might be unable to board your flight. Airlines are offering face masks at the gate, but quantities are limited. The airline masks at the gate are for flyers who have a mask that doesn't meet these basic face-covering requirements:
Covers your nose and mouth
Is secure under the chin
Cannot have an exhalation valve or vent
Must be breathable material but not mesh or lace-like material
The U.S. airlines base their face mask requirements on the current CDC guidelines. Also, face shields and "costume masks" are not eligible substitutes.
Depending on the airline, you might be able to wear a neck gaiter or scarf instead of a cloth or disposable mask.  But major tourist attractions and other travel providers may not allow these face mask alternatives.
As most public places, including airport terminals, require face masks at all times, you likely won't make it to the gate without a face mask of some sort.
The Best Face Masks for Flights
All of us prefer different face masks. You might prefer the convenience of disposable masks. Others prefer washable cloth masks with a personalized design to brighten someone's day. Your preference might be somewhere in between.
Levi's Re-Usable Face Masks
From the iconic clothing brand, Levi's Re-Usable Face Masks can be a good option because Levi's clothing tends to be of higher quality than generic store brands. You can buy a three-pack.
EnerPlex Premium 3-Ply
When traveling in 2020, having a comfortable face mask is crucial. The EnerPlex Premium 3-Ply Reusable Face Mask is a breathable option that comes in several sizes. Made of three layers (the outer layer is made of DWR 100% polyester, the middle layer is a cotton blend, and the inner layer is a NanoFine cotton blend), this mask provides protection, security, and long-lasting comfort for extended periods of time. It is also machine washable, perfect for everyday use.
Evolvetogether
You can buy a 7-day or 30-day supply of evolvetogether disposable medical-grade masks. These masks have exciting designs that make these different than the ubiquitous disposable mask. Each mask you purchase helps evolvetogether donate a mask and also plant a tree.
The masks are breathable and have a hidden nose bridge to help keep your mask snug. Your purchase includes a sustainable travel case to keep your mask supply organized and sanitary as you travel.
Evolvetogether produces these masks in a FDA-registered personal protective equipment (PPE) facility. Few mask manufacturers can boast this claim so you can have extra peace of mind in regards to the mask quality.
Folk Project Embroidered Face Masks
The Folk Project 100% cotton masks are handmade in the USA and support the Navajo Nation. You can get colorful masks with embroidered floral designs. Folk Project donates a mask to a Native community or a migrant shelter when you buy one.
Safe+Mate Cloth Face Mask
The Safe+Mate Cloth Face Mask has behind the ear loops. It also has a strap going behind your head to take some of the discomfort from your ears on a long flight. Safe+Mate may also donate a disposable mask for each face mask that you buy to help those in need.
Marine Layer
You can find some of the most comfortable masks at Marine Layer. You can choose a two-layer adjustable sports mask with over-the-ear loops. The tri-layer Signature Tie Mask has string ties instead of elastic that can provide more comfort. Both masks use tee shirt material that can be less abrasive than most cloth masks.
These masks also feature a filter pack that you can use for replaceable carbon filters.
Plover Organic Masks
Plover makes 100% organic face masks. The organic cotton sourcing is certified by the Global Organic Textile Standard (GOTS). There are many online sellers claiming to sell organic cotton masks. However, they are likely a scam. Children's face masks are available as well, also in organic cotton.
If you like organic cotton, Plover also sells 100% organic bedding including duvets, pillowcases, and sheets.
MaskClub
Sport your favorite brand, superhero, or retro cartoon character with MaskClub. There are more than 1,000 officially licensed designs you can choose from to get a mask for your entire family. You will also find unique tye-dye, paisley, and other one-of-a-kind designs.
Vistaprint
If you have ever needed business cards or other displays printables for a conference, you're likely familiar with Vistaprint. Despite fewer business meetings, Vistaprint offers print-to-ship masks.
You can choose from premade designs for various themes including outer space, birds, or your own custom design. It's possible to upload your own logo or picture that can help you make a mask that's different than what anyone else can produce.
For the perfect face mask, you can have a Vistaprint designer create several options for you within 24 hours of submitting your request.
Highermou Clear Transparent Face Mask
Face masks can help control the spread of germs but it's harder to communicate with others. Most of us didn't realize how important non-verbal communication is in everyday conversations. The Highermou Clear Transparent Face Mask has a transparent plastic window over your mouth.
This window lets others see your smile and lip movements as you speak.
PADI Gear
Having to change your masks often means old masks enter the waste stream or cast out as litter in public places. PADI Gear masks recover ocean plastic for a second life. The outer layer is 100% recycled ocean waste plastic and the inner mask layer is 92% recycled polyester and 8% elastane.
These masks have five fun aquatic patterns including whale sharks and manta rays. You secure the mask with ear loops.
Unlike other mask options, these masks come with five replaceable carbon filters. Most producers have you buy the filters separately.
Summary
The best face masks come in different materials and designs. However, they all fit snugly so you can board your flight to visit family, have fun, or conduct business. If you're not sure which style is best for you, try several different types to see which is the most comfortable for your travel habits.
FAQs
Should I wear a face mask on an airplane?
Yes, all commercial airlines require passengers above age two to wear face masks at all times when boarding, in the cabin, and deplaning. You can remove your mask when actively eating and drinking. However, you must put your mask back on as soon as you finish.
Related: 3 More Ways to Keep Your Glasses From Fogging Up While Wearing a Face Mask
Can I wear a face shield instead of a face mask on an airplane?
Airlines do not let you wear a plastic face shield instead of a face mask. Face shields offer some protection to your mouth and nose but don't directly cover your nose and mouth. Airlines require a face covering that fits snugly over your nose and securely under your chin.
Some international airlines do require or encourage face shields for passengers in the main cabin. This shield protects your eyes and is an extra layer of protection outside your mask.
Related: Can You Wear a Face Shield Instead of a Mask on a Plane?
How long should you wear a face mask at one time?
Most face mask makers recommend wearing your mask up to 8 hours at once. You should consider packing multiple masks for travel days in case you must go beyond that 8-hour recommendation.
Related Articles:
---
Have your own tip? Email it to whitney@johnnyjet.com!
Want to see more tips? Click here for all 1,786!
Want even more travel tips? Sign up here for the Daily Travel Tip newsletter! Enter your email address and check "Daily Travel Tip" to receive Johnny's best tips in your inbox each day!
If you already subscribe to our weekly newsletter, you can sign up on the same page. Just fill in your email and check "Daily Travel Tip" on the same page. You'll receive an email with a link to update your JohnnyJet.com preferences. On that page, just click the Daily Travel Tip box and Update Profile.