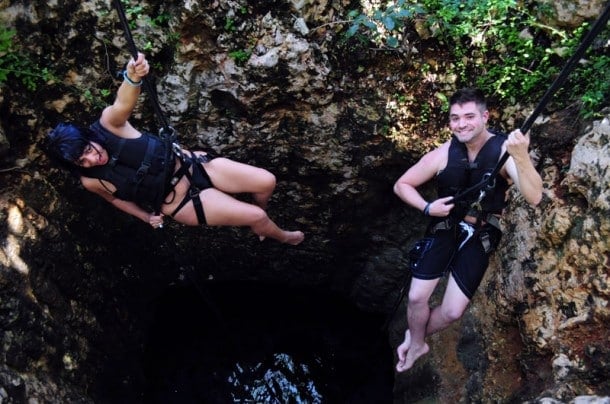 The only thing we found we were lacking in Mexico's Riviera Maya was time. You can visit Mayan Ruins, zip line through the Jungle, dine at a world-class restaurant and explore a thriving downtown nightlife scene all within the same day. Even after doing all these things, we had only just begun to uncover all that Playa del Carmen had to offer. Here were some of our favorite things we saw and did in and around Playa del Carmen, Mexico.
Tulum
With its picturesque setting atop the cliffs overlooking the Mexican Caribbean, I found the Mayan city of Tulum to be the perfect combination of natural beauty and history. Located just an hour out of Playa del Carmen, it is definitely worth the trip.
Our expedition to Tulum was arranged through Alltournative Offtrack Adventures. Robbie, our guide for the day, picked us up from the hotel around 7:30 a.m. We arrived at Tulum about an hour later, and although it was still early, it was already hot and humid. After a brief walk through the Mayan jungle, we passed through a walkway into the ancient walled city.
Robbie led the group through the ruins, stopping periodically to tell us about the history of the city and Mayan culture in general. He also explained the Mayan calendar and reassured us that come December 21st, the world won't be ending.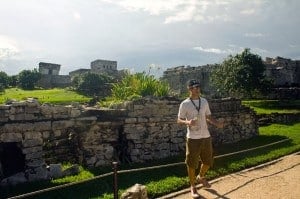 After our tour concluded we were free to explore on our own. My girlfriend Alanna and I took advantage of a few brief photo opportunities and then made our way down the stairs to the beach. The clear blue Caribbean Sea offered the perfect escape from the heat and humidity. Swimming in the ocean with Mayan ruins sitting atop the cliffs behind us was almost surreal. We then dried off and made our way back through the ruins to the restaurant onsite. We cooled off with a nice cold drink and prepared for our next adventure.
Good to Know: Get there early to beat the heat and the crowd. There aren't many shaded areas and it is hot and humid. We went on a weekday and at 8:00 a.m. there was no line at the entrance, but by 11:00 a.m. there was a long line.
For more information on Tulum, read Lindsay Taub's article Tulum: Maya Heaven
Jungle Maya Expedition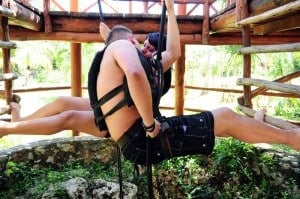 After Tulum our Alltournative guides took us to their Jungle Maya Expedition for an adventure filled afternoon of ecotourism. We donned life jackets and literally jumped right into our first activity—a tour of part of the world's largest underground river. We made our way through the dimly lit cave system, careful not to bump stalactites along the way. After reaching the other side, we made our way above ground. After a brief demonstration, we found ourselves rappelling into a cenote—which is a naturally occurring opening into a cave where the roof collapsed or eroded. We made our way through the cave system again and were told that we now had the chance to participate in a Mayan ceremony.
Alltournative is an ecotourism company and they work with the local Mayan community to promote environmentally friendly activities while still respecting the Mayan culture. Since the cenotes are sacred to the Mayans, they ask the visitors to participate in a cleansing ceremony. The ceremony is brief, but worth the experience. It's a chance to absorb some of the traditional Mayan culture in the natural surroundings of a beautiful cenote.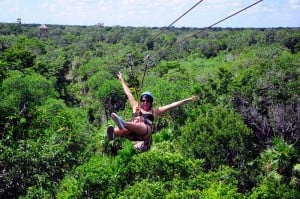 A quick change of pace then brought us to the next activity … zip lining! In total, there are three zip lines that Alltournative offers as part of their Jungle Maya Expedition. Our guides gave a brief safety demonstration, and before I knew it I was climbing up a rickety wooden bridge to a tower up above tree level. I only had a few seconds to admire the view before I found myself flying through the jungle. This was my first experience zip lining, but I fell in love with it right away. After the initial zip line through the jungle, there were two more. The third and final one was not as tall as the others, but it ended with a water landing in the underground river. So bring a bathing suit and keep your feet up!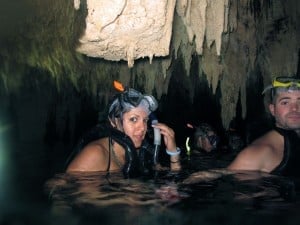 After the final zip line we once again found ourselves in life jackets—but this time they were accompanied by snorkel gear for a more in-depth tour of the underground river. Our guides told us to stick close as we followed them into the cave. We swam at a moderate pace and although it was extremely dark, we were able to see thanks to our guides' flashlights. We saw a few fish and stopped at one point to observe a group of baby bats. After about twenty minutes of swimming through stalactites and low cave ceilings we were back where we started.
All this physical activity had helped us work up quite an appetite. Lucky for us, we were then offered a traditional Mayan lunch. The meal consisted of empanadas, a tortilla lime soup, chicken, rice and beans—all of which was prepared on scene and delicious.
With our bellies full and our bodies exhausted, we were ready to call it a day at Alltournative. However, they had one more trick up their sleeve, which was the 4 x 4 ride back. Our group boarded two large 4 x 4 trucks with bench seats on each side of the bed. As we bumped our way onto the trail we soon found out why the seats and metal bars were padded. The ride was anything but smooth—and I think that was the point. We climbed over rocks, went up on two wheels and got tossed around in the bed of the truck. I could handle zip lining, rappelling and snorkeling underground, but this bumpy ride after a large meal was the hardest test of the day.
The price for Alltournative's Tulum+Jungle Maya is 119 USD for adults. You can get a 5% discount by booking online with promo code: 5%0FFWEB
Good to know: At both the Jungle Maya Expedition and Xel-Ha you should wear biodegradable sunscreen. Both locations are home to natural wildlife and the Mayans still use the rivers as drinking water.
Xel-Ha
Xel-Hais a natural waterpark that is located about 45 minutes outside of Playa del Carmen—it's a tropical paradise that seems to have it all. The park sits where an underground river meets the Caribbean Sea. Within the park you can snorkel, cliff jump, zip line, swim with dolphins and even float down a really lazy river. Did I mention that admission is all inclusive food and drink—including adult beverages?
Good to know: Lockers, changing rooms, and showers are all available to park guests. There were several of these amenities throughout the park, and they all seemed clean and easily accessible.
Our day started with Delphinus—where we got to swim with dolphins. This usually is an additional fee, but it was included with our LivingSocial Adventures trip. Over the course of an hour, a trainer worked with our group and a pair of dolphins. We swam, pet, hugged, learned commands and even got a free ride from the dolphins via a "foot push." Unfortunately, no photography is allowed during this, and the pictures and videos available after are very expensive (~25USD for an 8 x 10).
After Delphinus, we decided to take advantage of the all inclusive food and drink. There are three restaurants onsite, and two of them are buffet style. The breakfast buffet had standard Mexican breakfast items: eggs, rice, beans and chilaquiles (fried corn tortilla pieces, cooked in salsa) among other things. After a bowl of menudo (spicy soup made with tripe and vegetables) and a Michelada (beer, lime juice, clamato, hot sauce, and spices), I was ready to explore the rest of the park.
There is a trail that leads to the top of the lazy river. They have bikes onsite that you are free to use, and it's about a 10 minute ride to the top. You can then grab a tube, snorkel gear and flippers if you'd like. The river starts as a narrow stream that meanders through a tunnel of mangrove trees.
About 15 minutes in, the foliage opens up and you emerge onto the full lazy river. You can continue to float, or you can do like I did, and ditch the tube and snorkel. There are several places that you can stop and climb ashore to cliff jump, zip line, and even attempt to cross a rope bridge – which is a lot harder than it looks!
While you certainly could float the entire length of the "lazy river" a more physical approach like my own definitely calls for a cold drink at the end. Lucky for me, they are plentiful in Xel-Ha – Everything from purified water and soda, to beer and mixed drinks. We stopped by the Mexican buffet and helped ourselves to more of the delicious food. The remainder of our day at Xel-Ha was spent casually exploring the grounds. There are paths that lead everywhere – to the beach, into the forest, etc.
Xel-Ha all inclusive admission is 71 USD if booked seven days in advance. Dolphins Primax (60 min) is an additional 134 USD. Photo's cost additional and they are expensive. I was able to negotiate and get a lower price, but it still hurt my wallet.
5th Avenue
Avenido 5 is the main strip in Playa del Carmen. Day or night, you're bound to find the street full of people. During the day you can check out all of the shops that line the street or just grab a bite from one of the countless restaurants. Some of the shop keepers can be pushy, but most will let up with a, "no gracias."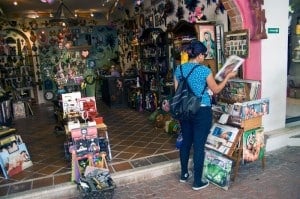 A lot of the shops sell your typical touristy souvenirs, but you can find some real gems in amongst them. Pachamama, located on Calle Corazon, at 5th Avenue and 14th Street, was one of our favorites. It was a small shop that sold hand-made Mexican art – Some traditional (think Día de los Muertos art), and some comical (think luchadores in a VW).
After the sun goes down, the nightlife on Avenido 5 comes alive. If you venture towards the lower street numbers, you'll find plenty of bars and club – which the locals refer to as discotheques. If you venture towards the higher street numbers (30+) you'll find more low key and traditional restaurants.
For more information about Avenido 5, read Where to eat and drink in Playa del Carmen.
We only touched the surface of all that this beautiful destination has to offer. You can venture outside of the city – take a ferry to Cozumel or rent a car and drive to Chichen Itza. No matter what your travel style is you will be able to find fun and excitement in Playa del Carmen.
For more about our Playa del Carmen trip, read the articles below:
This trip was sponsored by LivingSocial Adventures