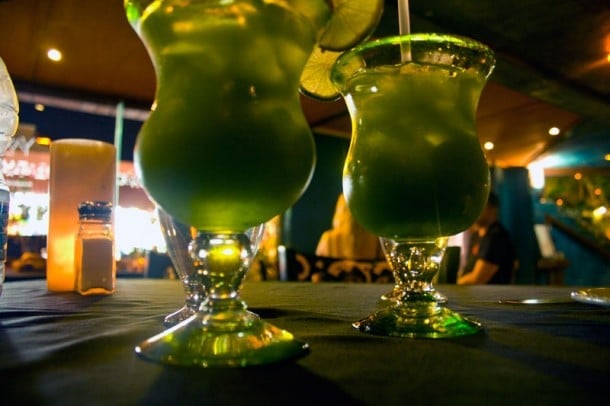 No matter what your tastes may be, you will be able to find somewhere to eat (and drink) in Playa del Carmen.
The layout of Playa del Carmen is relatively straight forward. Avenidas (Avenues) run parallel to the beach and are in increments of five (5th, 10th, 15th, etc.). Calles (Streets) run perpendicular to beach and are in increments of two (2nd, 4th, 6th, etc.). Juarez and Constituyentes both run perpendicular (like Calles) but aren't numbered. The "touristy" area falls mostly between these two streets on Avenido 5. If you keep going North (~30th) you start to find Mexican stores, hole in the wall restaurants, and a more low key setting. If you keep going South (~6th) it starts to be more geared towards younger crowd. You will find clubs (discotheques), bars, and more of a "party scene" setting.
Yaxche
Yaxche is located on the corner of 5th Avenue and 22nd Street. They classify their menu as Mayan fusion cuisine and we found the atmosphere to be very cosmopolitan. My girlfriend and I shared the tortilla lime soup, which is based on a traditional Mayan recipe. For a main course, I had the Xaman-Ha, which is a fresh fish fillet stuffed with vegetables, wrapped in chaya leaves, and finally poached in white wine sauce. We both really enjoyed the unique menu options, and found the service to be efficient and friendly.
Yaxche also offers a twist on standard margaritas with their Mayan Margarita. It contains cucumber, sour orange, chaya, and tequila and is served with chili and salt on the rim. They were tasty and refreshing.
The Mayan Bistro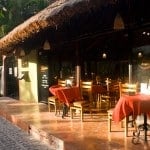 The Mayan Bistro is located at Hotel Mexicano Aventura, on the corner of 10th Avenue and 22nd Street. It is a small, relaxed bar and restaurant that's great for a quick bite to eat or a drink. The menu is very reasonably priced, and they also have a 2-for-1 happy hour every day from 4pm-7pm. To read more about The Mayan Bistro, check out my Hotel Mexicano Aventura hotel review.
Fusion
A few locals we talked with recommended Fusion Beach Bar and Grill and as soon as we walked in we could see why. It is located at the end of 6th Street – literally right on the beach. You can dine inside or outside on tables in the sand – Although we had to quickly scurry inside when a short rainstorm rolled in. They also have live music, and it is a very vibrant, active scene. We had a few drinks and snacked on appetizers – nothing groundbreaking or out of the ordinary but they were good and served promptly. If you're looking for a lively place to grab a drink with friends, then I would definitely recommend Fusion.
Blue Parrot
The Blue Parrot, located at the end of 12th street, was one place we weren't thrilled with. While it's been a few years since we've been to a club, a lot of people from our LivingSocial group were going so we figured we might as well do the same. They offered "all you can drink" for a fixed 25 USD cover charge. On the surface, this seems like a good deal – but as I took the first sip of my drink, hazy memories of high school parties and gut rot liquor came flooding back.
However, aside from the cheap liquor, the setting did seem nice. We were there relatively early, so the place was pretty empty. It is located right on the beach, and from what we heard they had fire shows on the beach – unfortunately not the night we went. If you want low cost drinks and a club atmosphere, Blue Parrot might be worth a shot, but it just wasn't our kind of place.
Zenzi
Our final farewell with the LivingSocial group was at Zenzi. This lively bar and grill is located where 10th street meets the beach. As with most of the venues on the beach, you had the choice of sitting inside or out on the sand. Zenzi was able to accommodate our large group all on the beach with comfortable outdoor sofas. The drinks were good, the company was great, and the setting was beautiful. With waves crashing at our feet, we could see the lights from Cozumel where the ocean met the sky on the horizon, and it really was the perfect setting to say our farewells to the group.
Coco Maya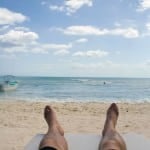 The shoreline of Playa del Carmen is full of beach clubs. Our hotel, Aventura Mexicana, provided us access to Coco Maya beach club and we decided to check it out on a Sunday morning. As with many of the beach clubs, one of the highlights is the cheap massages. They advertised 70 minute massages for about 18 USD, but as with most prices in Playa, that was negotiable.
Upon arrival, we sat down on a pair of lounge chairs and were soon brought an umbrella by our waiter. Coco Maya also offers food (lunches and appetizers) and drinks. My girlfriend and I shared an order of nachos (~6 USD) and a bucket of beer (~ 8 USD). We relaxed, ate, and swam for a bit. One thing that was surprising to us was the fact that there were boats anchored in the water in front of us, so you had to watch out for the occasional rope or anchor in the water.
Casa Adela
While venturing further South down 5th Ave we found ourselves hungry. We came across Casa Adelain between 6th and 8th street. We sat on the outside patio and started with a couple drinks to beat the heat. I had their mojito and Alanna tried their margarita – both were promptly served and tasty. The menu featured a lot of traditional Mexican food, including a lot of seafood dishes. We shared some appetizers but the highlight was definitely the strawberry flambé. It was prepared table side by a very friendly cook. He chatted with us while preparing this delicious treat. As with most places we had the opportunity to eat at in Playa, upon leaving we were very satisfied with both the food and the service.
Read more about our Playa del Carmen trip by visiting the links below:
This trip was sponsored by LivingSocial Adventures