After a 45-minute drive from Cancun International Airport, our shuttle stopped in front of a small hotel on Avenido 10 in Playa del Carmen. Although its appearance was rather modest at first glance, we soon discovered that Aventura Mexicana Hotel had a lot to offer.
The Rooms
All the rooms have doors that open outside. Our room, the Honeymoon Suite, was conveniently located right across from the hotel restaurant and bar on the ground level. The suites also come with a large purified water dispenser that room service refills as needed. This was great to drink while at the hotel and also for filling water bottles before venturing out for the day.
The Honeymoon Suite had a very open floor plan, and all the amenities you would expect—flat screen TV, air conditioner, microwave, mini fridge, kitchen sink and kitchen utensils. Room service did a great job, and also gave us a few surprises—one of the days we returned to rose petals and two towels in the shape of swans on our bed.
The Property
The Hotel Aventura grounds are very nice. They feature lush tropical gardens and two small swimming pools. You can also find a spa area, scattered chaise lounges to kick back and relax in, a few sundecks and a courtyard complete with a waterfall. The property appeared to be very well maintained and it felt private, clean and comfortable.
Location
Aventura Mexicana is located on the corner at Avenida 10 and Calle 24 (10th Avenue and 24th Street). The hotel is located one block from Avenida 5 (5th Avenue), which is where most of the action in Playa is. If you continue down one more block, you'll find yourself on the beach. You can easily get to shops, restaurants, convenience stores and banks by traveling on foot. The hotel is conveniently close to everything, but far enough to be private and relaxing.
The Mayan Bistro
The hotel has a restaurant and bar on site called the Mayan Bistro. The prices are affordable (~30 pesos for a beer, 80–160 pesos for an entree) and the location is peaceful and relaxing. Throughout our trip, the Bistro served as our "home base" so we quickly got to know the staff, who were absolutely incredible.
Our mornings started with a quick buffet style breakfast at the Mayan Bistro. Guests could help themselves to a simple buffet of eggs, rice, beans, etc., or they could order from a breakfast menu for an additional cost. I had a delicious burrito con chorizo that was served with fresh fruit and toast for about 80 pesos (~6.20 USD).
We didn't have a chance to grab a full lunch or dinner at the Bistro during our trip, but we did fit in a few appetizers from the kitchen and drinks from the bar. We were very happy with the quality as well as the price. They have a two-for-one happy hour every weekday from 4:00–7:00 p.m. I tried a few of the drinks—for research—and found that the mojito suited me well.
Note: Hotel Aventura offers an all inclusive option for 39 USD per day. The cost covers all food and drink (including adult beverages!) at the Mayan Bistro. We didn't opt for this ourselves, but if you plan on dining at the hotel throughout your trip, this option could be a huge money saver.
The Staff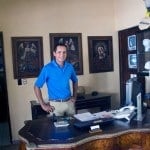 Compared to some of the huge all inclusive resorts, Hotel Aventura may seem a bit small. We found this be one of the best features about it because we got to see familiar faces throughout our stay. Everyone we met who worked at the hotel or hotel restaurant was extremely nice—and their kindness was genuine. Not only were they helpful, they were also excited about meeting and talking with their guests.
With its prime location, friendly staff and pleasant accommodations, I would definitely recommend Aventura Mexicana Hotel. The next time we find ourselves in Playa del Carmen, I imagine we will be making a stop by to visit our new friends.
For more about our Playa del Carmen trip read:
This trip was sponsored by LivingSocial Adventures