I recently spent 7 days sailing on an historic schooner among 8 other giant schooners in the magical Penobscot Bay. The week had no itinerary except for the Friday of the Great Schooner Race, and the small boat race-a fun race among the windjammer's crew the Thursday night before. The rest of the week the schooner literally goes where the wind blows and you will spend time visiting ports of call like Stonington or Buck's Harbor or just stay onboard and read a book.  I have come up with:
Ten Reasons to Sail on the J & E Riggin

1. The Great Schooner Race!
The Maine Windjammer Association has nine historic schooners to choose from. There are 20 weeks to sail in Maine from Memorial Day weekend until October 18th. This year I sailed on the J. & E. Riggin during the week of the Great Schooner Race- actually only a one day race  at the end of a week of visiting uninhabited islands and remote ports. I have sailed three times on the Mary Day (my favorite in the autumn with heated cabins from the wood stove), and once last September on the Stephen Taber during their wine tasting/culinary week (and the oldest schooner built in 1849!). I guess you can tell that I am a fan of sailing on old schooners in Maine!

2. Unwind As You Sail
The motto for the J & E Riggin is "Go with the Flow" which pretty much sums up the attitude of Justin Schaefer and Jocelyn Schmidt, the young married co-captains that are now the proud owners of the J &. E. Riggin and the attitude of the crew and guests. This is not the sort of cruise for you if you need to know where you are going everyday. The ship literally sails where the wind takes her. It took a few days to unwind and "trust" that philosophy and 'let go' of my need to control, but it happened and a sense of total relaxation prevailed.

3. Camaraderie
This type of sailing experience attracts a certain type of person. The kind of person who is laid-back, loves sailing and maybe loves to participate in hoisting sails or raising anchor on the double masted schooner (not at all mandatory).  Someone who absolutely loves the outdoors and nature. There were different types of political opinions on the boat, but everyone got along famously because of the above mentioned core values. On Friday evening after the Great Schooner Race we moored in the safe harbor off of Islesboro during tropical storm Elsa and all of us were pretty cool as we ate our dinner and drank on deck as we rode out the storm.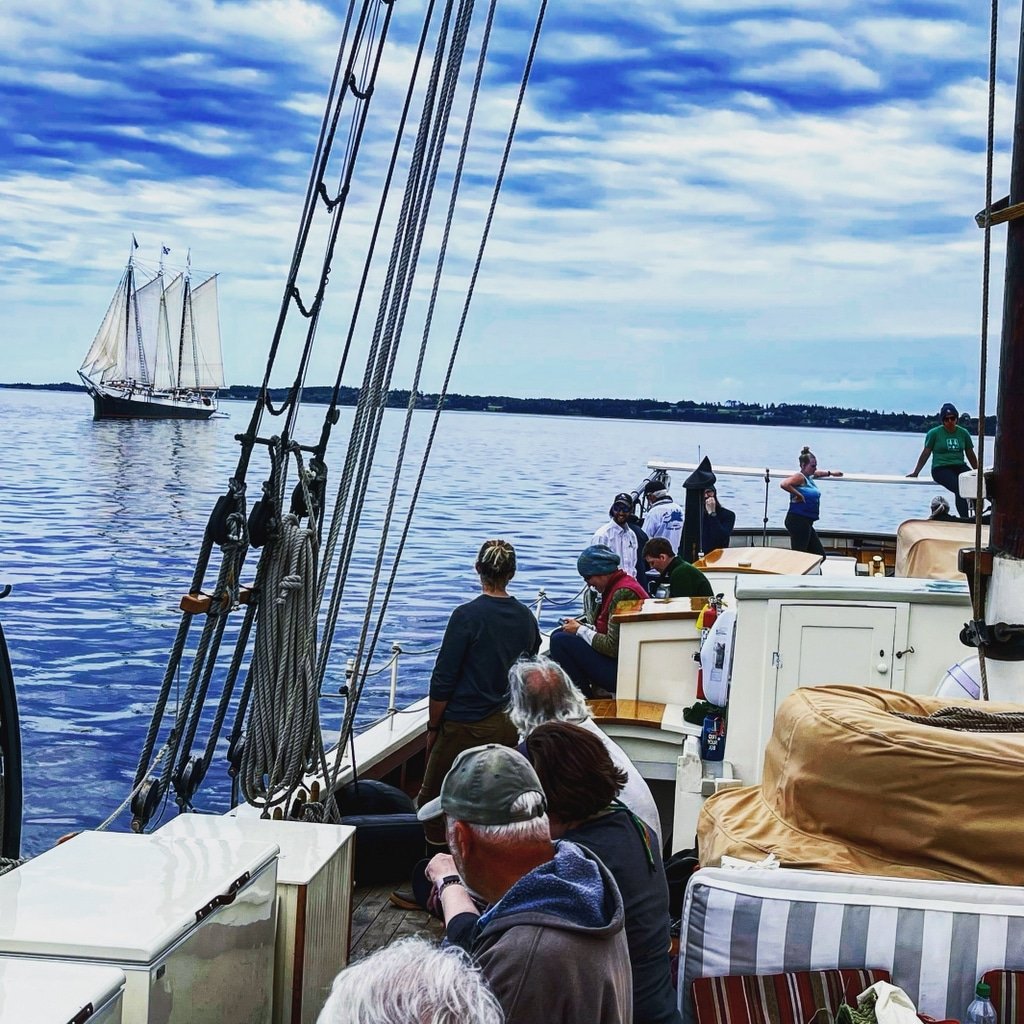 4. Returning Guests
All of the guests among the 20 had sailed on this particular schooner before, and often rebook while onboard for the same week next year. One couple celebrated their 41st year sailing on the Riggin! After 3 years onboard the Riggin you attain the cherished moniker of "Riggin Relic"!
5. Sunrise on the Ocean
I loved tiptoeing around on deck early, hearing the sounds of gulls and seeing a seal or two, inhaling the salty air and having the entire schooner and harbor to "myself" while others slept in their cabins below deck. I would wait until 5:30 or 6 to go down into the galley and get a coffee from Mark, hot off the wood stove. The coffee itself could be one of the 10 reasons – as it was really that good! And good coffee makes happy sailors! The coffee is roasted at Rock City Coffee Roasters in Rockland and the rich roast is called Dark Star. I ordered some for our home when we got back!
6. Two Amazing Chefs
Mark Godfrey and Katrina Highley team up to produce the most innovative fare and all cooked on a wood stove! Mark has worked at my favorite restaurant in Rockland the renowned "Primo" with Chef Melissa Kelly. I first encountered Primo and Melissa back in 1998 while staying at Samoset Resort in Rockland (where Kat Highley hales from). A few examples of the farm to table (Kat's boyfriend works on the farm that produces the veggies) cuisine include: Halibut poached in white wine, Margarita Pizza, lemon ricotta pizza with agrumato lemon olive oil, homemade pasta with wild mushrooms, chicken with mashed potatoes. The creative chefs create outstanding everything! A wide varieties of baked goods of all kinds including muffins, focaccia, sourdough bread, pita bread, and flatbread -a mazing! Appetizers served on deck included charcuterie and cheese plates, raw oysters, bruschetta and hummus with veggies.  Breakfasts were always interesting and oatmeal was always an option with accompaniments- dried blueberries, cranberries, apricots, prunes, coconut, sunflower seeds, almonds, and yogurt. Hot breakfast entrees included exotic Shackshuka- a West African dish with a pungent tomato sauce, poached eggs and chorizo sausage, and Chilaquiles -a Tex-Mex breakfast of homemade tortillas, homemade salsa and chorizo. Drinks were supplied by the passengers but there was always fresh water and tea and coffee. I loved the small mason jars with chocolate pudding or the lemon bar in a jar. The best brownies I have ever had were gluten-free! One of the most memorable lunches was tomato soup with croutons served below deck during the one day it rained.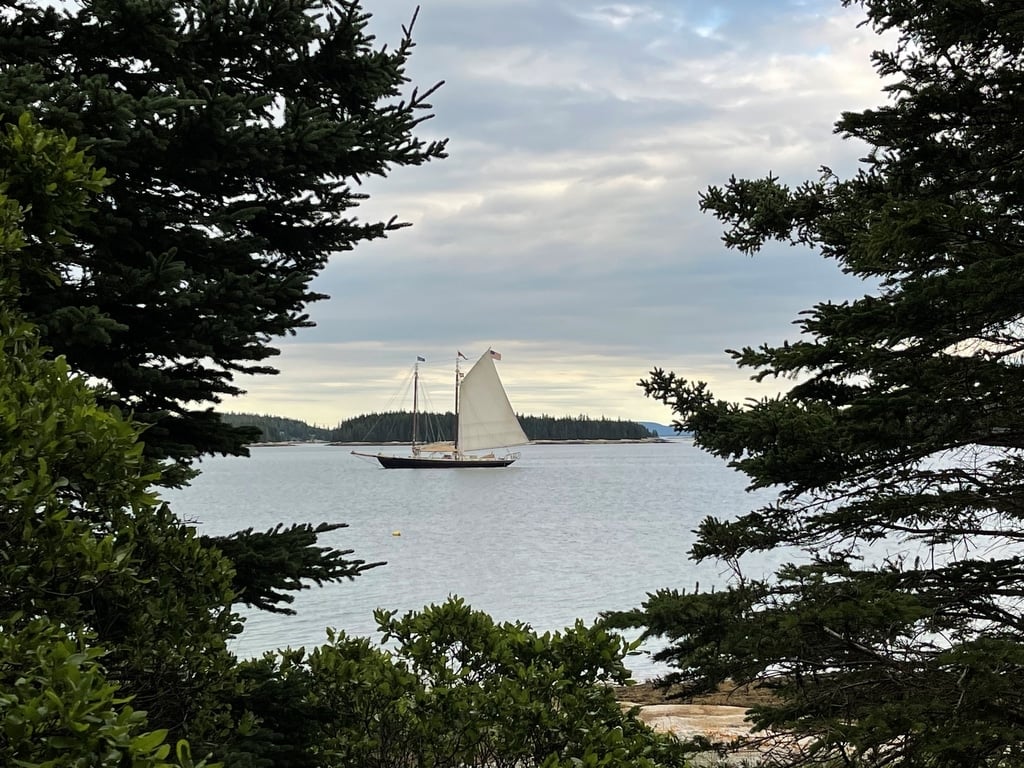 7. The Lobster Bake
Steamed lobsters and potatoes and corn on the cob steamed under a bed of seaweed cooked on the beach atop a campfire. Captain Justin got his lobsters from Swan's Island – he believes they are the best ones in Maine. Along with the lobsters there was a wonderful spread of hors d'oeuvres with a dip of fresh herbs and cream cheese with crudités of sliced cucumbers carrots zucchini, cheddar cheese and watermelon sliced vertically. For dessert – s'mores with a twist- a homemade waffle with chocolate and marshmallows. We all arrived by yawl boat where three of us at a time transferred to the Peapod, a small wooden rowboat which was then pushed to the shore so our feet did not get wet.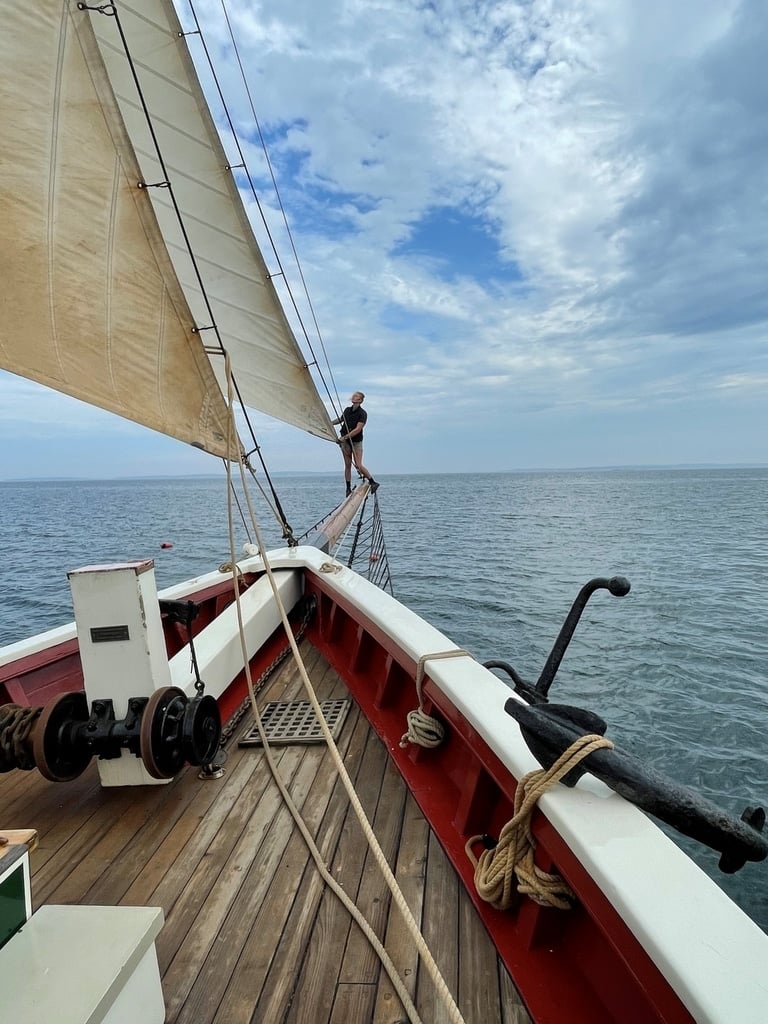 8. Visiting Far Off Uninhabited Islands and Remote Ports  
Excursions to Islands and ports of call like the Wooden boat school in Brooklin, where you can watch students build their own rowboats and peruse the gift shop.  On Swans island we hiked up to the lighthouse and upon return to the dock met a mother/daughter lobster team who supplied our lobsters for the picnic on Wreck island.
9. The Crew
Headlined by experienced co-captains Justin Schaefer and Jocelyn Schmidt (who met onboard as mates), the first mate – Erin-a Viking-like woman who took charge of the ship, Emma-a first time sailor from Oregon who also mastered the art of sailing a schooner in a few days and  Jake, a tall  high school student with the soul of an old salt and experience that belies his age, all dedicated to serving the ship from sun up to past sundown. There were two returning crew members (as passengers) who assumed the responsibility of sailing as well, which is not uncommon.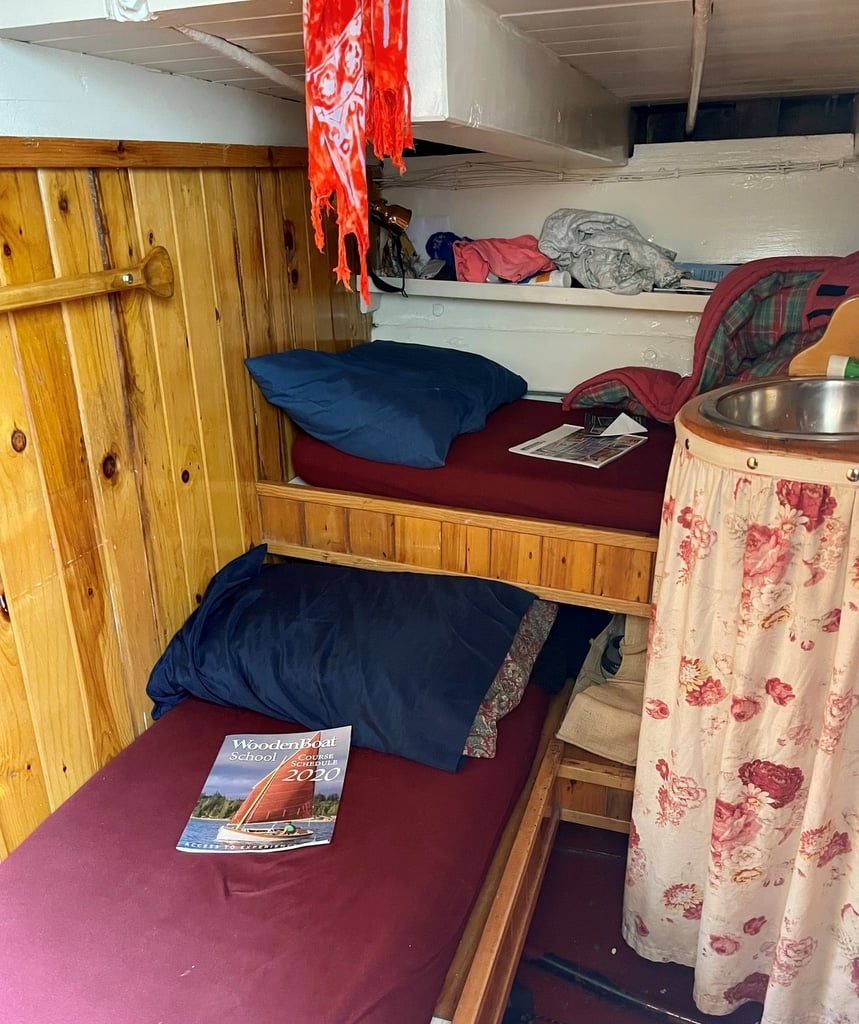 10. Cozy Quarters
The cabins were small but had everything you need including a sink with running water, a window that opened and a pitcher to get hot-water from the galley. I was glad I had packed everything in an LLBean canvas sailing bag with a zipper. Packing light is essential and packing right! I could shove the bag under Cam's bunk- I slept on the top one which was parallel to the length of the boat, Cam slept on the bottom one (perpendicular) with lots of head room. We had a window to keep air flowing,
At the end of the trip as we were sailing back "home" to Rockland, many rebooked their trips for next year.  I have done the 3 day, the 4 day and the full week of sailing, but for me, I want a full week! It takes 3 days to unwind and that is not when I want to go back to "the real world"! All of the schooners have their unique features, some are more luxurious, some have above-deck showers, while others are dedicated to a few passengers and some hold 35. All are a way to experience the romance of the sea from a time long ago. If a boat lit up only by gas lamps, listening to the sound of guitar in a place where there is no light or noise pollution, and sailing with the elements with like-minded companions is for you – then sign up now!