I just went on my sixth trip on a Maine Windjammer. I guess you could say that windjamming is my jam! There are nine vessels in the Maine Windjammer Fleet and I have sailed on four of them. 
All of the boats have unique characteristics and the captain's personality sets the tone for the trip. My five previous sailing trips have been spectacular in their own way and this last one on the Schooner American Eagle was no exception.  My husband and I went in late September and had a wonderful time.
Here are my reasons to sail and explore midcoast Maine:
1. Serenity now
There is nothing more serene than putting away your devices and sailing in the fresh air. All sailors – once onboard you are a sailor no matter your experience – are needed to sail a 92-foot schooner. If you have never been on a boat before, you are taught the basics – port, starboard – don't fall off the boat! This experience attracts sailors and non-sailors alike and every trip has had friendly and interesting people aboard.
On this journey, there were beginners as well as people who had sailed around the world. You will enjoy being part of the "crew" but if you don't want to, that's ok too. And the "real" crew of 6 work tirelessly from 5 in the morning until bedtime. There is something about the simple life to relax your mind where all you need to do is help haul up the sails in the morning and at the end of the day, help to furl and stow the sails and listen to the sound of seagulls and the occasional loon.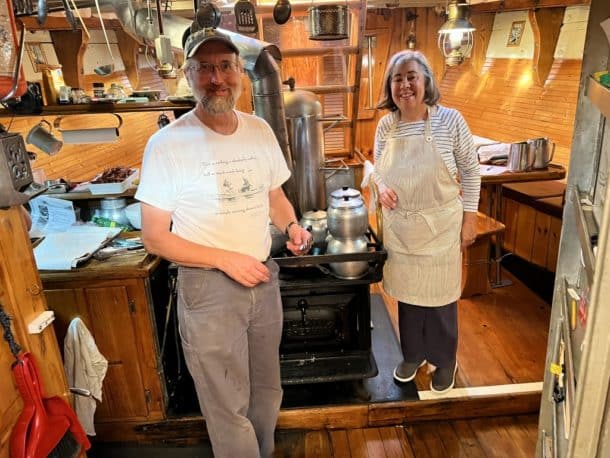 2. Be a part of history
Sailing on a schooner is like being part of history. American Eagle is a National Historic Landmark vessel and the only one to meet international safety standards. It was also the last fishing schooner built in Gloucester, Massachusetts in 1930.  It was built to sail fast to get the fish and lobsters back to the dock before the ice melted. The American Eagle recently won the Esperanto Cup during the Gloucester Sailing Race back where she was built almost 100 years ago. I felt safe under Captain Tyler's seamanship whether we sailed in the rain, dead calm or heavy gales.
3. Camaraderie
Everyone is welcome to participate in the sailing of the vessel and even to steer if you want. It is amazing how quickly you can get to know and enjoy people from all over the country.
Our mornings started early around 7am with great coffee on deck (Rock City roasted in Rockland) and everyone (we had 19 passengers, and the boat can hold 26) relaxed, inhaled the salty air and felt the fresh breeze while we waited for breakfast. The trip is a slow moving, laid-back party from start to finish until everyone went to bed early to read in their cozy cabins.
4. Spotting wildlife on the boat
As we sailed in Penobscot Bay, we were treated to beautiful scenery and spotted seals, dolphins, bald eagles and even a fin whale. Seals seemed to follow us everywhere but the two eagles soaring together in a type of dance over yellow, lichen-covered Hardhead Island was spectacular. The monstrous whale surfacing was truly incredible and made me feel so blessed to be in the company of such a majestic creature. 
5. American Yankee Yacht Cuisine
We had a husband-and-wife cooking team that worked all day long down in the galley creating the most delicious meals. There were a few gluten-free passengers and Pinky and Glen were able to accommodate all. Messmate Mary, a nineteen-year-old from Vermont, was their dedicated collaborator.
For breakfast one morning, there was creamy steel cut oatmeal with all the fixings including maple syrup and blueberry compote, almonds, strawberries and homemade bread and eggs. One morning it was frittatas.
Lunches were hearty soups with a southwest twist with candied jalapeños, avocados and salad. Lunch on the second day was chicken curry with many accompaniments. Appetizers were served on deck and included prosciutto, stuffed peppers, various cheeses, olives and lobster salad.
After a long day at sea, everyone looked forward to the evening dinners under the awning. One night it was roast pork loin and another Spaghetti Bolognese. Desserts were abundant – everything made on the wood stove – pumpkin bars, chocolate-chocolate chip cookies, lemon meringue pies and gingersnaps. Some of the recipes came from the owner and cook of the last boat I was on – The J & E Riggin – "At Home, At Sea: Recipes from the Maine Windjammer" by Anne Mahle.
6. Lobster Bake on a private island
We sailed to Burnt Rock Island, which is uninhabited and managed by North Haven Conservation Partners. We hiked, skipped stones and a couple of brave souls took a dip. We had a lobster bake – actually steamed with seaweed, provided by the crew and captain.
Getting to the island was the fun part- all rowing in tandem to get to the island under the expert tutelage of Kevin, Fiona or Asher. The crew brought the freshly caught lobsters, corn, potatoes, and steak and hot dogs. There were sumptuous appetizers like chef Pinky's ranch dip with fresh veggies, cheese and crackers and wine. Everyone had a great time and there was more lobster than you could eat.
7. Special week sails 
Some sails are just relaxing and some have classes or special events. Cruises last from 3 to 9 days. I attended the watercolor plein air workshop given by Carol Douglas. 
Carol is an accomplished oil and watercolor painter and excellent teacher with a great sense of humor. During the "Captain's Call" she came in late and asked Tyler if he was pretending to be the captain again! I was impressed with her teaching methods and how easy she made painting on deck in sometimes challenging conditions. Check out their calendar here.
8. Walk on parts of Maine that are hard to access without a boat
The schooner goes where the wind takes us so there is no planned itinerary. On this trip, we went back to Buck's Harbor (I had been there two years ago with the Stephen Taber). It has a marine/gift shop, a pottery shop/community center, a gourmet shop and a restaurant. It is known for the place where Robert McCloskey lived and wrote "Make way for Ducklings" along with other Caldecott Award-winning children's books. One day, we anchored in the bay of North Haven Island and walked around for an hour exploring the quaint village. It is a great way to get a taste of island life in Maine and exercise your legs. And of course, exploring Burnt Island for the lobster bake.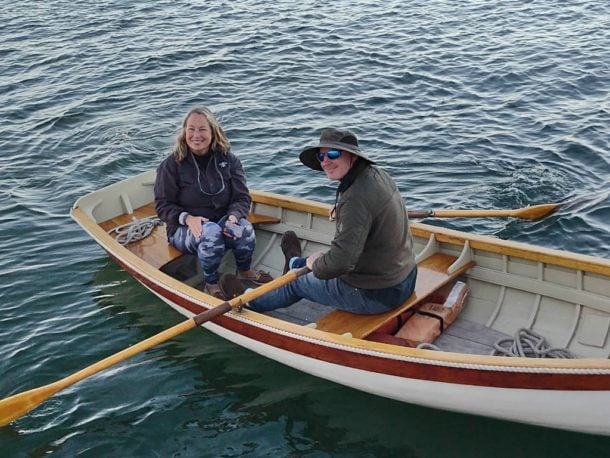 9. Music on board
As with the other schooner trips I have been on, guests are encouraged to bring stringed instruments and on our last night, Captain Tyler himself entertained us down below in the galley/dining room with old songs such as Gordon Bock's Bay of Fundy and other nautical-themed songs. He played his guitar and sang and as a special treat, his Mom Inga harmonized. He also read us old-time stories from Maine including one from E.B. White and it was like being a kid again.
10. The Schooner itself 
What a privilege to be on a schooner like this. The cabins were small but adequate for the two of us. We had the bunk style configuration with LED lights for reading. There are also cabins with a larger double bed in the main cabin. We had a sink with hot and cold drinkable water and plenty of room to store our canvas bags under the bunk. The head (bathroom- matey!) was close by and easy to use. There was even a tiled shower, which I used twice.
As Captain Tyler said, "the cabins magically grow every day you are onboard". This was true. It was recommended to bring foul-weather gear and I enjoyed wearing my "foulies" with yoga pants and spent most of my time on deck. After anchoring in a safe harbor, lanterns are placed on deck adding to the soothing and antique atmosphere under the orange awning.
The fact that I have taken six trips on the Maine Windjammers (three on the Mary Day) should tell you a lot about how I feel about this experience. The American Eagle's hospitality, impressive crew with their laid-back but professional attitude created another wonderful vacation in Maine.
RELATED:
–My 2007 Trip  
–Mary Day Tall Ship Cruise