Yesterday, my wife and I took our kids Jack (7) and Olivia (4) to meet Bluey and Bingo and take a tour of their house … FOR REAL LIFE! If you don't know Bluey, then you probably don't have little kids and you're missing out. Even if I didn't have kids, I think I'd still watch this show. Sometimes my wife and I watch it when the kids aren't even home. RELATED: 11 Great Travel Shows For Kids
Bluey is a hilarious Australian animated series on Disney+ that has taken the world by storm. Watch the embedded video below for some of Bluey's funniest moments. 

We were fortunate to get a media preview of The Bluey X CAMP interactive experience at the CAMP store in Century City. It opens to the public tomorrow and runs until February 19. Attendees get to spend an hour in the house and it's fun for the whole family.
Our Bluey-obsessed kids showed off their best moves in Bluey's playroom as CAMP Counselors activated DANCE MODE. They climbed through an epic two-story pillow fort and a cardboard box castle, complete with slides, and of course, we all played Keepy Uppy.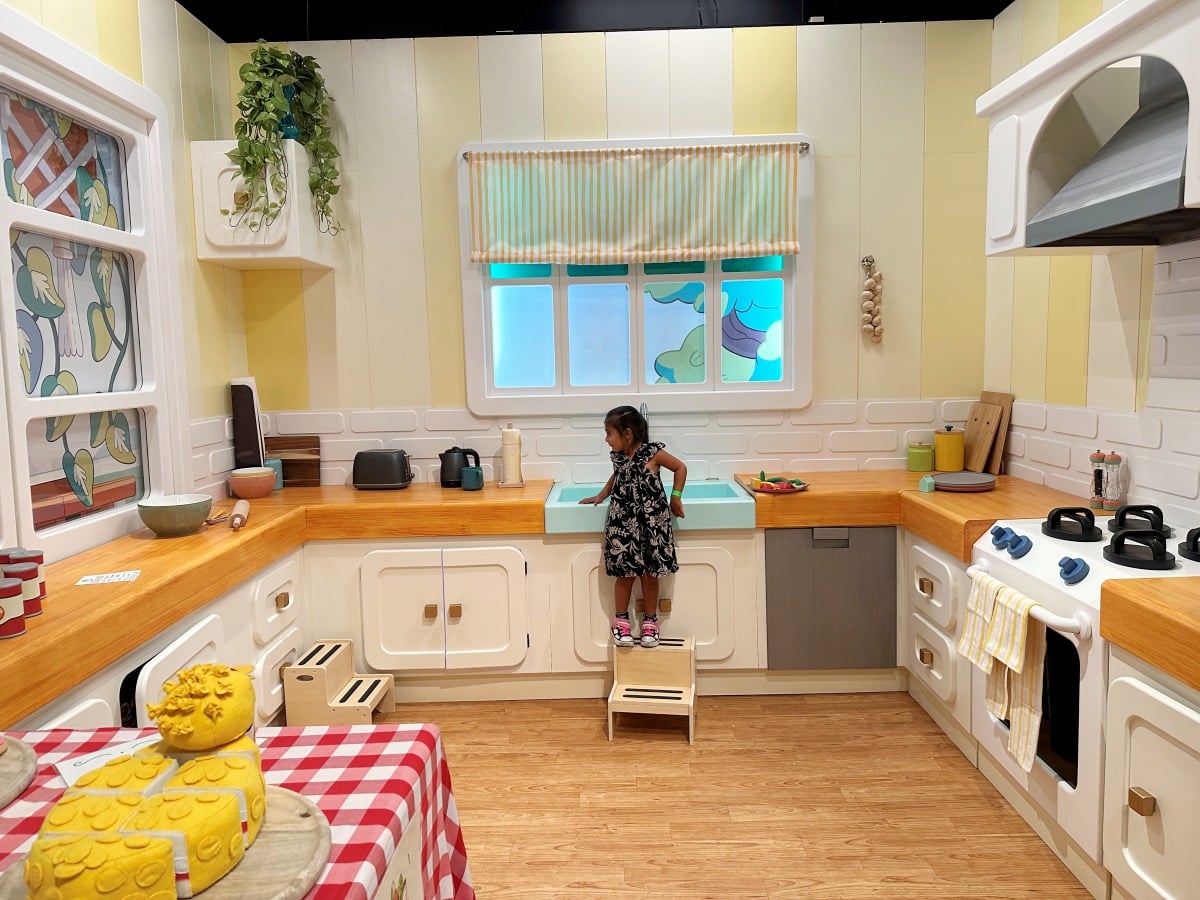 The immersive adventure involves a game of hide-and-seek. The kids are tasked with finding Bingo and Bluey in the house and the experience ends with a meet-and-greet with Bluey and Bingo but don't tell your kids! Ours were delighted at the end to finally meet them for real life! (For those of you who aren't familiar with the show, 'for real life' is a phrase Bingo and Bluey frequently use.)


A few important notes from the organizers:
Tickets are non-refundable. Tickets can be rescheduled up to 2 hours before show time for a standard fee. All guests aged 2 and older need tickets, including adults. Please arrive 15 minutes before reservation time. If you require sensory accommodations please check in with a Counselor upon arrival.
What ages will enjoy Bluey x CAMP the most?
We find ages 3 to 8 really love our immersive shows. But if your kid likes Bluey, they'll have a great time here, regardless of age.
What should I wear?
Dress to run around and dance and play! Grown-ups, too! (Like the Bluey TV show, this experience is fun for the whole family!)
What is Bluey x CAMP?
Bluey x CAMP is an hour-long immersive adventure where your family can step into an episode of Bluey — for real life! You'll laugh, play, pretend, and explore Bluey's house, ending with a meet-and-greet photo opportunity with Bluey and Bingo. If you're looking for an activity for your kids in Los Angeles, you won't want to miss this!
What happens in the experience?
As you step through CAMP's Magic Door (a secret passage), you'll enter a 5,000-square-foot recreation of Bluey's house. Inside, your family can play Bluey's games, from Magic Asparagus to Keepy Uppy to Grannies. You'll see a short Bluey animation, created to enhance this immersive experience. In the end, you'll meet Bluey and Bingo!
Get more details and book your tickets here.