Good Eats & Drinks
Summerfest isn't the only thing Milwaukee has going on – yes, you'd be hard pressed to find better beer and brats anywhere else in the U.S., but Milwaukee has a myriad of other tasty options.
Alterra on the Lake is one of the best coffee houses I've been to through my travels in the U.S. More than a century ago it was a flushing station for the Milwaukee River and now houses outstanding coffee and superb locally grown food. An array of breads, muffins and sandwiches are on the menu among several breakfast choices that are served throughout the day.
The flavor combinations are unique and there's no denying the locally farmed freshness of the food. Two of my menu favorites were the potato bacon breakfast burrito and the pumpkin muffins. Many choices for under $10.
1701 N Lincoln Memorial Dr, Milwaukee, WI 53202
(414) 223.4551
Hours: 6:30 am – 10:00 pm
The Benelux region in Europe is comprised of Belgium, The Netherlands and Luxembourg – which are all well represented through the extensive beer list at Café Benelux. The food is more of an off-shoot of the authentic choices you'd find in Europe, but the dishes are delicious – be warned this isn't light fare, so bring an appetite and save room for the rich desserts.
The restaurant is located in the heart of one of Milwaukee's trendier neighborhoods and the rooftop seating has great views of the city. Entrees range from $14.95 – $27.95.
346 N. Broadway, Milwaukee, WI 53202
(414) 501-2500
Hours: M-Th 7 am-1 am, F 7 am-2 am, Sat 8 am-2 am, Sun 8 am-1 am
Want some Lobsterwurst? This is your place. Dream Dance Steak is an unexpected treasure located in a very typical looking casino. The atmosphere is elegant and romantic and the menu is interesting and experimental which makes for an interesting anomaly.
The sangria selection is of particular note and there is a 600 bottle wine list – all of which are sold at retail pricing. If I'm lashing out for an up-market meal, great service is essential – and Dream Dance Steak provided our table with an outstanding, attentive wait staff. If you're seated in a private room, be prepared to hear the slot machines on the other side of the wall. Entrees range from $22 – $75.
Potawatomi Casino, 1721 West Canal Street, Milwaukee, WI 53233
(414) 847-7883
Hours: Tuesday – Thursday 5 – 9 pm, Friday – Saturday 5 – 10 pm, Closed Sunday-Monday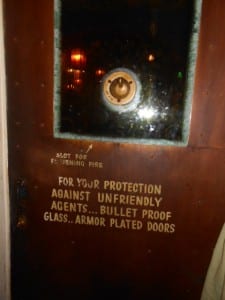 Safe House
Safe house is kitschy fun – it's essentially a museum housing thousands of artifacts from the spy world and offers an unusual place for a drink, nibbles and even karaoke. The address may be public knowledge, but don't expect immediate entry.
You are greeted in a small reception area by a host who demands a password from you, and if you don't have the correct password you will have to perform a task to gain entry through the secret door into the lounge. You'll have to find out the rest of the information on your own, as I've been sworn to secrecy. Entrees range from $12-$28, with other pub food choices available for $10 and under.
779 N. Front Street, Milwaukee, WI 53202
(414) 271-2007
Hours: 11:30 am – Close, dining hours vary, Karaoke every Weds 10 pm
Want some history and local anecdotes with your Milwaukee food experience? Milwaukee Food Tours is an entertaining way to get a feel and taste of some of the best the city has to offer. You can pick a themed excursion to your taste buds' liking and the opportunities are widely varied: from Chocolate & Churches, or Beer, Brats and Bowling to Green-Friendly Farm & Table amongst others. Tours are in the $40-$50 per person range. Contact: Theresa Nemetz, Owner at (262) 853-5239.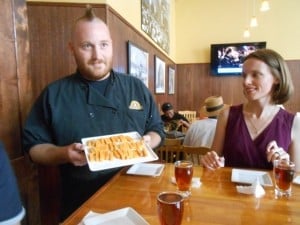 More on Milwaukee and Summerfest: