A Break from the Summerfest Crowds
A great way to break out of the Summerfest crowd for a bit is to enjoy so many of the other things Milwaukee has to offer. It's not difficult to find places to chill out and the selection is varied enough to please all tastes.
Art In Milwaukee
The Milwaukee Art Museum is beautifully curated with a mix of art genres and styles in a space that isn't too overwhelming for an afternoon of enjoyment. The stunning architecture of the three buildings that comprise the museum were designed by Eero Saarinen, David Kahler, and Santiago Calatrava. They flow and combine beautifully into a singular piece of art in itself.
Currently on exhibit is Posters of Paris: Toulouse-Lautrec and His Contemporaries which takes the viewer on a journey to Paris of the late 1800s'. The display is composed of posters created by Toulouse-Latrec and his contemporaries that were essentially advertisements. At one point they could be found as collages adorning the walls of Paris and just about any other available surface in the city and were not dissimilar to the online advertising and branding we are barraged with on a daily basis today.
The kids section of the museum is completely engaging and cleverly piques the interest of children through using cartoon art to get kids' attention and then draws them into other art forms. There's 12,000 square feet of space dedicated to children and they hold hands-on art activities for the whole family.
If you're in Milwaukee on the first Thursday of the month and love art, you're in luck: admission is free from 10 am to 8 pm every first Thursday. I would advise reserving a group tour if possible; there's a lot of detailed information about the exhibits and the building itself and the docents are engaging and well versed. Be advised you should make group reservations 6 to 8 weeks in advance. Feature exhibitions are included in the price of admission: Adults $15 , Students (with ID), Seniors (65+ with ID), and Military (with ID) $12. Free to Members and Kids 12 & under, Active Military and families through Labor Day and the first Thursday of every month (excluding groups).
700 N. Art Museum Drive, Milwaukee, WI 53202
(414) 224-3200
Hours Through Labor Day: Mon 10 am-5 pm, Tues-Sun 10 am-5 pm, Thurs 10 am-8 pm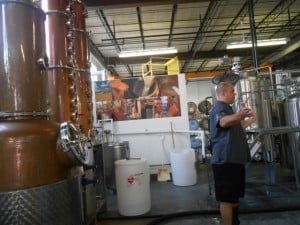 Man does not live by beer alone, and that's why there's the Great Lakes Distillery. The distillery is the first in Wisconsin since the prohibition era and they specialize in small-batch hand-crafted products.
Our tour guide gave us a high-energy, fun view of how things are done and creatively explained the science and nuances of whiskey, rum, gin, brandy, vodka and even absinthe without boring participants to tears.
The tastings are interesting as well – the varietal of infused flavors is wide and there's something for everyone's taste buds. A personal favorite is the Rehorst Citrus & Honey flavored vodka. The free tours run 45 minutes and for $5 you can also try a flight of five of their products.
616 W. Virginia Street, Milwaukee, WI 53201
(414) 431-8683
Hours: Mon-Thurs 11 am-10 pm, Fri-Sat 11 am-12 am, Sun 11 am-8 pm
Even if you're not into motorcycles the contents and intelligent curation of this museum speaks just as much to modern American history as it does to Harley Davidson enthusiasts.
A time capsule of sorts, it takes you from the modest start of the company in the early 1900s and documents its involvement in major American events through current times. Just about anything goes at the museum and it plays host to everything from weddings to school outings.
On temporary display from June 16 through Sept 3, 2012 is the Worn to Be Wild exhibit of outrageously decorated leather motorcycle jackets – highly appropriate for The Fonz's hometown. Admission: Adults $18, Children $10, Children with Adult free, Seniors, Military and Students $12
400 Canal Street, Milwaukee, WI 53201
(877) 436-8738
Hours: Open every day 9 am-6 pm, Thurs 9 am-8 pm
From a fragrant variety of infused vinegar and olive oils, to freshly squeezed juice or lobster roll sandwiches the choice is yours at the MilwaukeePublic Market. You won't find fresh produce as was once offered at this center for groceries, but you will find a unique place to grab lunch and do a little shopping. Eat in the upstairs area and you'll discover a library of used books that are sold for a dollar each with proceeds going to The Friends of the Milwaukee Library. Nice place to relax and enjoy your meal.
The market is open seven days a week and hosts beer and cheese tastings as well as concerts showcasing local musicians.
If you're craving a long standing tradition in Milwaukee, you can grab a Schlitz beer for a dollar on Saturdays. One of the more noteworthy vendors at the market is Oro di Oliva where you can sample an extensive variety of creatively infused olive oils and vinegars and the staff are enthusiastically at the ready to educate shoppers on the merchandise.
June through October, weather permitting, the market extends to the outdoors every Saturday and Thursday from 10 am to 3 pm. As are so many Milwaukee establishments, the market is a piece of local history and used to be an oyster company.
After the market burn off your meal with a stroll around the Historic Third Ward, which is filled with everything from high-end shoe stores to paintball at Paintball Dave's, which claims to be the oldest indoor paintball field in the world.
Milwaukee Public Market: 400 North Water Street, Milwaukee, WI 53202
(414) 336-1111
Hours: Mon – Fri 10 am-8 pm, Sat 8 am-7 pm, Sun 10 am – 6 pm
More on Milwaukee and Summerfest: