Every time I mention going to Summerfest to anyone from the Midwest, I get an overwhelming positive response.  Since 1966 it has been a highly anticipated annual festival for music lovers living in or near Wisconsin.  This Milwaukee rite of passage is actually an affordable and fun travel destination for the rest of us too. What I found is that Summerfest in combination with the hidden treasures of Milwaukee offers a variety of interesting, artistic, and gastronomic activities which make for an entertaining long weekend getaway.
Set in Henry Maier Festival Park on Lake Michigan in Milwaukee, Wisconsin, Summerfest is the largest music festival in the world and over the course of eleven days 700 bands perform that vary in music genres and fame across the board. The facilities aren't the typical tents and port-a-potties you find at other music festivals – the grounds consist of permanent structures including the nicest bathroom facilities I've seen for this type of event.
The price is right as well; it's only $16 for general admittance on the weekends, $9 during the weekdays and a 3-day pass is available for $36 – you're spoiled in choices on the simultaneously running concerts throughout the day and night.
If you have limited time to travel and will be focused solely on attending Summerfest, you can still get a solid feel for local food. Anything from Crab Rangoon to Leinenkugel Battered Cheese Curds is available to satiate your hunger. There are 45 food vendors throughout the fairgrounds which include an ethnic village filled with flavors from around the world – many of the food vendors represent local restaurants and the choices aren't your typical festival fare.
Where to Stay
The Aloft Hotel in downtown Milwaukee is a contemporary, clean and centrally located choice of accommodation.  It sits alongside the Milwaukee River and is walking distance to lively pubs and restaurants.  There's a shopette in the reception area which makes it convenient to grab snacks or a quick breakfast before touring around.
Rates currently run from $159-254 per night.
1230 Old World Third Street · Milwaukee, Wisconsin 53212, (414) 226-0122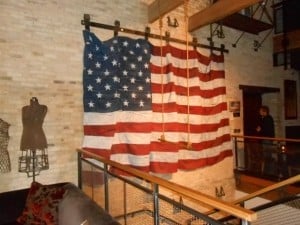 Another accommodation option is the ultra-trendy Iron Horse Hotel.  It's richly decorated à la man cave, but in a fashionably good way.  It's worth strolling through the property and taking a close look at the sophisticated Americana and high-end vintage styling. There are some remarkable pieces: the owner had an American flag commissioned to be made out of blue jeans, there's a classic Harley in the reception area and a variety of original art throughout the hotel.
One of the hotel's bars, The Yard, is an excellent choice to sip on a signature drink and enjoy the outdoor ambience with other travelers and welcoming locals.  For as trendy as the hotel and bar are, they are also pet friendly and accommodate dogs, even at the outdoor bar.  If you plan a stay or just to spend some time socializing at the bar, it's a good idea to get on their VIP list for specials.
Rates currently run from $229-329 per night
500 West Florida Street Milwaukee,  Wisconsin 53204
(888) 543-4766
More on Milwaukee and Summerfest: