A big thanks to Visit Redding for hosting this trip so I could provide this detailed account of my visit. 
Two sayings you'll often hear when asked about Redding, California, is that it's the second sunniest city in the US and a place where most folks tend to just pass through on their way to somewhere else. After spending four days enjoying what this city and its surroundings have to offer, I wholeheartedly recommend making it an intended destination. RELATED: Weekend Getaways For Couples in California
160 miles north of Sacramento and 314 miles south of Eugene OR, Redding is fast becoming a premier destination for outdoor recreation. Surrounded by big, crystal clear, freshwater lakes and set against the majestic Mt. Shasta and the Cascade Mountain range, it offers miles of hiking and biking trails and a multitude of water activities. And yes, with its 88% average annual sunny days, you're almost guaranteed an outdoor vacation without interruption.
Where to start? I'd say, begin your day with coffee in the center of the city at either Evergreen Coffee Company or Theory Coffee Roasters, two nationally recognized local roasters who pride themselves in sourcing delicious beans from sustainably, ethically run farms from all over the world who are paid fair trade market value.
Feast Coffee Roaster and Barista Eric Schuler frequently flies to far off places in search of distinctive coffees and cultivates close and lasting relationships with local farmers. He brings those unique, aromatic flavors to Evergreen, home of Feast Coffee. In addition to supplying their beans, he offers brewing and roasting classes at the back of the bright and airy space. Functioning as both a coffee shop and a boutique hotel, there are two suites on the second floor, which feature full kitchens and outdoor patios. Popular breakfast food favorites are avocado toast and wholewheat waffles topped with blueberries.
At the south end of town is Theory Coffee Roasters. Very much a community space, this cool coffee culture vibe cafe proudly holds winning titles from many coffee competitions, including 6th place in the roasting category at the 2023 US Coffee Championship.  On why they enter competitions, "We want to know if we measure up to these awesome roasters," says Theory owner Sam LaRobardiere. Their in-house bakery offers up fresh pastry items like flaky croissants, bourbon cardamon knots and Kouirgn Amann.
Once pumped up on caffeine and pastries, stroll over (one block from Theory) to Shasta Bike Depot, Redding's hub center. In collaboration with Shasta Living Streets, The Depot offers long or short term, secure bike storage as well as rental access to Redding Bikeshare's fleet of over 70 electric pedal-assist bikes.
Popular bike routes are the Downtown Connector Loop Trail, a 4.6-mile ride that takes you through parts of the city and over the historic Diestelhorst Bridge or venture further along the Sacramento River Trail and ride along vast meadows of orange poppies and blue lupines.
With the fish-abundant Sacramento River cutting through the city you can't pass up the opportunity to do some fly fishing. Whether you're an expert or first-timer, a trained guide will greatly enhance your angler experience and chances of catching a fish.
Our personal guide, Paul, a fisheries biologist with an eco-science degree, shared his extensive knowledge about the river and its inhabitants.  While paddling us through quick waters in a drift boat and tutoring us in casting techniques, he explained how the release of headwaters from Lake Shasta affects the fish's behavior. Both the rate of flow and temperature impacts all that live downriver and carefully regulating that from the dam's gates is essential in keeping the estuary healthy.
Ten minutes outside Redding is Whiskeytown National Recreation Area, a 42,000-acre park that offers dozens of miles of hiking, biking and horseback trails, waterfalls, cool forests, and other natural features. Whiskeytown lake, a clear water reservoir,  was formed in 1963 when construction of the dam drowned the old mining town below.  Enjoy a leisurely sail across its waters with a hired skipper at the helm. Redding Yacht Club offers sailing lessons, guided tours and boat rentals.
What can't be ignored are the remnants of the devastating Carr fire in 2018.  Though signs of regrowth abound all around, burnt tree trunks can be seen for miles in every direction. Over 97% of the park was destroyed along with over 100 structures and loss of life. The fire spread beyond the park and into neighboring areas, ultimately burning over 229,000 acres in total.
Though considered the most destructive fire in the National Park's history, fires are recognized as natural, recurrent events, necessary for recycling the ecosystem. It's a painful process, but with a restorative outcome. "Although we experienced a decline in visitation in the first few years following the Carr Fire, we hosted over 1.5 million visitors in 2022. Our resilient staff partners, and volunteers are excited to see almost complete access to the park restored to the public", says Laura Ostmann, Administrative Officer with the Whiskeytown National Recreation Area.
Ten miles from the city is Lake Shasta Caverns. A fifteen minute boat ride takes you across the lake where you're met by bus.
A narrow, winding road, about 850 feet upward, brings you to the entrance of the cave. Your boat captain/bus driver/ as well as tour guide and cave aficionado, affectionately known as "Cave Dave", will give you all of the fascinating facts and figures about the cavern: The 250-million-year-old National Landmark opened to the public 59 years ago.
Its 650 stairs lead you up, down and through cathedral-like rooms filled with stalagmites and other cave formations created by water, slowly dripping for thousands of years through the limestone ceiling above. At a constant 58 degrees, it's the perfect hot summer day destination.
A sumptuous end to perhaps a long day of outdoor activities could be dinner at Moonstone, a seasonal menu, food-sustainable conscious bistro. CIA trained chef Che Stedman uses only organic, locally grown produce, and ethically raised and captured fish and meats.
Established in 2006, Moonstone fast became a local favorite, and when Covid threatened its existence, the community came together and started a GoFundMe campaign for Che and his wife Tanya. The donated funds financed the quick construction of a four season, outdoor dining area, which kept the restaurant open during the pandemic. Menu highlights: 14oz organic hand cut Ribeye steak with brown sugar chili garlic rub and grilled Alaskan wild caught Halibut, with agave nectar, lime and cilantro paint.
For a more high energy dining experience with many menu offerings, highlighting sushi and American cuisine, make a reservation at Raw. This bar centered, 200-seat establishment, on a busy Friday night might feel akin to a club with its music pumping. They boast having the freshest fish there is, as it's flown in from Japan twice weekly. Menu favorites: Chiang-Mai wings with spicy Tamarind butter sauce appetizer, puffy tacos with filet tails and ribeye, and a cherry blossom chef specialty roll.
Downtown Redding has many post-dinner options. Its vibrant, commercial and entertainment district is home to saloon-style pubs, breweries, late-night eateries, arts and cultural events, films and live performance venues, including the restored 1935 Art Deco theater known as the Cascade.
If the weather's nice, and we know those odds are pretty good here in Redding, enjoy free live music played under the palms and stars at the Park, Food Truck Hub. This family-friendly, block party'esque, event brings in local entertainment, karaoke nights, lawn games, and truck foods featuring Thai cuisine, savory crepes, tacos, barbecue and more.
There are many calendared events throughout the year, but if you can schedule your visit during Kool April Nites, you're in for a classic car treat. The week-long citywide celebration of hot rods and pre-1979 automobiles features exhibits, live music, the Asphalt Cowboys Breakfast, poker and corn hole tournaments, a drive-in movie, trophies, and that just scratches the surface. A major highlight is the Friday night cruise, a colorful parade that circles through downtown Redding. Hundreds of cars rumble, honk, and burn rubber past thousands of spectators seated in fold-up chairs along the route. Not to be missed.
Other events throughout the year include, the Redding Rodeo, The Stillwater Pow Pow, Redding Beer and Wine Festival, and the Lemurian Classic mountain bike race.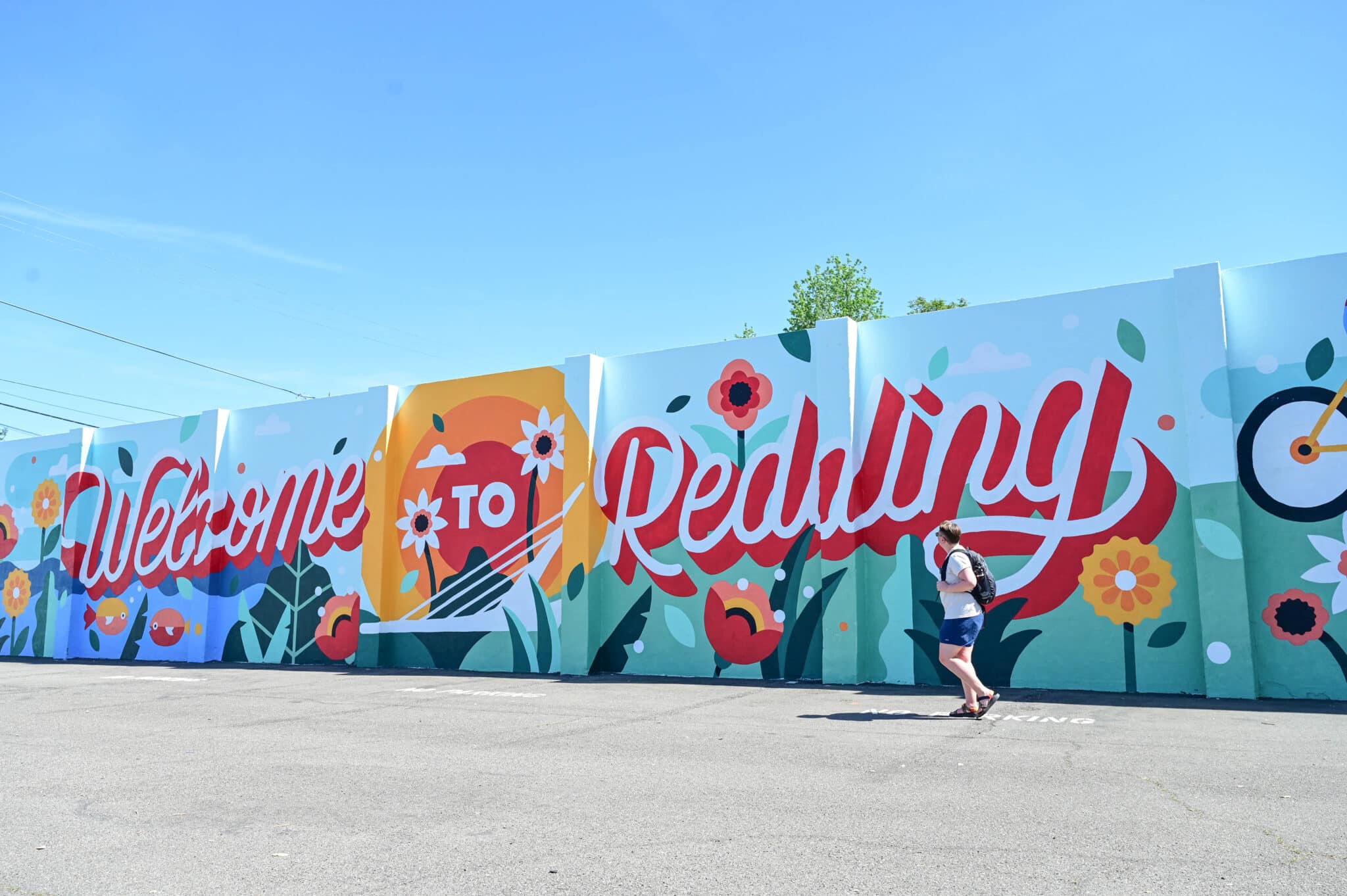 Whether it's enjoying its vast outdoor playground, or venturing downtown for a craft beer, live music and world class dining, Redding's a place where you won't run out of things to do, no matter what time of year.
KEEP READING
• How to Save Money With a Secret Third Carry-On
• How to Use Your Wireless Headphones to Watch In-Flight Movies
• 10 Airport Security Hacks Every Traveler Should Know
• How to Get the Best Coach Seat on the Plane
• The Sleep Hack Every Traveler Needs to Know
• Never Get Your Valuables Stolen on the Beach
Want more travel news, tips and deals? Sign up to Johnny Jet's free newsletter and check out these popular posts: The Travel Gadget Flight Attendants Never Leave Home Without and 12 Ways to Save Money on Baggage Fees. Follow Johnny Jet on MSN, Facebook, Instagram, Pinterest, and YouTube for all of my travel posts.