This tip is for all American Airlines Executive Platinum AAdvantage members.
For those who are curious, to earn top tier elite status on American Airlines (AA) in the past, you had to fly 100,000 miles and spend over $15,000 dollars. But this year AA introduced a new scheme that requires customers to earn 200,000 Loyalty Points, which means you need to spend a lot of money either by flying AA or spending on their co-branded credit cards (as well as some other ways).
As you might suspect, with that kind of loyalty, you get some serious perks, including a dedicated phone line with experienced and knowledgeable agents that seldom make you wait, first class check-in, three free checked bags up to 70 pounds each for everyone on your reservation, free upgrades on domestic flights when space is available and four free systemwide upgrades to use on any of their flights including long-hauls like Los Angeles to Sydney. See screenshot below.

The latter is great if you're flexible because it can save you thousands of dollars each. However, they don't offer the ability to use it on all flights. I was trying to use mine on a flight from LAX to JFK and I couldn't find anything, including in January when not one seat in Business Class was even sold.
However, I was able to find space on the reverse route (New York to L.A.) in January but only on really early or late flights. FYI: Exec Plats can see availability when they're logged in to AA.com. See screenshot below.

I had four systemwide upgrades to use and the reminder email that I set up months ago using FollowUpThen made me realize I'd better use them or I'd lose them.
I kept delaying the reminder by a day until yesterday, July 31 (doomsday for any unused upgrades), came at me faster than Usain Bolt running the 100 meters.
I put the flight I found in January on hold so I could call AA and get an agent to use one of my many leftover flight credits and attach the upgrade to my ticket, allowing me to go from coach to a lie-flat Business Class seat on one of their A321T aircraft.

Well, wouldn't you know it, around 6pm when I called, the hold time was eight (yes, 8) hours! Yikes! What's nice about American Airlines is that at least they have a call back option so your phone is not held prisoner for the day like Delta and JetBlue make their customers do.
I sent out a tweet and tagged AA and received all kinds of replies from followers in a similar situation and a nice tweet from AA saying to send them a direct message and they will see if they can help.
Whoa! I just called @AmericanAir's Executive Platinum line to book a ticket before my systemwide upgrade expires (tonight) and guess how long the hold time is? Eight (8) hours! Glad I'm not traveling today or tomorrow.

— JohnnyJet (@JohnnyJet) August 1, 2022
It looks like many waited til the last minute too, which is one of the reasons the exclusive phone line had such a long wait. AA delaying 1003 flights and canceling a 148 yesterday added to the madness. See below:


I didn't want to lose out on even one of my upgrades so I just paid cash, then sent a direct message to American via Twitter with my confirmation number, asking them to use one of my systemwides. They responded that I was all set within five minutes. Their Twitter team is amazing and always has been, especially if you make things quick and easy for them … like already booking your ticket. See below:

It looks like AA.com is down and the site was giving me errors yesterday as well. I think it's because so many elites were trying to book last-minute tickets. It would be great if AA extended the expiration deadline since they were having so many technical issues but if not, just remember, next year don't wait until the last day and if you do, try reaching AA on Twitter.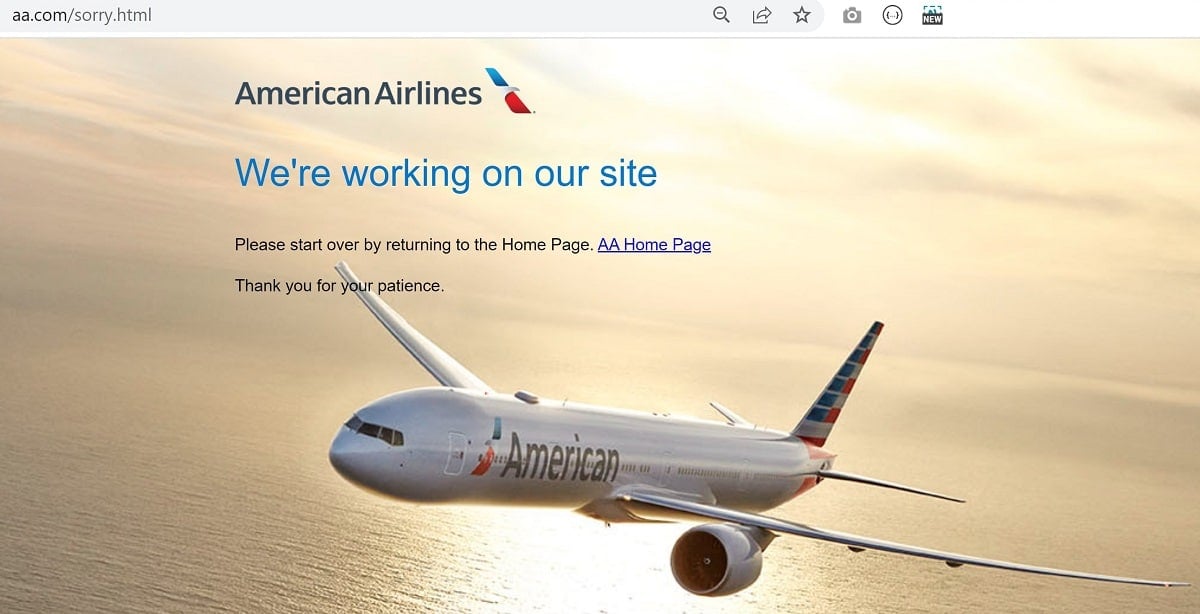 BTW: If you're wondering how many top tier elite members American Airlines could have, well, they don't publish that info but according to Gary Leff it's between 50,000 – 60,000 members.