A yogi once told me: Energy follows thoughts, pick good ones. Well, the same goes for vacation destinations. If you ironed the map of mountainous Idaho flat, it becomes the second largest state in the Lower 48. That's one wow. Another is you ironing out a visit to the oft-overlooked Northern Idaho Panhandle that's huddled between Montana, Washington and Canada. This narrow shaft of multihued outback Idaho is a natural and cultural walk on the wild side. I visited four towns there and feel like I've been to a happy Twilight Zone, an endless outdoor fun park, a likable tourist colony, and a lost Norwegian Fjord.

WALLACE
Upon first gaze, Wallace, Idaho, hits you as a place that stood still, yet sings a new song. This handsome, narrow valley-settlement sits in a canyon where colorful houses and a "downtown" medley of historic-register buildings complete this unpretentious, mountain-walled throwback. An amazing preview of this historic riverside town is The Big Burn by Timothy Egan, which debuts with the massive 1910 fire that wiped out everything including the surrounding millions of acres and then dovetails into Teddy Roosevelt's formation of the legacy-saving U.S. Park Service.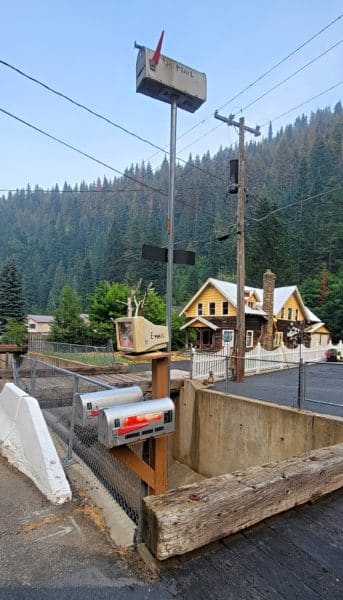 The welcoming Blackboard Café presents with wide windows on a big corner. The theme inside this open-kitchen Italian-eatery standout (caprese, ahi tuna, shrimp scampi) is declared by a huge blackboard portraying the Wild West meeting classic Hollywood (Wayne, Monroe, you get it). The impressive wine and beer list is outdone in an even more spacious adjoining room proposing 60 varieties of milkshakes, sandwiches, and books. A third room selling stylish western clothing and miscellany completes this marketplace.
Neighboring the easygoing Wallace Inn, the Denny's-ish Trailside Café stays local with jumbo portions like the Center of the Universe, "a heapin' mess" of breakfast faves. All of the entertainment options in Wallace are walkable. You can take it up a notch at rustic and roomy Fainting Goat, which features a big-city wine list.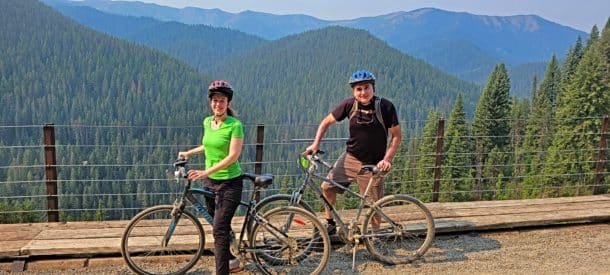 Nearby, the Route of the Hiawatha cycling odyssey is a big-mountains must-do. The breathtaking 15-mile Hall of Fame rail-to-trail journey takes four get-kinda-dirty hours. It winds through 10 damp tunnels—one nearly two-miles long—and soars over seven valley trestles. Some of the tunnels are pitch dark, where the provided handlebar light comes in handy. The stunning scenery is easy to take in as the route descends 1,000 feet, meaning that you can mostly roll, pedaling occasionally. An optional shuttle brings you back to your car where a change of clothes might be required since the damp tunnels can whirl mud onto your back. After the ride, before getting back on I-90, there's a sign reminding you about those 60 milkshake flavors back in Wallace.
LAKE PEND OREILLE
I spent time near and upon Idaho's largest and deepest lake, Lake Pend Oreille (pronounced Ponderay), where two lakeside towns stole my heart. Tiny Bayview (pop 1,200) first seems like a nifty two-tavern hamlet, but it being home to the U.S. Navy's vital Acoustic Research Command demonstrates that this lake is the most important research body of water to the Navy worldwide. Deep as the Empire State Building, this is where American submarines first prove themselves. Bayview is a haven for retired military and law-enforcement elites, so those who have less than positive motives find their way out of this Norwegian-fjord-like village without the aid of police. Surrounded by the massive Farragut State Park (cabin rentals available), Bayview is one of America's largest float-home communities. At the picturesque, floating Lake House Bar & Grill, in-the-know local Damian Clinton declares this hamlet "Norman Rockwell, with beer." If you can't relax here, you simply cannot. In that vein, old-school MacDonald's Resort has been family run since 1951. Oh yeah, you can catch BIG fish here.
In my worldly travels, particular places present themselves as unintentional adult super-camps, where low-cost hedonism reigns trouble free. Simple but varied, Sandpoint fits that bill with an impressive menu of attractions, outdoor activities, and food and drink superstars. If there were awards given out for America's most walkable towns, this place is a winner. Add: runner-up for people watching. It's also an Amtrak station—one of the few that land you safely in the best part of town, because there's no lousy part of town.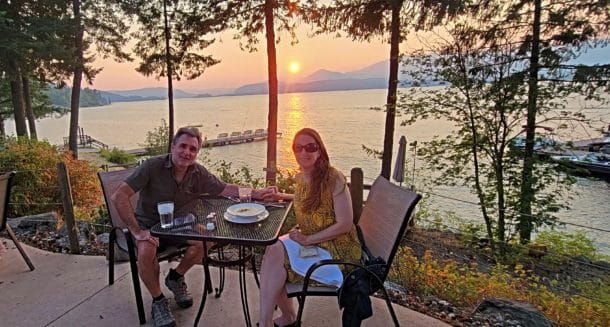 Forty-One South is the swanky destination for carmelized goat cheese and steelhead trout by the lake. Connie's Café, which debuted as a Conoco gas station with a five-seat lunch counter in 1952, has a split personality (restaurant or bar dining) with one classic-Americana breakfast and lunch menu. The Asian salad at City Beach Organics might change your life. Sprawling Matchwood Brewing, a former matchstick-making factory where grain towers set the mood, specializes in English, German and American ales. Utara is a British-style brewpub paired with fast-casual Indian food; who knew that curries pare so well with a double-IPA? Idaho Pour Authority's blind beer tastings (never before have I seen so many bottled and canned beers from around the planet) are a good warmup for 219 Lounge's fabulous live music scene. The centralized Cedar Street Hotel puts you in the midst of whatever activities you seek—and, steps from the classic-dive Tervan Tavern, where activities include axe throwing and no-joke karaoke. Down the block, Baxter's on Cedar is an upscale pub with sidewalk dining and world-class halibut.
Ski zealots fawn over Schweitzer Mountain, but the four-season adrenaline destination also dazzles as a warm-weather bike adventure. The folksy, historic Lake Pend Oreille lake cruise history tour is a nice intro to the scenic region. The upbeat captain shared fun facts and pointed out several Bald Eagles.
Before you leave town, you gotta hit the nearby kitchy-king Hoot Owl Café. Two miles from Sandpoint in Ponderay, this ultra-local joint's menu first tests your manners:
"Coffee" $3
"Coffee please" $2
"Good morning! Coffee please" $1
 On the following menu page, the omelette options include the HEATHEN VEGAN—with spinach and HAM—or the Fatter Platter. However, most of the locals I saw dining here didn't seem vegan, nor overweight.
COEUR D'ALENE
Typically, the word resort indicates isolation, or even exclusion from the surrounding community. Here, the lakeside Coeur d'Alene Resort sets the tone for this town, as it's the public gateway for all things water. Flanked by a handsome marina that's rimmed by a public boardwalk, easily accessible water activities include renting 50-mph jet skis, various boats, or mellower paddleboards. Fine dining while watching a sunset at the seventh floor Beverly's was a highlight. The impressive menu includes North Idaho bison burgers and pan-roasted Idaho trout.  It's the kind of place where someone plays a harp while you enjoy superb service and panoramic views of the mountain-encircled lake. The resort's sprawling spa is a great place for bodily healing. Their massage therapists are highly trained—mine worked out a kink I'd been tolerating for too long.
Handsome Coeur d'Alene's touristy downtown is diverse as you can wander from Rustic's pleasant healthy fast-food atmosphere to the inspiring Human Rights Education Institute. Nearby, but a world away from flashy downtown, the turnpike-side Cosmic Cowboy Grill ended up being an incredible food-value stop. The huckleberry salmon was first rate and the blues-video soundtrack made me feel at home. Also, surprisingly, the nearby Mulligan's Bar & Grille (inside the Best Western Coeur d'Alene Inn!) had fantastic trout. Yeah, you've got to work off some of this gluttony: a bit further afield, Timberline Adventures will send you soaring along seven world-class ziplines, across two wobbly sky bridges, and down two auto-belays.
In this part of Idaho, pride needs no flag. It just goes with the flow.
Roam over to Visit North Idaho.