A city of trees, music, street art, cuisine, uplifting beverages, watersports…and Basque shepherds who ran away with the American dream
Move over America's hip cities, here comes Boise. Really more of a big town, Boise is an ultra-walker-friendly desert oasis, both in floral and cultural terms. You won't be a stranger here, as one of America's fastest-growing cities is also on track to become a vital Northwestern melting pot. Pronounced Boy-see, not Boy-zee, it's laid out in a handsome grid of wide streets with broad sidewalks. As part of Idaho's Treasure Valley—where six rivers drain into the Snake River—Boise enjoys the sunshine benefits of desert life but with bountiful foliage and outdoor recreation options. Experiencing the sacred personal touch in Boise is a given, not a luck of the draw; you'll be one of 225,000 devotees who all want to be there. As you'd expect, there are a few locals and recent transplants seeking intimacy who fear urban growing pains; this hotspot is blooming like a wildflower.
Where you park yourself matters. Hotel 43 is a reinvented downtown motel that's been spiced up into a 112-room boutique hotel with urban-chic options like framed photos everywhere, freshly prepared breakfasts at lobby-side Metro Café, and, also in the same building, Chandlers Steakhouse. Borrowing its name from the 43rd Parallel in the 43rd State, the hotel gets the metro-flair-meets-cozy-décor mix just right, and you're steps away from all the action. The Boise Convention Center is across the street, and your feet can easily take you to the Boise Art Museum, Boise State University and all of Boise's contagious energy. Hotel 43 provides free shuttles to/from the airport. The Modern Hotel is cool, too (at least check out its indoor and outdoor imbibing options).
Nearby, Freak Alley speaks volumes of Boise's city-center revolution. What was once the back/service alley for a cluster of businesses is now a seductive outdoor venue for public art in the form of murals and graffiti. More than a hundred community-created works of art now enliven what was—pre-2002—just a grim alley. I was there when Freak Alley was getting its annual murals and graffiti makeover, which doubled as a great opportunity to chat with outdoor illustrators at work. As a New Yorker, I'm familiar with street art being a nonviolent way for rival gangs to compete. The gang of Boise street artists seemed to get along just fine.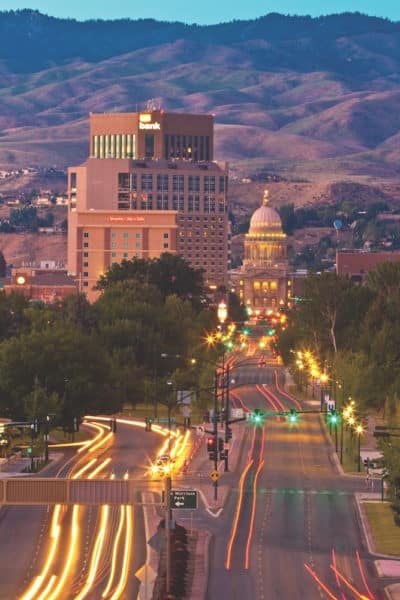 The big small-town's centerpiece (and the state's most-treasured building), the Capitol Building is geothermally heated, a cinch to visit and gorgeous. Inside, you can literally raise your hand and be acknowledged by the politicians. Within its beautiful sandstone walls and four floors, laws have been passed, issues debated and citizen rights safeguarded for nearly a century. And you can be part of the action without even having to deal with security. Boise also had America's first geothermally heated home—green before it was hip.
A city is only as honest as its live music joints and Pengillys Saloon does not disappoint. An establishment steeped in history with its 113-year-old Brunswick bar and turn-of-the-century National Cash Register, the musicians strum rhythms from bluegrass to rock and set the tone. Trendier Neurolux is a late-night venue with nightly live indie bands in a laid-back atmosphere. The soundtrack also matters in places without bands, and I found the vibe in Barbarian Brewing as pleasing as its craft brews. By not doing what it ought to do but what it wants to do, the brewery is a magnet for in-the-know beer drinkers.
Boise's mayor is America's only Basque-speaking mayor, a language that predates the creations of Spain and France. This part of Idaho has long been a central location where Basque immigrants first congregated after coming to the United States from the Spanish Basque region, mostly between 1900 and the 1940s with many fleeing after being exiled from Franco's dictatorship. As the chain-immigrants established their lives here, Basques became well-known for their hard work and perseverance, especially as shepherds. The Basque Museum & Cultural Center provides a look into the Basque heritage through exhibits, collections and tours. As a cultural center, it's a gathering place for events and educational opportunities—in which people of all backgrounds can participate in Basque activities. Nextdoor is an original Basque boarding house built for shepherds on their wintertime offseason.
While you're on Boise's "Basque Block," across the street from the museum, brunch fans will dig Bardenay, the nation's first restaurant with an on-premise distillery since Prohibition. Bardenay means "cocktail" in sailor-speak. Inside this spacious wood-and-beam space, your creative cane-sugar-based cocktail journey might start with ginger rum, amber rum, dark rum, or rye whiskey. Where you sip from there is up to you. I had to try the Basil Instinct (Bardenay gin, Patron Citronage, fresh lime, and sour) because both my father and brother are named Basil. I have no regrets. The place also makes superb liqueurs. The black current cassis and banana-inspired Bananahattan will prep you for the extensive Northwestern fare menu (Pacific cod and chips = yes). And, there's more Basque bacchanalia within a 10-minute stroll. Txikiteo (chee-kee-tay-o, the Basque word denoting a pub crawl or stroll with friends partaking in coffee, tapas and wine) is a gourmet deli-style bar where two guys resembling lumberjacks slice, dice and present exquisite tapas.
The apple of Boise's eye is Longdrop Cider, an alcoholic cider house that shares a building with a new brewery, cocktail bar and a mobile kitchen. The atmosphere is enhanced by two in-house mega-mellow American red-nose pit bulls that were rescued from the dog pound's death row. Make sure your cider flight includes the papaya passion and the café mule that's blended with gourmet coffee. Longdrop starts with the ingredients, not the recipe. It works with a team of local and regional foragers who source ingredients for ciders that respect the seasons, and never use high-fructose corn syrup or phony colors and flavors—just northwest and Idaho-grown apples. Owner and unofficial neighborhood ambassador Chris Blanchard's motto is "Innovate or die," and this cidery has crossed that finish line. Events include an instructive succulent glass-terrarium/planter night, where participant use wine to inspire botanical genius, and the Boise City Library-sponsored Lego night. Can't handle that apple enzyme? Winos will adore Coiled, named in honor of Idaho's first grape-growing region, the Snake River Valley. Several of their vinos are made from vine to wine under the Coiled roof.
The Boise Fry Company wants to know, "Would you like a burger with your fries?" Here, visitors have choices of potato (there are many, by the way), cut, seasonings, and even ketchups, of which there a dozen. Okinawa yam from Hawaii, anyone? Try the purple potato homestyle fries with some sriracha salt and spicy fry sauce. But you're not limited to potato fries, as options include purple brussels. The burgers feature fresh bison, grass-fed beef, or black bean-and-quinoa vegan options. Everything is fresh, local and appetizing. Take it up a notch? The Pacific Northwest-inspired American cuisine at Fork enlivens the heart of downtown Boise by using fresh ingredients from local farmers and producers at the Capital City Public Market. The enticing space inside a historic building has an arcing half-circle bar that make meeting new friends easy, especially after sipping the bar's watermelon kiss.
If you haven't yet figured out that Boise is a cyclist's heaven, Boise Bicycle Tours will help bridge that gap. Any expedition that starts on a comfy beach cruiser after leaving a brewery—Payette Brewing—is off to a good start. Options include the "Best of Boise Tour" (seven miles), a perfect combination of sightseeing and outdoor recreation, and the "Boise Greenbelt Tour" (five miles), which explores bike trails on both sides of the Boise River and passes Garden City, a riverside hamlet with restaurants featuring live bands. The "Boise Greenbelt Tour" also visits several of the city's nine Ribbon of Jewels parks, all named after prominent and proactive women. Owner Shawn Welsh is a great emissary for a city that's growing rapidly but hellbent on accommodating commuters who prefer pedal power and the active lifestyle.
At every turn, Boise is a culinary attraction. Juniper on 8th is a red-brick restaurant that gives customers upscale flavors in a casual and fun setting—a fancy place where jeans work. One of its outdoor walls is part of Freak Alley. The place taps local farmers, growers and purveyors to source products with integrity, flavor and soul. The result is food that's honest and pays homage to the bounty of southern Idaho. Juniper's wine and beer lists follow that model, as well (you won't forget the gin and tonics), as most of the gems are exclusive to the Pacific Northwest.
Boise's annual Treefort Music Festival, established in 2012 and now a Northwest U.S. institution, enjoys local talent merged with the post-SXSW band exodus. Co-founder Megan Stoll combined her experience as a meeting planner with her keen sense of bands that move audiences. In 2018, nearly 500 bands jammed at the week-long festival. It expanded into nearly 30 venues and nine different "forts," including: Alefort, Yogafort, Storyfort, Hackfort, Filmfort, Skatefort, Comedyfort, and even Kidfort. While chatting with Megan, I met the Managing Director (a Boise High School grad just like Aaron Paul of Breaking Bad fame) of LED, a Boise-based theatrical, mixed media dance company that participates in Treefort and keeps the arts alive by creating at least one artistic YouTube video per day.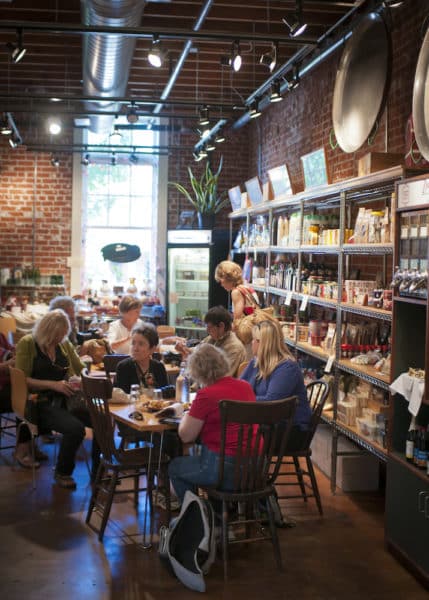 Here, you can't help but circling back to Basque goodness. The Basque Market (also on the Basque Block) is the region's leader in Basque paellas. Every Wednesday and Friday at noon, the place prepares a paella from start to finish right on the patio. Check out the Spanish-style pintxos (Basque for tapas) and inquire about Basque food, cooking and wine; this market is home to classes, events, private parties, paella feeds, and specialty ingredients.
More Basque: 10 Things San Sebastián Taught Me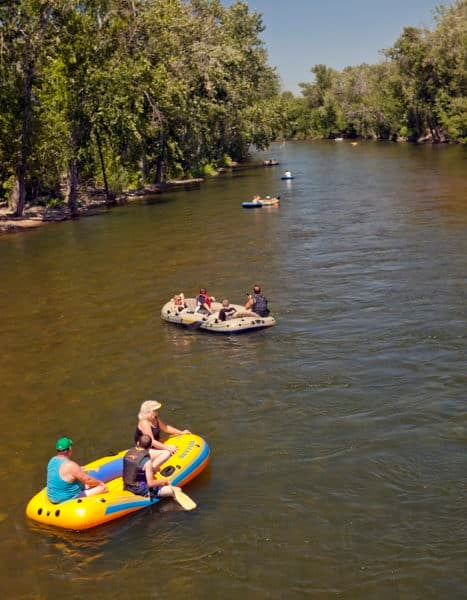 Tubing, or somehow floating, along the Boise River is a rite of passage. Missing this would be like not visiting Central Park during a NYC visit. The urban, tree-lined run through Boise between major irrigation diversion dams includes a recreational dam where wave skiing/surfing is encouraged. Idaho River Sports can set you up for tubing, kayaking, rafting, river surfing, SUP boarding, and kayak fishing. They also offer SUP intro, SUP Yoga, fitness and—in that Boise spirit—a chance to embrace your wild side.
---
For more information, check out boise.org/visit.