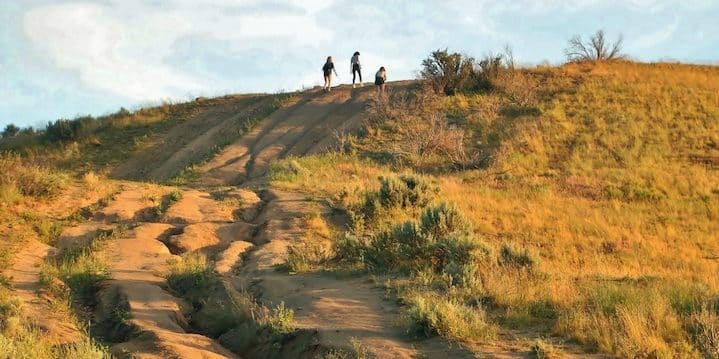 What comes to mind when you hear "Idaho"? If you're like me before my Idaho road trip, you might think about snow-capped mountains and deep blue lakes surrounded by meadows full of colorful wildflowers. You might also think about hunting and fishing, and, yes, potatoes. (Idaho is by far the nation's leading potato producer.)
My six-day, 808-mile Idaho road trip this June—a great circle route through the southern half of the state—made real some of my preconceived notions and gave me a few surprises, as well. Sure, there are grand mountain vistas, rugged forests and serene lakes, but there's also sophisticated urbanity in places like bustling Boise and upscale Ketchum in Sun Valley, a skier's paradise in winter that draws sun and fun-loving visitors in summer.
My journey started in Boise and took me to Twin Falls, Arco, Ketchum, Sun Valley, Stanley, Challis, Idaho City, and back again to Boise. I drove through the high desert of southern Idaho, where irrigated fields support hay, beef cattle and, yes, potatoes. Here and there, beautiful recreational enclaves like Thousand Springs State Park offered majestic green sanctuaries contrasting vividly with their agrarian surroundings. I traversed gravel roads to get to abandoned mining towns and passed over steep and winding roads. Along the way I found scores of photo ops among stunning natural beauty. In all, Idaho's was a surprisingly diverse terrain with an equally diverse assortment of people who call the "Gem State" home.
Gem fact: Idaho produces 240 different types of minerals including gems like opal, topaz and jasper.
From my trip, here are 11 Idaho road trip stops worth making: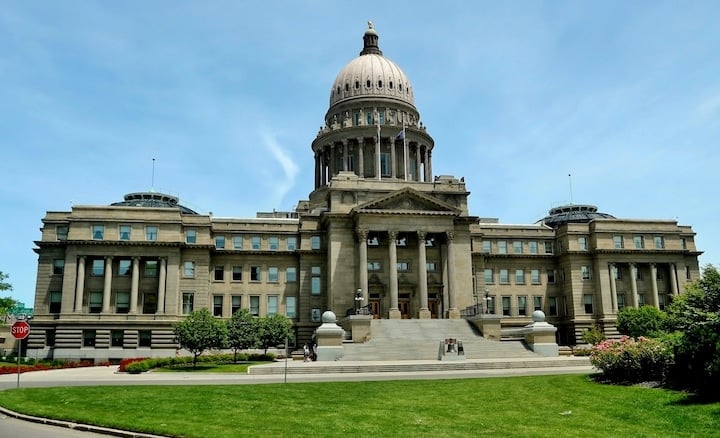 1. Boise
Forbes listed Idaho's state capital as the fastest-growing metropolitan area in 2018, and my overall first impression was that it most resembles Austin, Texas, without the traffic. The "City of Trees" is modern, clean and youthful. All over town, you'll see hipsters riding bikes and e-scooters available for rent at convenient locations for inexpensive prices.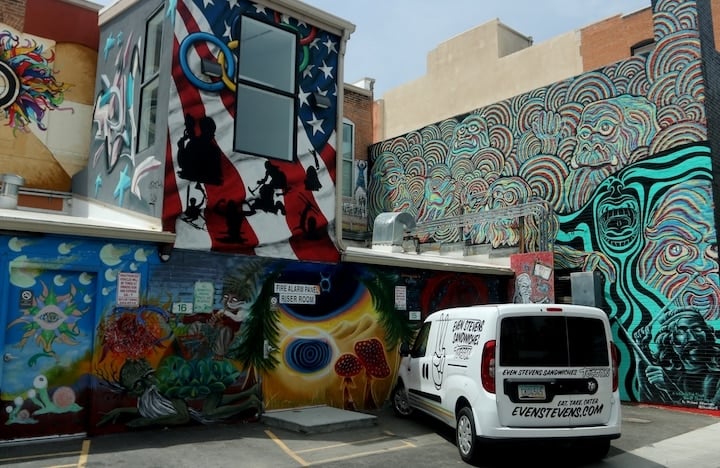 The popular Boise River Greenbelt, a 25-mile swatch of green space that runs right through the heart of the city, led me to the Idaho Anne Frank Human Rights Memorial, a quiet expanse near the rushing Boise River. The memorial is the only one in the nation dedicated to Anne Frank, a victim of the Nazi Holocaust. It's also one of the few installations where the full text of the Universal Declaration of Human Rights is on permanent public display. Besides a large bronze statue of Frank, the site includes an amphitheater, a water feature, a garden, and a 180-foot "Memorial Quotes Wall" inscribed with inspirational messages composed by presidents and slaves, the famous and the unknown.
The downtown core bustles with trendy restaurants, wine bars, brew pubs, and sidewalk bistros. Eighth Street has become the city's restaurant row with some of the city's most poplar eateries. In town during Pride Month, I saw a number of businesses displaying a rainbow flag and, surprisingly for a notorious red state, another gracing the street leading straight to the Idaho State Capitol.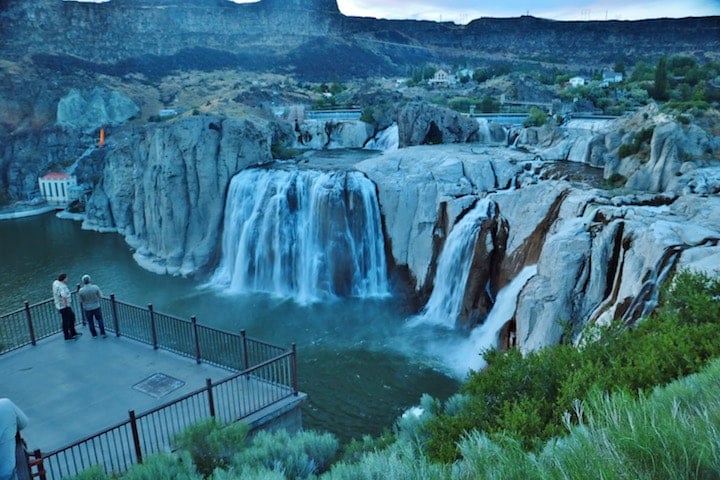 2. Natural attractions
In Boise
In the capital, you should be prepared to hike to the top of Table Rock, perhaps the town's signature landmark. Table Rock is 900 feet above city center and 3,650 feet above sea level, and there are two ways to get to the top. One leads from the Bishop's House at the Old Idaho Penitentiary (see item #11), and the other is a drive through a swanky neighborhood with gorgeous houses. The former takes about one hour, while the latter involves a short drive over a gravel road and a short hike to the top after parking your car in front of a gate block the way. Proceed on foot.
A 600-foot cross at the top of Table Rock is illuminated at dusk, when visitors are required to leave. The sun sets over the city, and most nights visitors are in for a visual celestial spectacle, although the daylight vista is almost as awesome. Sit down on one of the benches at the top and enjoy the view.
In Twin Falls
Twin Falls boasts two awesome attractions, both of which involve the Snake River. For one, the city is fortunate to have its visitor center situated close to a jaw-dropping vista of the deep Snake River Canyon and the lofty Perrine Bridge, the eighth-highest in the U.S. The bridge deck is 486 feet above the river and a great spot for parachutists—yes, you heard me—to legally jump.
The bridge is open to pedestrian traffic and is a great vantage point for a photoshoot. Unfortunately, all I was able to capture on my digital camera was a sole base-jumper folding up her parachute after a successful leap. Near the visitor center a trail to the east leads to the infamous and unsuccessful jump site used by Evel Knievel in 1974, when he unsuccessfully attempted to leap the canyon on his ill-fated "skycycle."
Just a few miles northeast of the city, Shoshone Falls is billed as the "Niagara of the West" and is actually 45 feet taller than its eastern cousin. After entering the park, I drove down to a parking lot that has a convenient overlook of the impressive falls, which splay out over the rock with an impressive majesty.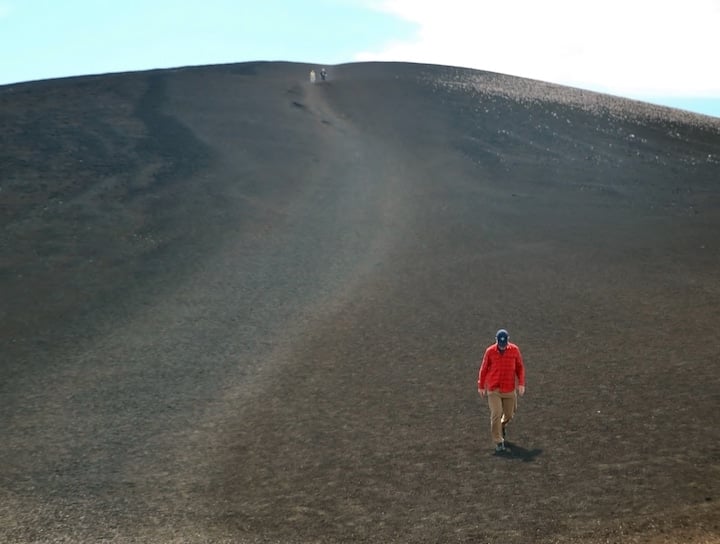 3. Craters of the Moon National Monument
It's no wonder that NASA has sent Apollo astronauts to this volcanic area to train for lunar flights. Craters of the Moon National Monument is covered with black lava that erupted from numerous fissures and solidified into cinder cones and lava bombs.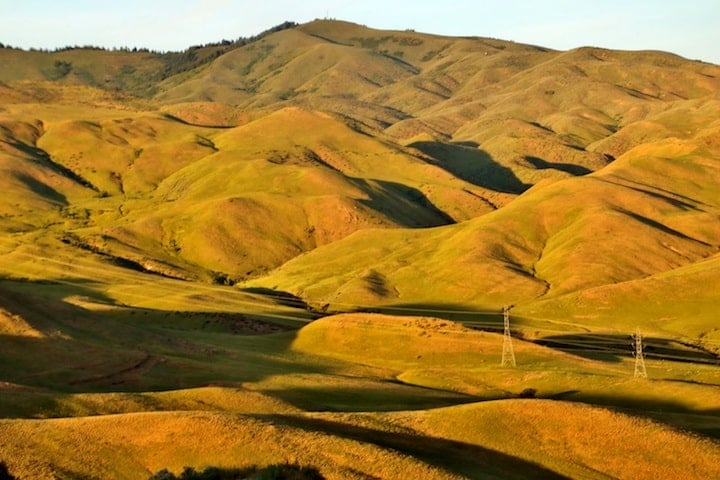 While the monument covers some 53,571 acres, visiting is made easier via a seven-mile loop road that starts near the visitor center. The loop has seven stopping points that lead to walking trails and areas with suggestive names like the Devil's Orchard and Inferno Cone, a 164-foot, cinder-covered hill with one of the best overall views of the area.
Even in such harsh conditions, small flowering plants were growing along the slopes of Cinder Cone on my June visit. These were just several of the 750 different species of plant that manage to survive in the area. Lava eruptions occur roughly every 2,000 years, and geologists predict another within the millennium and likely the next 100 years.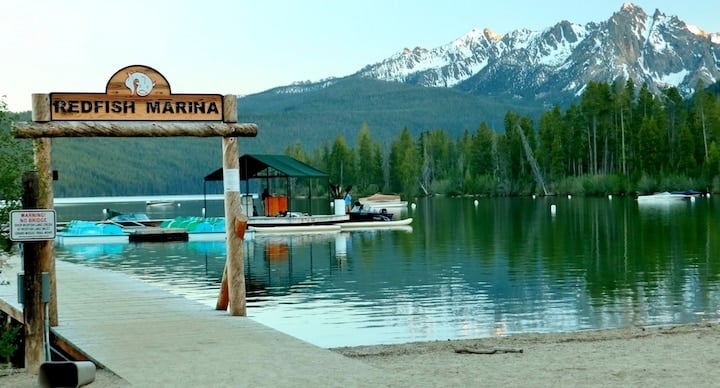 4. Mt. Heyburn and Redfish Lake: iconic Idaho
Emblematic of Idaho, Redfish Lake near Stanley, is a five-mile long, one-mile-wide alpine lake that got its name from the abundance of sockeye salmon that once filled its waters in spawning season. Very few of the red fish return each year due to the number of hydroelectric power dams that now hinder their upstream journey.
During my mid-June visit, on my Idaho road trip, 10,299-foot tall Mt. Heyburn was still partially snow-covered. The view of the lake and surrounding mountains from rustic Redfish Lake Lodge is awesome. And the cuisine featured at Limbert's, the lodge restaurant, is some of the finest in the area.
5. Geothermal activity made practical
Idaho has an abundance of geothermal resources. The Idaho State Capitol is said to be the only one in the U.S. heated by this sustainable energy source. Self-guided tours of the beautiful 1905 building include visits to the House and Senate chambers and the dazzling rotunda. Interestingly, the Great Seal of Idaho is the only state seal designed by a woman (Emma Edwards Green).
Besides their use as energy sources, geothermal resources also have recreational uses in the form of natural hot springs. Who needs a hot tub when there are 340 of them scattered around the state (and ~130 available for soaking)?
During my tour, I managed to relax at two commercial springs, one in the Thousand Springs State Park area called Miracle Hot Springs and another just south of Idaho City simply called The Springs. Both charge a fee for use of their private pools, all great for a long soak in complete privacy. After each use, the pools are drained completely, and users may then enjoy the public areas, which include a large, chemical free swimming pool with an additional fee for a massage.
6. The food
In Boise
Almost every restaurant menu I perused on my Idaho road trip trip listed a trout entree. Many restaurant menus also offered smoked trout as an appetizer. And it's no wonder why, as Idaho has some of the nation's best fishing. (Google "what states have the best trout fishing?" and you'll find Idaho in the top five.) There are also 19 hatcheries statewide.
For something novel, Bar Gernika on the "Basque Block" in Boise features croquetas (Basque-style croquettes), lamb grinders and stew, and solomo sandwiches (marinated pork loin with pimientos served on a fresh French roll). At the opposite end of the block, the Basque Market stocks all sorts of Mediterranean products, including wine from Basque country. Starting at noon every Wednesday and Friday, the market also prepares paella on its patio, available for $9.99 a plate. Each Thursday evening, there is also a paella dinner.
In Buhl, Stanley and Ketchum
Like ice cream? The Cloverleaf Creamery in Buhl crafts ultra-rich, all-natural ice cream from its small herd of registered, pedigree Holsteins. Modest yet eye-catching, Cloverleaf's cream-colored location is big on flavor. Try the "Cowboy Crunch," a butter pecan base with Heath bits enhanced by caramel and chocolate swirls.
I got my first taste of Idaho steelhead at the Redfish Lake Lodge near Stanley. As the one I caught on a charter fishing trip on Lake Erie was, steelhead is reminiscent of salmon. Redfish's version is pan-seared and served with sofrito, Idaho heirloom green beans and pureed artichoke.
And speaking of artichokes, I'd had them steamed with butter, marinated, in a cheese casserole, and in spinach-artichoke dip), but I'd never had one grilled over mesquite and served with a roasted red pepper remoulade until my dinner at the Sawtooth Club in Ketchum, where my dinner pal went for a bison burger for a taste of the Ole West.
7. The beer and wine
It was also at the Sawtooth Club that I had my first taste of Idaho ice wine (Koenig winery). The state now has over 50 wineries and three AVAs, and its wines are getting national acclaim. Though largely off the radar of most of the wine-imbibing public, Idaho wines seem destined to make an impact on the market as its neighbors Washington and Oregon have.
Beer lovers might want to take a tour of a section of the state's Brewer's Trail. At the moment, there are 72 craft breweries, enough to keep every beer aficionado engaged for quite some time. Keep in mind that Idaho is a big producer of the raw ingredients that go into making a fine brew. Besides having an abundance of cold mountain water, the state is number-one in the nation in barley production and number-two in hops. In fact, the world's largest contiguous hop farm is located in Bonners Ferry in the northern part of the state.
One of the newest craft breweries also happens to be one of Twin Falls's best eateries. Milner's Gate describes its cuisine as "creative interpretations of classic American bistro and pub fare." It was with an appetizer of Thai-style babyback ribs that I had my first taste of a remarkably good Idaho riesling.
8. The Ernest Hemingway connection
When rail tycoon Averell Harriman sent Felix Schaffgosch west to find a spot for his proposed luxurious ski resort, he recommended Sun Valley. Soon after opening, the resort attracted America's luminaries (Clark Gable, Gary Cooper and Ingrid Bergman; later Marilyn Monroe and Clint Eastwood). One of them, Ernest Hemingway, fell in love with the place.
The celebrated author and outdoorsman worked on and completed his novel "For Whom the Bell Tolls" while residing here. He later bought a home on the outskirts of nearby Ketcham, an upscale destination with the panache of Aspen and Vail. Following his suicide by gunshot at his home, Hemingway was buried in Ketchum Cemetery and his grave is usually covered with "souvenir keepsakes" left by admirers. In 1966, his family erected a granite monument to his memory on Trail Creek Road, a mile northeast of Sun Valley Lodge.
9. Gold rush ghost towns
The 1879 gold rush town of Custer takes its name from the ill-fated general. Today, it's literally off the beaten path down a gravel road. This short-lived town died with the end of the gold era and was abandoned by 1910. About seven of the town's original buildings remain. The schoolhouse, among them, is now a museum,
Just down the road, the Yankee Fork Gold Dredge is a massive structure that explains the piles of rubble stone alongside the road. The dredge is 112-feet long, 54-feet wide and 64-feet high and weighs 988 tons. It recovered an estimated $1,200,000 in gold that the original prospectors missed according to goldrushtradingpost.com. The dredge opens it interiors for tours in the summer months.
Near Challis, the county seat of Custer County, the Land of Yankee Fork interpretive center ties together the pioneer and mining history of this scenic area of Idaho. While there, you can view a short video on the area's history and peruse museum displays. You can also hike the Getty Memorial Pathway, which features old mining equipment and notes on how it was used.
10. Idaho City, an amazing gold town
Miners discovered gold in the Boise Basin in 1862, and its major town soon became the largest between St. Louis and San Francisco. At the basin's peak, nearly 20,000 miners resided in it, and a large portion of them were Chinese. In all, the Boise Basin produced $250 million in gold, more than the Comstock and Klondike strikes combined.
Despite two early fires, more than 20 pioneer buildings remain intact in Idaho City, now the seat of Boise County. With three dozen structures over 150-years-old, the town—about 40 miles north of Boise—is a popular tourist draw.
With resident Rhonda Jameson guiding me, I walked the planked boardwalks of Main and Montgomery Streets peering at old relics. Among them were the 1865 Masonic Hall, the Old Schoolhouse, the Boise County Courthouse (formerly a hotel with the courtroom in the former dining room), and the Miners' Exchange across the street, now housing county offices. To quarantine those with contagious diseases, meanwhile, the pest (short for pestilence) house later became a jail. The house of one of the most prominent and wealthiest Chinese residents, too, Pon Yam, is now a museum. If you're interested in gold rush history, therefore, the Boise Basin Museum is worth a look around.
On the edge of town, the Pioneer Cemetery dates back to 1863 and has about 200 remaining gravestones. Interestingly, Pon Yam sent the bones of those buried in the Chinese section back to China as they wished.
11. A trio of neat museums in Boise
Housed in an attractive, modern and interactive building, the Idaho State Museum will fill you in on more of the state's history than you'll probably have time for. I was fascinated learning about how the state got its very irregular shape, learning about the state's five federally recognized Native American tribes, and viewing the galleries devoted to the diverse regions of the state.
The Old Idaho Penitentiary is both chilling and beautiful (mostly in the magnificent rose garden that now occupies the area once used for executions). Tours take in the cell blocks, the gallows and the pens used for solitary confinement. Each of these sometimes held five prisoners at a time and was completely devoid of the comforts of home.
And finally, there's the Basque Museum & Cultural Center. In the late 1800s, Basque immigrants from France and Spain began arriving in Idaho, often to serve as shepherds. Today, Boise has more people of Basque descent per capita than any other place outside their native region in Europe. For visitors, meanwhile, the museum is conveniently located in the "Basque Block", which includes a Basque restaurant, Bar Gernika (see item #5), and a Basque market. The museum has numerous displays detailing Basque history in the Old West. And as you'll find on your Idaho road trip, the boarding house nextdoor shows how the shephards lived.
For more Idaho: Boise: Not Predicting Idaho's Future, Reinventing It
---
For more information on Idaho, visitidaho.org.