You don't have to turn on the news to see that gas prices are going up around the country. Here in California, the average price for a gallon of Regular is $5.29 (according to AAA).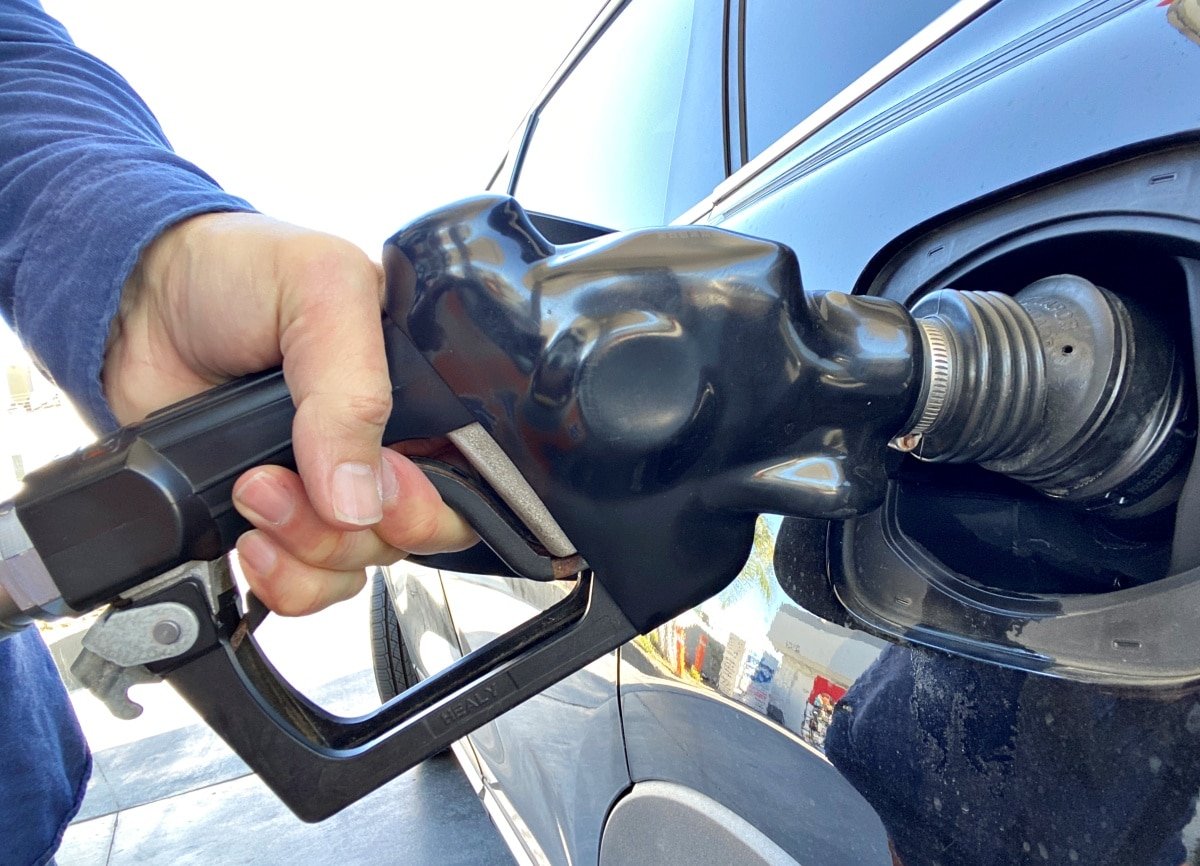 That doesn't bode well for those taking to the roads this weekend and AAA is predicting record numbers. "AAA booking data for flights, hotels, rental cars, and cruises shows Labor Day weekend travel is up over last year: domestic bookings are up 4% and international bookings are up 44%."
Bob Pishue, transportation analyst at INRIX told AAA, "The best times to travel by car over Labor Day weekend are early in the morning or in the evening." Bob also said, "If you must travel during heavy traffic, navigation apps and local departments of transportation can help steer drivers around long delays." That's good advice.
If you're trying to save money (aren't we all?), below are my tips, along with some from the EPA (United States Environmental Protection Agency). RELATED: How to Prevent Road Trip Theft

1. Use Gas Buddy
The first thing I suggest is downloading the Gas Buddy app (free on both iOS or Android) or bring up their site and do a search. GasBuddy covers 150,000 gas stations in the US and Canada and lets you check prices at multiple gas stations. You will quickly learn that not all stations are priced the same. In fact, it's not even close. By simply driving a couple of blocks, you can save some serious cash.
2. Find Out Gas Prices Before You Leave
Another way to save money on gas, especially if you're driving through multiple states, is to find out what the prices are on the other side of state lines. You can save even more money by either filling up before or after crossing, depending on the state. For example, here in California, gas prices are out of control, thanks to high taxes, so if you're driving to Arizona, it would be wise to fill up there, as prices are $1.30 less per gallon. Insane, right?
3. Fill Up at Costco
I'm a Costco member and I know a lot of people who fill up at Costco gas stations because it's usually 20 to 40 cents cheaper. However, every time I go, the lines are out of control and I don't have the patience or time to wait. Tip: According to a reader the best time to go to avoid a long wait is right when they open up.
4. Fill Up on Monday and Tuesday
Researching this article, I learned that the cheapest day of the week to fill up is on Monday and Tuesday. That's according to GasBuddy's lead petroleum analyst Patrick De Haan who told KRON TV that In general, gas prices tend to be lowest at the beginning of the week. As the week goes on, gas prices tend to rise until they reach their most expensive point on the weekend – especially on Friday and Saturday.
5. Use the Right Credit Card
If you take road trips often, having a card that earns at the pump is worth it, even if the most time you spend driving is on your daily commute. Since gas can be a common purchase, it makes sense that you can be earning rewards. Plus, with spring and summer around the corner, having a credit card that earns rewards, cash back, or bonuses on gas station purchases can easily set you up for some worthy points/miles. Here's a list of the best gas credit cards for earning rewards.
6. Don't Go Over the Speed Limit
The U.S. Department of Energy and the U.S. Environmental Protection Agency (EPA) has a fuel economy website, which has all kinds of interesting information, including gas mileage tips so you can drive more efficiently. Here are some of the tips I found most interesting and useful:
According to EPA: "While each vehicle reaches its optimal fuel economy at a different speed (or range of speeds), gas mileage usually decreases rapidly at speeds above 50 mph. You can assume that each 5 mph you drive over 50 mph is like paying an additional $0.29 per gallon for gas."
7. Drive Sensibly
Aggressive drivers (speeding, rapid acceleration and braking) waste gas. The EPA says this can "lower your gas mileage by roughly 15% to 30% at highway speeds and 10% to 40% in stop-and-go traffic."
8. Avoid Hauling Cargo on Your Roof
You might want to think twice about having a roof rack on your vehicle. The EPA says: "Hauling cargo on your roof increases aerodynamic drag (wind resistance) and lowers fuel economy. A large, blunt roof-top cargo box, for example, can reduce fuel economy by around 2% to 8% in city driving, 6% to 17% on the highway, and 10% to 25% at Interstate speeds (65 mph to 75 mph)." If you need to haul stuff, they recommend rear-mount cargo boxes or trays as they reduce fuel economy by much less—only 1% or 2% in city driving and 1% to 5% on the highway.
9. Remove Excess Weight
Another way to save money on gas is to remove excess weight. Avoid keeping unnecessary items in your vehicle, especially heavy ones like golf clubs or that box of books you've been meaning to donate. The EPA says: "An extra 100 pounds in your vehicle could reduce your MPG by about 1%."
So, if you're planning a road trip this summer and are having second thoughts because gas prices are too high, try the tips above before canceling because they can really help you can save some serious money at the pump.
What are your tips for saving money on gas?

MORE TRAVEL HACKS