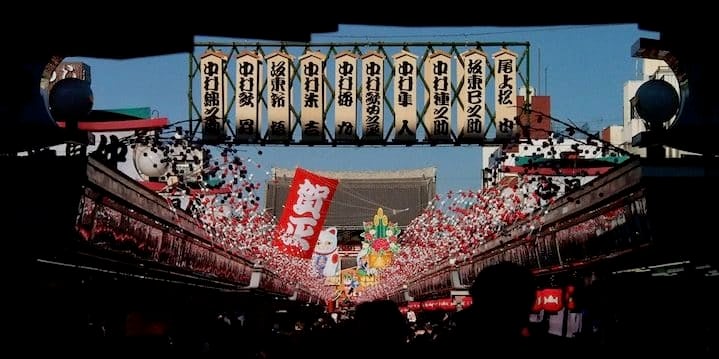 For whatever reason, you have one day in Tokyo. What do you do? At its most guttural, my advice is to plant yourself in an area of commercial density (like Asakusa) and just walk for a while. Stop often, at the moments your curiosity is most inflamed, and eat all that you can. In my mind the energy feeding Tokyo, above which a thin logic of streets and subway maps has been superimposed, resembles the Milky Way, twinkling with hidden wonders and lassoing colorful arms outward at unknowable speeds. Tokyo is like space!
I don't imagine a flexible schedule and a nose for adventure could serve anyone wrong in Tokyo. If only as an itinerary to break from, here's one iteration of a day in the Japanese capital:
8am
Wake-up and quick breakfast
Start the day with a Japanese breakfast. If you're not sure what a typical Japanese breakfast consists of (as I was not), here's a good post on that. The hotel I made a home of in December—the Richmond Premier Hotel Oshiage, just beside the Skytree—laid out a bare-bones spread each morning that I nonetheless found exciting to wake up to. A miso soup machine, steamed rice and globs of cod roe powered my mornings. For a better breakfast, head straight to the Tsukiji Fish Market…
Navigating Tokyo's subway system: Unlike in most cities (especially in the U.S.), the Tokyo metro system includes lines operated by private companies (in addition to those overseen by the municipal government). The Tokyo Metro and Toei Subway are the two to know. This Quora post attempts to break the whole thing down. The Tokyo government also has an unusually thorough guide to using it.
9am
Tsukiji Fish Market (free to wander)
See the world's largest fish market. As the epicenter of fish in one of the planet's fish capitals, Tsukiji Fish Market is core curriculum in a day's examination of Japan. Supposedly, its operations stretch back 20 generations in some form. In the inner market, rainbows of fish spanning many orders of magnitude meet the public by the way of flurried hands, rickety trolleys and razor-sharp, salt-water-drenched efficiency. Stroll the stalls for a look at what's for sale and who's buying and then chomp down on sushi, fish-rice bowls, ramen (!), or anything else. The outer market is a kaleidoscope of sea- and land-based eats in one of the best food settings imaginable. Here's more. And alternatively…
Arrive at 3:30am for the tuna auction: The market's famous pre-dawn tuna auction—at which sushi chefs and/or their trusted tuna people scour mountains of giant tuna for the morning's best catch—is a show to behold, but you'll have to wake early to see it. The number of onlookers is fixed at 120 each day (two groups of 60), so get there by maybe 3:30am (to wait to register for a 5:50am or 6:05am tour inside) or you'll risk being turned away. After, you can eat a fresh-as-is-possible seaside breakfast in the outer market. Here's more on visiting, and here's even more from the source.
10:30am
Hama-rikyu Gardens (¥300)
Nearby, just beyond the sting of fresh fish smell, is Hama-rikyu Gardens, where the entrance fee is ¥300 (¥150 for 65+). Hama-rikyu Gardens is one of at least nine historic parks manicured for calm inside Tokyo, in whose greater metropolis teem no less than 30 million people. A backdrop of tall office buildings and hotels stands as contrast to its insulating quiet, which beside Tokyo Bay shelters twisting pines, brilliant flowers in yellow and pink (in season), an over-water tea house, occasional herons and cormorants, and deep breaths. On a Saturday morning in December I encountered just a trickle of people. The 300-year-old pine was a favorite.
The yen to the dollar: At the time of posting, $1 is trading at ¥109. See the current rate here.
11:20am
Water bus to Asakusa (¥740)
Hama-rikyu Gardens's perch beside Tokyo Bay earns it a stop on one of the city's water bus lines. According to this official timetable, a water bus will show up at Hama-rikyu at 11:20am everyday to pick up passengers with tickets (¥740) for an hour's sail to Asakusa. You get out on the water, and you leap between neighborhoods without having to descend into the sometimes-congested Tokyo metro system. Just like that, you're in Asakusa.
For English speakers: At each water bus stop, a different staff member does a round with the English details scratched on a sign.
12:30pm
Lunch at Aoi-Marushin (meal for ¥2,000)
On the Kaminarimon side of the main Asakura temple complex is Aoi-Marushin, an icon in Tokyo tempura. With a pinch of wasabi-salt, Aoi-Marushin's was the best tempura I've ever had. Sip a haibo-ru (whiskey soda) over a lunch of miso soup (there's always soup in Japan), tempura in the house's famous (light) sesame oil (shrimp, squid, a white fish, sweet potato, and green pepper), and bonus Japanese bites (¥2,000).
1:30pm
Sensō-ji and Asakusa Shrine (free)
From Aoi-Marushin it's a short walk to Japan's oldest Buddhist temple—Sensō-ji—whose origin story begins in 628 A.D. with two fishermen and a curse. Once you've steered yourself around the unmissable 15-foot ruby-red lantern hanging from Kaminarimon ("Thunder Gate"), the energy picks up. Tourism knots here, so push through. Stalls peddling cartoonish oddities and sweet-smelling snacks will funnel you down Nakamise shopping street toward the temple and its partnering five-story pagoda, where the memories go bold-red. Make sure to extend into the adjacent Shinto shrine, where in autumn and early winter a floor of golden Japanese maple leaves dampens the chatter nextdoor.
Religion in Japan: Buddhism and Shinto are the two major religions in modern Japan, with Confucianism a beat behind. Buddhism and Shinto coexist in commendable harmony, with many Japanese identifying as both or a blend of their own concoction. Read more here.
2:15pm
A walk around Asakusa
At some point, you should just open the sails, walk around and eat, maybe have a beer. This, in my experience, is a good place to do that. On the carnival of side streets that splinter west off from the Sensō-ji grounds are tiny shops slinging melon pan (wow; go to one of the three Kagetudo locations), stand-up sushi (go to Hinatomaru and get aburi, which is lightly seared tuna), menchi-katsu (go to Asakusa Menchi), and on and on. Bring yen and eat everything. Turn corners and ask yourself what you're looking at. On-street beers and non-alcoholic Hoppy may call on "Hoppy Street." Settle in and mind only the sun's height in the sky. See where it leads you.
I really can't endorse this enough. And for sunset…
5:30pm (or before sunset)
Skytree observation deck (from ¥2,060)
The top of the pagoda-inspired Skytree is the highest above ground you can get in Tokyo. Only from the 350-meter (¥2,060) and 450-meter (another ¥1,030) observation decks did the full jaw-dropping scale of the Tokyo metropolis come into view. On a clear day, you can see Mount Fuji to the southwest. If all you get is a sunset 1,500 feet above the world's largest city, well:
Without this perspective, you'd be missing something.
7:30pm
Dinner in Skytree Town
The base of the latticed Skytree joins with a mall, which is the newest and only entry on my list of favorite malls. In its seventh-floor planetarium, I beheld a dazzling love letter to the Paris sky dance across the half-dome ceiling (Japanese people love France). I walked around a projection of the moon's surface in an eighth-floor science exhibit. I also ate unagi, sushi and ramen here in one day (the second immediately after and 50 feet from the first; I couldn't not go in for the sushi I saw them making), and at the legendary Tamahide Ichino on another. Everything was delicious. Eat here for convenience and flavor. Or dive deeper into the world of ramen…
9pm to late
Drunkard's Alley (Nonbei Yokocho)
Much like Golden Gai, Drunkard's Alley (Nonbei Yokocho) is jam-packed with late-night potential. Dozens of bedroom-sized bars line two tight, lantern-lit alleys near bustling Shibuya. Some will charge you to get in, and some will insist on Japanese-speakers only. You may see it overrun by Australians. Finding convivial company over a whiskey or rice wine here, however, snug in a living memory, will catalyze your affection for Tokyo. (Though no matter what, you're going to love Tokyo.)
More Japan: 10 Things to Do in Tokushima, Japan