Check out more on Caitlin Martin's Holland America adventure here, here, here, and here.
On my recent visit to Myanmar (Burma) in March with my sister on Holland America's Volendam, we were fortunate to explore this last frontier of untouched Asia before the country is rebuilt and ready for full-scale tourism. Here are some memories from our time getting to know the Burmese and their culture:
1. Seeing monks getting served their last meal of the day
At Kyakhatwaing Monastery, the largest monastery in lower Myanmar and one of the three largest monasteries in the country, we learned about monk lifestyle and saw them getting served and eating their last meal of the day. The monastery is home to about 600,000 monks and 200,000 nuns.
Tip: The monastery in Bago is a two-hour drive from Rangoon. Along the way to Bago, stop to see the World War II cemetery containing graves from 27,000 Allied soldiers who died in the Burma and Assam campaigns.
2. Strolling around Rangoon
We were in awe as we turned the corner of the street to see the Supreme Court of Burma, noted for its Queen Anne-style architecture (including its clock tower) and Maha Bandoola Garden in Rangoon. In the background, you can see the Sule Pagoda as locals sit on blankets and kids play in front of the pagoda.
Tip: Wherever you choose to stay, ask the cab to drop you off at the corner of Maha Bandoola Park Street and Strand Road. Walk north and your first view will be of the Supreme Court of Burma's old clock tower on the right and the gardens on the left.
3. Beautiful sunblock from a tree
Thanakha, natural sunblock made from drying out the bark of a Chinese Box Tree was seen everywhere on ladies and children in Myanmar. While it's main purpose is a sunscreen, it's also a symbol of beauty. A local told us that a girl with thanakha on her face is always more beautiful.
4. Meeting locals in Ponpyan village
We found ourselves in Ponpyan village standing in front of two of the sweetest Burmese children waving at us with their mother looking on so proud. They didn't speak any English, but as we stood there for a few minutes the woman smiled and signaled for us to come closer. We got closer, kneeled down and smiled and laughed for a while together. The language barrier wasn't even there at that point.
Tip: The village is difficult to access without a guide's help so I recommend working with a local guide to ensure you go at the right time.
5. Learning about Buddhism
On the two-hour bus ride back to Port Thilawa, a young tour guide was patient enough to walk me through his personal beliefs as a Buddhist and answer all of my questions (several times even the same question).
He felt like a friend and not a tour guide hired by Holland America. It was such a cool experience. It almost felt like I'd met him at a coffee shop.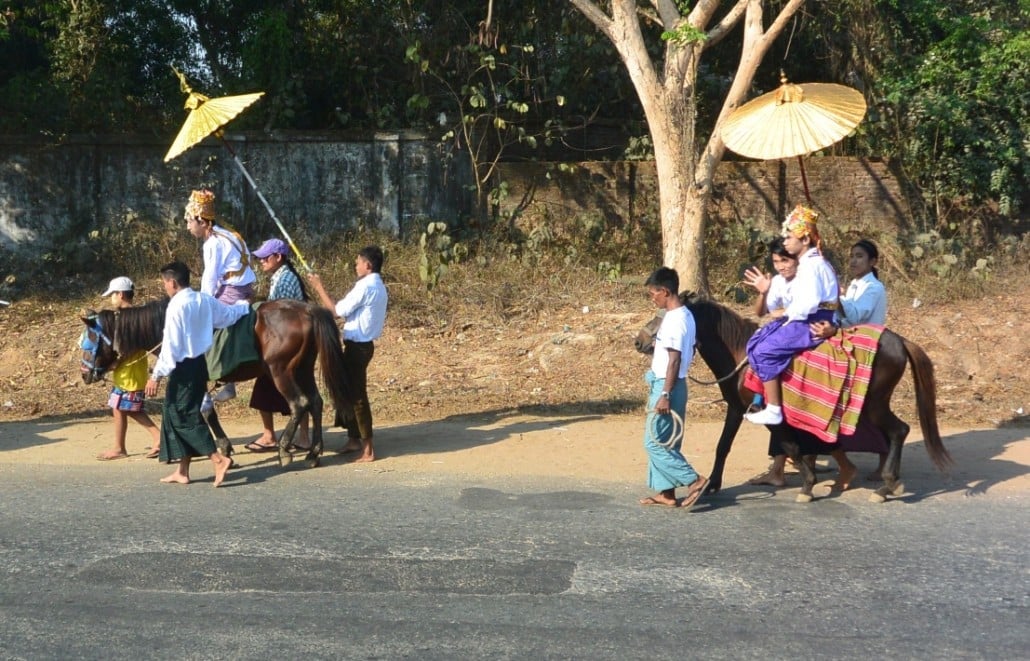 6. Observing a Buddhist ceremony on the street
Along the side of the street to Bago, we happened to witness a Buddhist ordination (initiation) ceremony. We saw boys riding on horseback and ladies dressed in colorful clothes as music blared in the background on trucks that drove by. The ceremony is for young boys looking to become novice monks. The boys were going to a pagoda to get their heads shaved and then to the monastery to practice being a novice monk.
Tip: There's a greater chance of seeing one of these ceremonies during the summer months (April through June) while the kids are out of school.
7. Shopping in the local market
Myoma Market has almost 250 shops and 400 stalls for and representing small groceries, fresh fruits, flowers, jewelry stores, and photo shops. It's full of locals and, as far as we saw, not very many foreigners at all. We found some rather large durians for sale. Most of the locals will look at you like they've never seen anyone like you before (because they probably haven't).
8. Shwedagon Pagoda
Dusk hits the Shwedagon Pagoda, one of the most famous pagodas in the world and a main attraction of Rangoon, and you realize it actually looks like it came out of that fairy tale with the pretty castle you used to watch as a kid. The pagoda is 2,500-years-old and is covered with hundreds of gold plates—and the top of the stupa is encrusted with 4531 diamonds. The largest diamond on the top is 72 carats. The pagoda consists of hundreds of colorful temples, stupas and statues. As you walk around you'll see monks washing the statues, offering flowers, worshiping, and meditating. It was astonishing to those devoted in deep reverence.
Tip: The best time to come to see the Shwedagon Pagoda is about an hour before sunset so you can stay into the evening for sunset, dusk and into the night. You'll get to see the stupa during the day and watch as it literally glistens before your eyes. Don't make the mistake of leaving before night!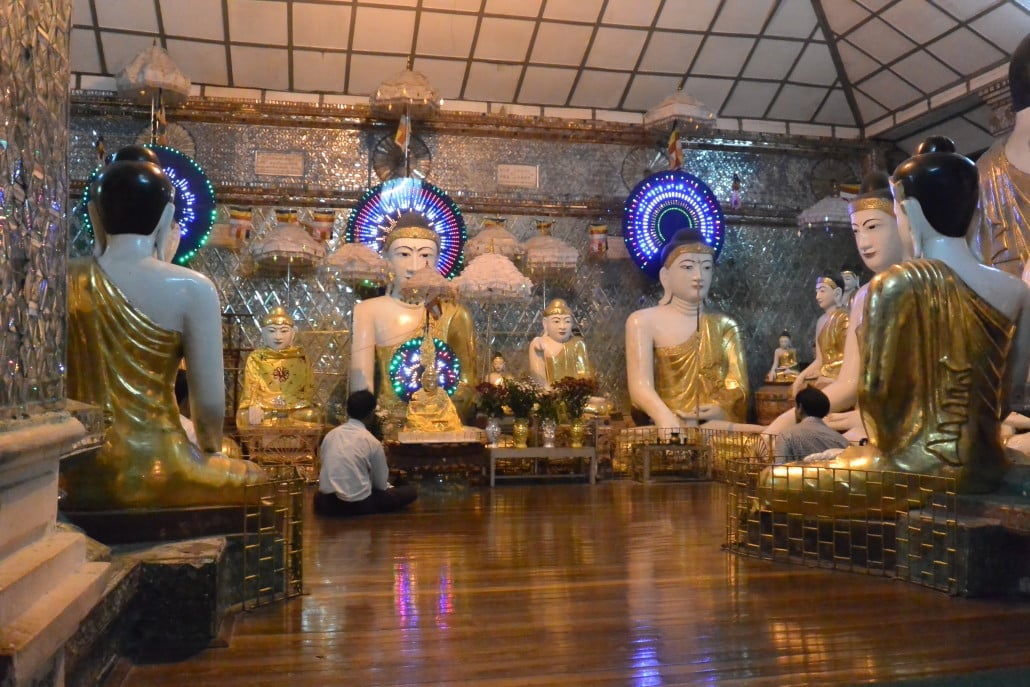 After all this, we've only scratched the surface of this mysterious country so rich in culture, but one thing is for sure: We came back with a great appreciation for the Burmese and their country.
For more on the itinerary that brought me here, visit hollandamerica.com. All photos credited to Caitlin Martin.