Check out more on Caitlin Martin's Holland America adventure here, here, here, and here.
The name Malaysia comes from an old term for the entire Malay archipelago. The country emerged out of the territories colonized by Britain in the late nineteenth and early twentieth centuries and now consists of thirteen states and three federal territories. It's separated by the South China Sea into two similarly sized regions: Peninsular Malaysia and East Malaysia. I only visited Peninsular Malaysia on my Holland America cruise (read more on the cruise here, here and here). Peninsular Malaysia shares land and maritime borders with Thailand and maritime borders with Singapore, Vietnam and Indonesia.
Today, the ethnically diverse country is home to Malaysians, Indonesians, Chinese, Indians, and British, who together give the country an eclectic feel, especially in larger cities like Kuala Lumpur. You'll see people of all walks of life along the streets and dining at restaurants.
I really enjoyed my several days here, even more than I thought I would. I found street food in Penang, history in Malacca, beaches in Langkawi, and cultural experiences I'll always remember. Here are eight of them:
1. Large reclining Buddha at Wat Chaiya
Wat Chaiya is a sight to see on the outside and inside, as well. The Thai Buddhist temple is the location of the fourth-largest reclining Buddha in the world. Some sources can't agree whether it's the third- or fourth-largest reclining Buddha; regardless, it was big to me.
In addition to the 108-foot-long reclining Buddha, the temple also has smaller statues of the "Awakened One" in various guises, and statuettes of other popular Thai deities in the main prayer hall.
2. Penang food stalls and blue rice
Malaysia's diversity has given the country one of the tastiest cuisines in the world, combining elements of Malay, Chinese and Indian cooking. Of course, rice and noodles are common in the cuisine and spicy dishes are favorites. Hawker stalls offer prepared food 24 hours a day in urban areas. Malaysia's food options can cater to a range of religious and flavor preferences. Muslims don't eat pork, but it's a favorite among Chinese. Hindus don't eat beef and some Buddhists don't eat meat at all.
After a great day exploring Penang, my sister and I found ourselves learning about these cuisine differences by talking to locals at a food stall down the road from our ship. A nice man named Mr. Low gave me a demonstration of how the blue rice turns blue after I gobbled down his nyonya special nasi lemak with blue rice. It's a traditional breakfast dish of Malaysian coconut milk rice served with chicken in sambal chili paste, anchovies, toasted peanuts, and cucumber.
I was so curious about this blue rice! Mr. Low walked outside and 30 seconds later brought me a blue pea flower and introduced me to his wife who cooked at a hotel before opening up business at the food stall. Madam Ong showed me how they take dried blue pea flowers, add water and then heat it to get the blue color seen in the rice.
My sister had roasted pork and steamed chicken from a different food stall. We raved about it to the man behind the counter and he told us the ginger lemongrass garlic onion made it so good.
3. Petronas Towers
Having a look at the tallest twin structures in the world—the beautiful Petronas Towers—was a highlight. They're in the national capital of Kuala Lumpur, the most populated city in all of Malaysia. Kuala Lumpur means confidence (kuala) and mighty (lumpur) and those towers were quite mighty.
Tip: We didn't have time but you should walk on the skybridge and check out the great view from the observation deck.
4. Merdeka Square
Independence Square or Merdeka Square is beautiful. The square is situated in front of the Sultan Abdul Samad Building. Here the Union Jack was lowered and the Malayan flag raised for the first time on August 31, 1957.
5. Fruit stalls and monkeys
There were lots of fruit farm signs along the road as we drove around Penang, so we stopped at a local fruit stall to check out the local fruit. We found the famous durian, known by its spiked shell and fermented flesh. It has a "special" aroma (read: bad aroma) and the taste is good to some and bad to others. I tried a few of them during the larger Holland America Southeast Asia trip and I didn't have a strong love or hate for them. I tried one in Langkawi that I liked, but it didn't taste like much of anything to me. Wikipedia describes the taste as like "rich custard highly flavored with almonds" but I would describe it as more tasteless with a yogurt-like consistency.
The smell of durians can be so bad that they've been banned in subways, buses and hotels across Southeast Asia. Yep, don't mess with this fruit. Now doesn't that pique your interest enough to at least want to say you've tried it?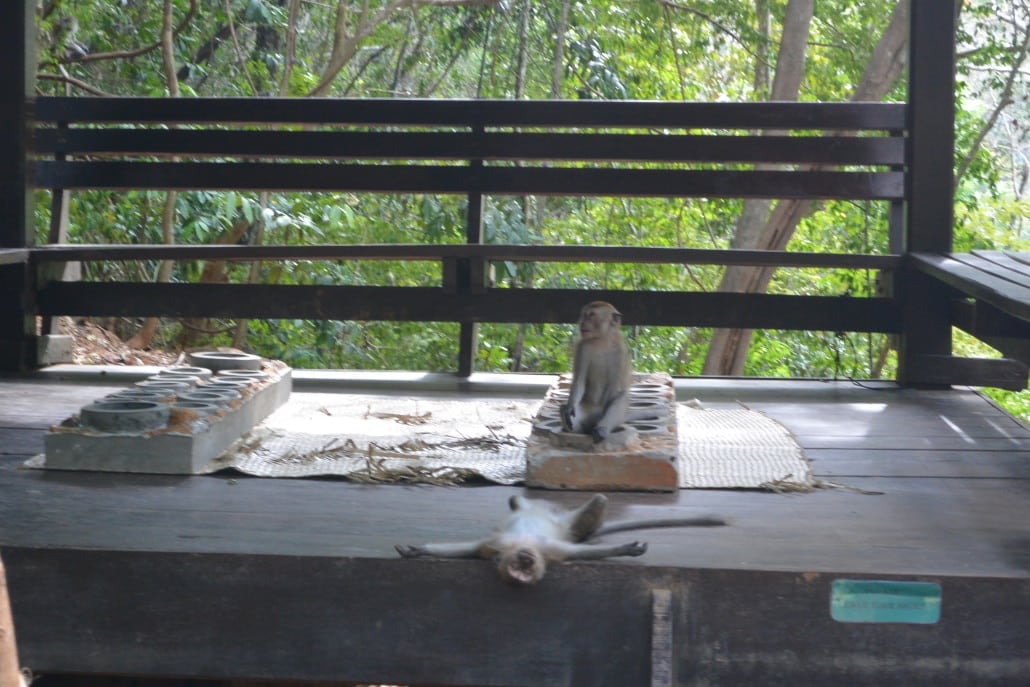 Our monkey friends went crazy for us at the fruit stall. Someone from our group, I guess, thought it would be funny to feed one a banana. Needless to say, the monkeys didn't leave us alone after that. One monkey even tried to grab my purse, which was a fun little battle. However, it was not the monkey above, as clearly he's a bit exhausted from the day.
6. History in Malacca
Walking around the historic state of Malacca exploring the UNESCO World Heritage Site's beauty is a great memory considering it was our first day of the Holland America cruise ship—and we got lost! However, getting lost allowed us to find gorgeous ruins: a Portuguese fortress, Porta de Santiago (or A Famosa), believed to be the oldest European ruins in Asia; the Chen Hoon Teng Temple, the oldest Chinese temple in Malaysia built in 1645; and St. Paul's Church, built by the Portuguese in 1521.
We also enjoyed Jonker Walk, a cool shopping street filled with street food and restaurants. We loved the electric vibe of the street so we stayed for a while and shopped around at the antique and clothing stores.
7. Langkawi's tranquil beaches
Indulge in Langkawi's tranquil beaches, where white sand, pristine waters and sunshine offer a soothing getaway from the urban jungle. We hopped on a boat ride around Langkawi's islands organized by Holland America. It took us to see Pregnant Maiden Island with its freshwater lake. It takes 200 steps to get to the lake but it's great swimming and there are lots of crazy monkeys once you get there. After the lake, we stopped at Wet Rice Island, which had a beautiful white sandy beach to relax at (or jump up in the air like the photo above).
8. Batik design
We had the opportunity to watch how batik printing is done in Penang. Design is drawn on a piece of cloth (cotton, silk or rayon) before wax is applied over the pattern. (The wax acts as a barrier to keep the colors from bleeding.) Once the paint is dried, the cloth goes through the wash, which removes the wax.
For more on the itinerary that brought me here, visit hollandamerica.com. All photos credited to Caitlin Martin unless otherwise noted.