Check out more on Caitlin Martin's Holland America adventure here, here, here and here.
The Singapore story begins roughly 200 years ago when Sir Stamford Raffles founded the modern country. Where women once labored on the river, in 2015 you'll see festive bars, club, posh eateries along Clarke Quay alongside the historic colonial architecture, restored antique shops and the Supreme Court.
Today, you can walk through a cloud forest, see the Buddha's Tooth Relic Temple, take in the sunset from a cable car or the Singapore Flyer, have a drink at the top of Marian Bay Sands, walk around Chinatown or Little India, and gaze at the white marble at the famous Raffles Hotel.
Here are a few—and more—of those many Singapore highlights:
1. Historic Raffles Hotel
We stumbled upon the beautiful architecture of the Raffles Hotel, which was actually across the street from our hotel, The Fairmont Singapore. Opened in 1887, the Raffles is one of the few remaining 19th century hotels in the world and was declared a National Monument by the Singapore Government (after which it underwent a complete restoration).
At Raffles, we walked around in wonderment gazing at the magnificence of the front entrance, the regal, white marble columns and looking up at the atrium that soars four floors up. The hotel has 103 suites, 14 restaurants and bars, event spaces, and a shopping arcade (and the original Singapore Sling).
Tip: We heard the chili crab spaghetti plate at Halia restaurant inside of Raffles is a must-try.
2. Lounging under Supertrees at Gardens by the Bay
On our last day in Singapore, my sister and I found ourselves looking up at gigantic Supertrees, vertical plant displays filled with ferns, vines, orchids, and others at Gardens by the Bay. They have been "growing" for three years and have about six more years until fully grown. The 80-to-160-foot, man-made trees, supported by purple structures, mimic real trees—and they look so cool! The trees also harness solar energy that's used for park functions such as lighting and collect rainwater for use in irrigation and fountain displays.
It's free to see the Supertrees. We were in so much awe that we decided to buy the pass for the cloud forest and flower dome ($28). The flower displays of tulips were stunning at the flower dome (attractions there change frequently) and the cloud forest recreated the environment and climate of forests and mountains at sea level. In the cloud forest, you'll learn about rare plants and their quickly disappearing environments. You'll also take in mountain and waterfall views as you disappear into the clouds.
My sister heard amazing things about this place and she insisted we make it the last stop of our trip. I'm really glad she did because it was one of our most memorable moments in Singapore.
3. Char kway teow at Albert Centre Hawker Centre
We stumbled upon a store selling Buddhist meditation supplies and ritual items when it suddenly started to downpour. At last we found shelter from the rain—but then, we really needed food since it was way past lunch! We looked around for a while and started chatting with the man at the counter.
He told us of an amazing market a few blocks away called Albert Centre Hawker Centre (opposite of Bugis Street). He quickly mapped us a dry escape route to get there and gave us a list of the many food items we should try. He did this all without us asking, probably because I kept taking pictures of the store!
While we were so hungry, we patiently walked around to each food stall looking at the menus, searching for items on the list the man had given us. We finally made our choices: char kway teow, white carrot cake (see above) and pork with veggies. The hands down favorite was the char kway teow. I wanted at least a few more plates of it.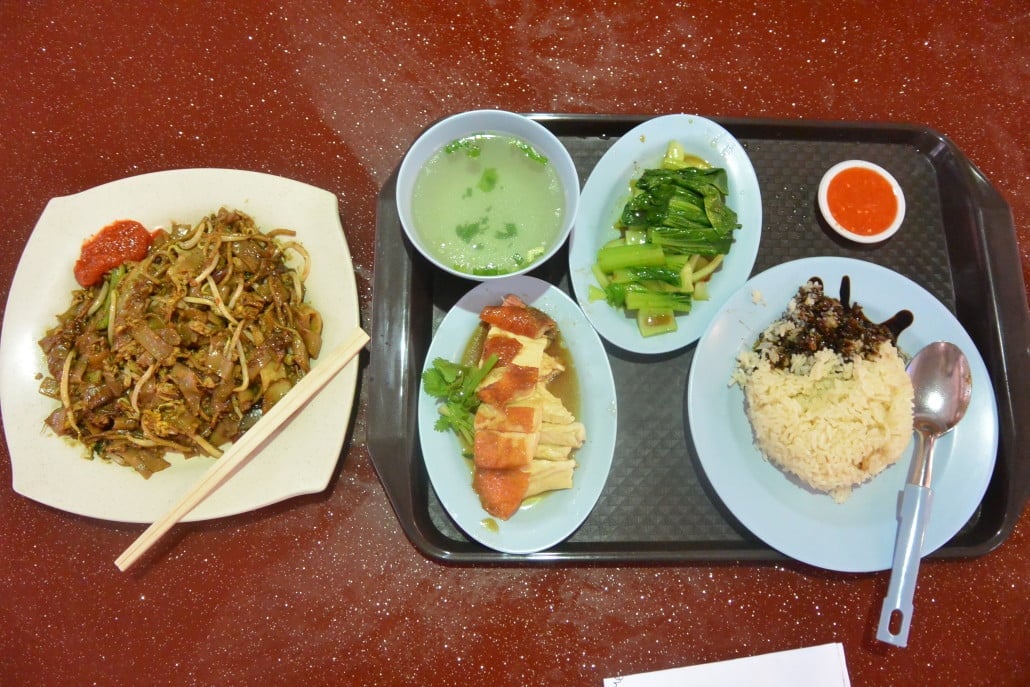 Once we sat down to enjoy our food, we noticed a slew of people watching the funeral of Lee Kuan Yew on a big-screen TV. Couples were holding each other. Kids were standing quietly next to their parents. Singapore pretty much stopped while the funeral was going on, whether or not the procession was near your street or not.
4. Kwan Im Thong Hood Cho Temple
Kwan Im Thong Hood Cho Temple is a well-known and popular temple to those devotees of the Chinese goddess of mercy. The architecture has traditional Chinese craftsmanship and worshippers are believed to receive good luck and compassion after praying. Photos can't be taken inside but you can observe the mediation and reverence.
5. Buddha's Tooth Relic Temple
Located in Chinatown, this temple is based on architectural style of the Tang dynasty and was built to house the tooth relic of the historical Buddha. The temple is home to 100 Buddhas and the future Buddha, Buddha Maitreya, also known as the Prosperity Buddha.
6. Singapore cable car
The cable car whisked us away with the best seats in town to catch glimpses of Mount Faber Park, HarbourFront, Universal Studios, Sentosa Island, and Resorts World Sentosa. We were excited that we timed our ride perfectly; we were able to watch the sunset up high!
Even if you don't have a desire to go to Sentosa Island, the cable car ride itself and the breathtaking views of Singapore are well worth it.
7. Asia's tallest observatory, Tiger Sky Tower
After getting off the cable car, a local couple invited us to join them on their romantic date for the evening. Why not?! They invited us up Asia's tallest observatory, Tiger Sky Tower at a height of 360 feet above ground and 430 feet above sea level. As it slowly lifts visitors into the sky while revolving, it offers a panoramic view of Sentosa, Singapore and the Southern Islands. On a clear day, I'm told the view extends to parts of Malaysia and Indonesia.
8. Sentosa Island
The name Sentosa translates as "peace and tranquility" in Malay. We were excited to have a lovely view of the island as we were ending our ride on the cable car! It's Singapore's fourth largest island (excluding the main island) with an area of almost two square miles. A majority of the island is covered by rainforest, the habitat of monitor lizards, monkeys, peacocks, and parrots. We didn't see any animals but we grabbed a beer at the bar with our new friends from Tiger Sky Tower.
9. Nightlife in Clarke Quay
After the cable car, our night continued, still tagging along on the date with our friends, with a walk around Clarke Quay. Clarke Quay is a historical riverside quay located upstream from the mouth of the Singapore River and Boat Quay with five blocks of restored warehouses that hold restaurants and nightclubs. It's the site of power lunches during the day and bars and nightlife by evening.
10. Singapore at night on the river
Finally, check out a river cruise on the Singapore River. While it may seem touristy, it's actually the best way to see the city light up at night. Our local couple said they felt it to be one of the best date-night ideas in Singapore.
Tip: Try River Explorer Boat Tours, which can be accessed from Clarke Quay (and 13 embarkation points along the river). If you go late enough, you'll avoid any screaming kids. The cruise will take you past the Marina Bay Sands, Singapore Flyer, Merlion Park, the Fullerton Hotel, and more.
Singapore is still going through its transformation into a great modern city, but I really enjoyed my time. Someone told me there wasn't much to see here. I disagree. After our few days in Singapore, I still want to go back to see more.
For more on the itinerary that brought me here, visit hollandamerica.com. All photos credited to Caitlin Martin.