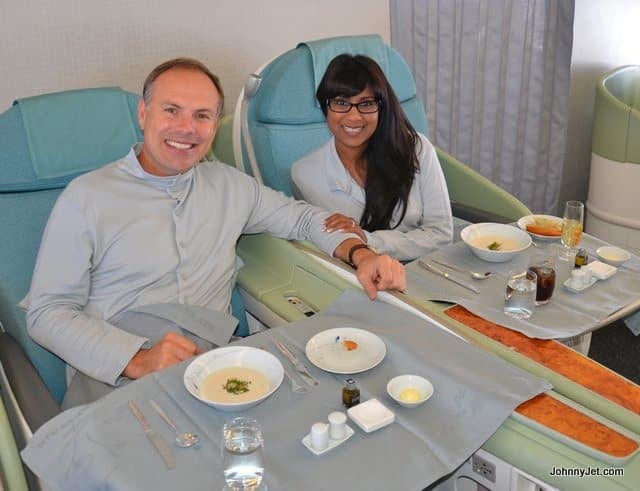 FLL-TPA-LAX-MIA-POS-TAB-POS-MIA-LGA; JFK-FRA-SIN-NRT-LAX-SJC; MRY-LAX-YYZ-LAX-ITO; KOA-HNL-LAX-PHX-LAX-JFK-DOH-BOM-HYD-BLR-IXE-BLR-MLE-DOH-JFK; LGA-YYZ; ERI-DTW-FLL;PBI-IAH-LAX-JFK-CDG-JFK;LGA-YYZ-LAX-JFK;EWR-YTZ;YYZ-MCO-ATL-LAX-DEN-LAX-JFK;LGA-DTW-ERI-CLE-LAX-SAN-LHR-VCE-LHR-YYZ-LHR-LAX-DTW-ERI-CLE-LAX-JFK;LGA-YYZ-ICN-DPS-ICN-JFK-LAX-SYD-DRW-WWL;ASP-ADL-KGC-ADL-SYD-LAX-JFK-LAX-ORD-YYZ-PBI-YYZ; ERI-CLE-LAX-MIA-PTY-MIA-YYZ-DTW-PBI. Here they are using FlightMemory.com (nice visual maps).
Wow! I can't believe another year has flown by – quite literally. 2012 was arguably my best year professionally and personally. It all started on January 1 when I hosted my first Travel Channel show called Hot Spots 2012. On January 2, I got engaged and on January 3 … just kidding — nothing big happened on January 3. But in mid-January I traveled to Trinidad and Tobago, and then was one of the first people to fly around the world on an A380 (Singapore Airlines). Speaking of flying I did a lot of it in 2012 — I flew 92 times, on 29 different carriers totaling 176,039 miles! I visited 20 countries (USA, Trinidad and Tobago, Germany, Singapore, Japan, Canada, Qatar, India, Maldives, France, England, Italy, Montenegro, Greece, Croatia, Slovenia, Korea, Indonesia, Australia, Panama) and 14 States (FL,CA,NY,PA,HI,AZ,CT,MI,TX,RI,GA,CO,OH,IL). Now that's an incredible travel year, eh?
My other big trips were to India, Maldives and Doha on Qatar Airways, France to get a behind-the-scenes tour of Air France, and  a 12-day Adriatic cruise on Seabourn. In August I went to London twice, including once for the Olympics! In September I got married in Toronto and we honeymooned in Seoul (Gangnam to be exact), Bali, and New York City. A week later I was traveling all around Australia filming for their tourism board, and by the time October came around I was exhausted. Can you blame me? Everything since then has been relatively local (L.A., Florida, New York, Erie, Toronto and Panama).
I'm now in south Florida putting a close to 2012 the same way I did 2011, and hoping 2013 will be as exciting as 2012.
To a happy New Year full of fun, productive and safe travels!
P.S. Don't forget to include your 2012 airport codes in the comments section below.