Cheerio! I left off from Venice, Italy after a 10-day Adriatic Sea cruise and flew to Toronto via London. I spent a night in Canada then took a bus to Erie, Pennsylvania so I could visit my family and get a colonoscopy (that's right and I wrote about it). I then drove back to Toronto with my sisters to surprise Natalie at her bridal shower before hopping on another British Airways flight back to London so I could attend the Olympics! Now how awesome is that?!
When British Airways (BA) invited me to London to attend a day at the Olympics I thought I was dreaming. There was no way I was turning it down even if it meant flying back across the pond. BTW: Flying across the Atlantic is no big deal especially on British Airways and in their Euro Traveler (premium economy) or Club World (Business class) cabins.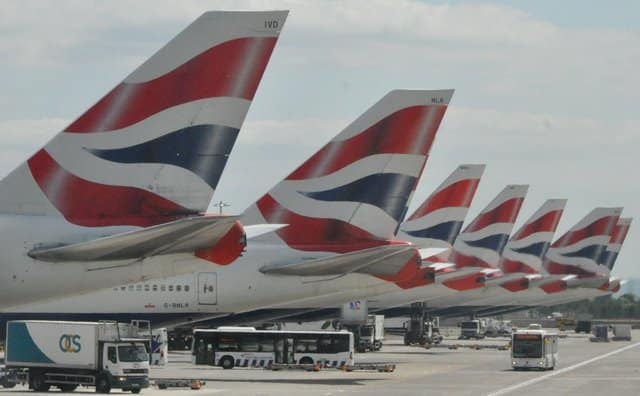 Checking-In for British Airways
My trip started off at the Toronto's Pearson International Airport where I was taking BA 98 which departs at 8:50 pm. FYI: British Airways has two flights a day from Toronto and the earlier flight leaves at 6:55 pm. I checked-in online as the secret to getting the best seat without paying in advance is to log on at 23 hours and 59 minutes and 59 seconds before your departure time. That's when BA allows for passengers to reserve seats free of charge. Obviously, the exit and bulkhead rows are the best but I always consult with SeatGuru.com and SeatExpert.com before selecting.
Should I Give Up My Phat Seat?
Earlier in the day I was at Trump Toronto and since I didn't like the way their printer printed my boarding pass I went to the check-in desk and had the agent reprint it. There she gave me a pass to the lounge and asked if I would be willing to switch seats to allow for a couple to sit together. When she said there was no windows left I said let me think about it. I felt guilty not wanting to comply but I made extra effort to check-in on time and secure one of the best seats in Club World (62K). Luckily, I didn't bite right away because another passenger switched with them.
Toronto's British Airways Lounge
When I arrived in the BA lounge the agent handed me a meal card and informed me the flight is "sleeper service" with limited amounts of food on board so most people will eat their main meal in the lounge. The lounge had all kinds of food and had a chef preparing fresh dishes and there was even neatly set dining room tables. I passed on eating since I had a huge meal at Trump's Stock Restaurant. BTW: On board the flight attendants still handed out a menu and there was some food… my seatmate ordered ravioli.
Toronto to London on BA
I'm glad I passed on eating because right after takeoff I reclined my seat (goes 180 degrees and turned into a flat bed) and fell asleep watching a movie. Flight time from Toronto is just six hours and 35 minutes but I should add another 10 minutes to it because we had a "go around" on final approach.  Our captain decided to go back up since something wasn't right.  It's only the second time that's ever happened to me but I wasn't nervous like the first time since I immediately looked at the flight attendants and they weren't even fazed by the sudden climb.
No Line at Immigration
We landed just before 10 am at London Heathrow's Terminal 5 and there was absolutely NO line at immigration. I asked the agent what's going on?! I didn't even need to use my Fast Track pass and he said it's because of the Olympics that they have extra agents there. He then said with a smile don't worry the lines will be back after the Olympics. FYI: I can't remember ever waiting longer than 15 minutes at LHR to clear immigration. Have you?
Heathrow Express
As usual, I took Heathrow Express right from the airport to Paddington Station. Their trains run every 15 minutes and takes 20 minutes from T5 (15 minutes from the other terminals). I bought a roundtrip ticket at one of the self-service kiosks for £34 ($53). A cheaper alternative is to take the Tube (Piccadilly Line) right from the airport to the city which takes 50 minutes and costs £5.00 ($8.50). Here's link to Visit London's Heathrow Airport transportation page.
London Tube
From Paddington I jumped on the Tube (subway) to get to my hotel which was in Holbourn. The Tube is easy to use especially when you aren't lugging a huge suitcase(s). The best way to save is to get an Oyster Card. Oyster is the cheapest way to pay for single journeys on bus, Tube, tram, DLR, London Overground and most National Rail services in London. I took the Bakerloo line to Oxford Circus and then switched to the Central Line to Holbourn. Here's a link to London's underground and a Tube Map (pdf file).
Chancery Court Hotel
British Airways put me up at the five-star Chancery Court Hotel (252 High Holborn London, WC1V 7, EN, United Kingdom Phone: +44 20 7829 9888). It used to be a Renaissance but is now part of the Preferred Hotel Group so you know it's swanky. It's just a block from the Holburn Tube station (take a right out of the station) and the hotel's grand entrance is right there. Walking down the driveway I noticed a bunch of flashy cars all with signs for Visa since it was the credit card's host hotel for its delegation. I'm sure Michele Kwan, the former winter Olympic champion, was with them as she checked out the day I checked in.
Walking around London
By the time I got to my room it was around 11 am so I download my emails and took a hot shower so I wasn't tempted to crawl into the huge comfortable-looking bed. I quickly got dressed and walked around the neighborhood to explore. It was a typical London summer day – one minute it was warm and sunny and the next it was cool and rainy. When the sun didn't look like it was going to return I went back to my room and broke my anti-jetlag rule and took a nap. I know it was so wrong but the bed was just too nice and it felt so good.
The London 2012 Olympics
I won't bore you with the rest of day so I'll just jump ahead to the main event – the London 2012 Olympics. British Airways arranged for us to see the Men's & Women's swimming from 10am to 12:10pm at the Aquatics Center and then the Men's & Women's cycling in the Velodrome (locally known as the Pringle). It was the inaugural event for the Velodrome and one of the toughest tickets in town since it only holds 6,000 people. Prince Charles, William, Kate and Harry were all there to cheer on Team GB who ended up winning the Gold in the Men's Team Cycling verse France. It was an incredible experience as was watching Michael Phelps swim the 200M Butterfly.
Other highlights from my first Olympics were seeing the Olympic village in person after watching it on TV, people watching the fans from around the world, seeing the Today Show's set and walking around the Olympic village with athletes from all over the world.  One of the biggest surprises was witnessing how amazing all the Olympic staff and volunteers were to visitors. They were all super friendly and constantly high fiving fans and singing songs with them. As corny as it sounds they were the biggest champions of the games.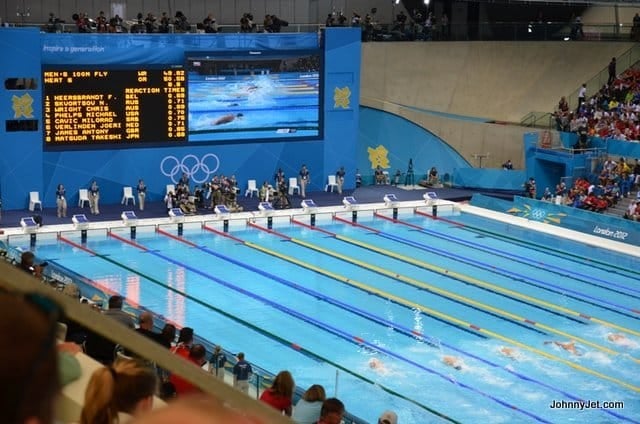 To get to the park we left our hotel at 7 am and got our tickets from the British Airways lounge when they opened up at 8 am.  People warned us that security could take hours but it took us less than 5 minutes and it was like going through airport security in Europe. Fans didn't need to take shoes off but liquids were not allowed (I'm sure that was so they would be forced to buy drinks but at least they weren't crazy expensive.) A bottle water cost £1.60 = $2.50. As much flack as the organizers have been getting in the news I thought they did a great job while I was there. My only complaint is I couldn't find any Team USA memorabilia – the Olympic stores only sold Team GB. If I was organizing it I would've been selling hats, t-shirts and other souvenirs of every country in the world or at least the most popular ones. Oh well, I now am the proud owner of a Team GB hat that cost $23 and bought a Day 7 Olympic pin for £8 ($12).
One thing is for sure – I will never forget my day at the Olympic games and I can't thank British Airways enough for inviting me.  What a treat! Below are my photos from the day and some helpful websites and stories that I found while in London.