Note: This trip was sponsored by www.SingaporeAirlines.com
With the introduction of JFK-Frankfurt-Singapore daily service, travelers can now circumnavigate the globe on the A380 with one carrier.
LINKS:
Since the flight to Singapore wasn't departing until 11:55 am, we had about two hours before re-boarding. The gate area was packed with a number of German media and passengers celebrating the special occasion. Their party was way swankier than the U.S. one! They had live music and food stations with pretzels, donuts, frankfurters, dim sum and a huge colorful and tasty cake, as well as free drinks and Champagne.
After making a beeline to the food, I went straight to the lounge to download emails and take a shower. You have to put your name down for one of the four showers, so do it when you arrive. The sweet attendant gave me a device and said it will flash when a shower is available and had been cleaned. When it did flash about 15 minutes later, she apologized profusely, explaining that the hot water tank had just broken, so only a cold shower was available. I still took one (a quick one), to wake up and feel fresh. It worked. Then I perused all the offerings the nice Lufthansa business class lounge has, which includes free food, snacks, drinks and Wi-Fi. Even though legally, we weren't in Germany since I never went through customs, I still felt like I was there because of their food and staff.
Frankfurt to Singapore
We boarded at 11:25am and I retained the same overhead space as I did before – directly above my seat. There were a lot of new passengers for the smooth 11 hour and 25 minute flight. The seat belt sign didn't go on once! We pushed back at exactly 11:55am and took off at 12:15pm. We took a southerly route down to Vienna before going across the Black Sea and on. We went over many countries but I quickly fell asleep and didn't wake up until we were over Afghanistan, Pakistan, and India. Note: The flight attendants aren't only beautiful but they are trained to walk softly up and down the aisles so you will never hear them and they won't disturb your sleep. I wish other airlines would follow.
I did get up to take pictures and eat lunch, which began with chicken and lamb satay (the peanut sauce was so good!) That was followed by antipasto (marinated lobster, parma ham, mozzarella cheese with tomato and grilled vegetables). The lunch mains were: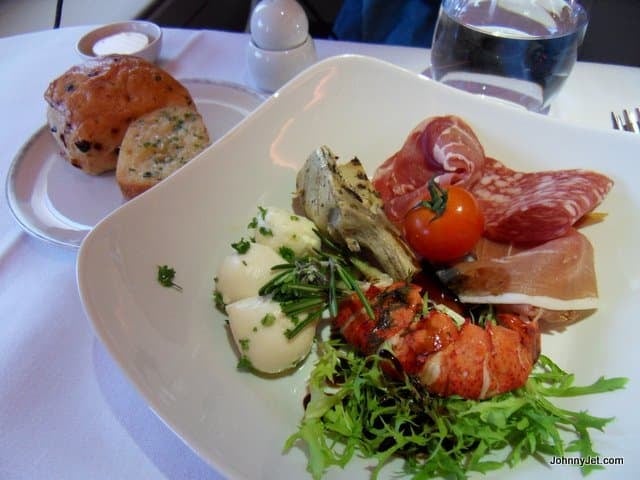 -"Coq au vin" style free-range chicken with young vegetables and endive gratin
-Beef rending (Braised spiced beef with vegetables in coconut gravy and steamed rice
-Snapper fillet in Oriental black bean sauce with vegetables and egg noodles
-Braised pork knuckle with pickled white cabbage, green beans and mashed potatoes.
Dessert was Hungarian dobos gateau (that's what I had) or Macadamia ice cream with fruit coulis. And again, cheese, fruit, coffee and tea followed.
Then, pretty much everyone went to sleep to try and get on Singapore time, which is 13 hours ahead of New York. But for those who got hungry before breakfast, options included vegetarian and non-vegetarian instant noodles, a croissant with creamy chicken and tomato sandwich or a sandwich with roasted vegetables and cheese. There were also all kinds of snacks like assorted nuts, potato chips, chocolate bar, cookies, and fruit. I indulged in a few butter cookies and chocolates.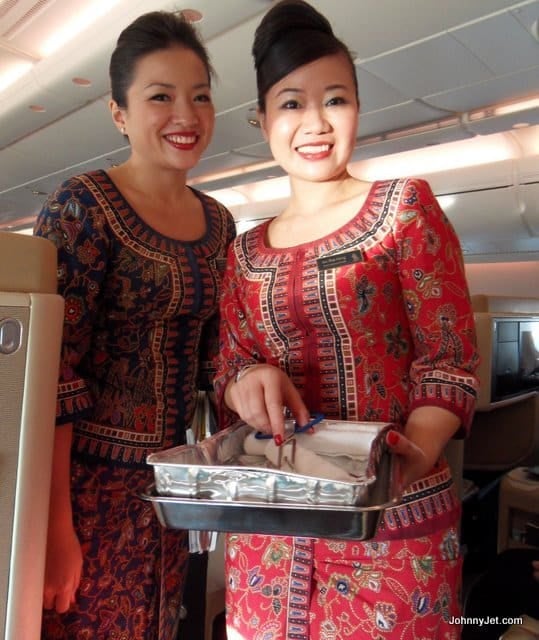 A full breakfast was served two and a half hours before landing (we landed at 6:44 am local time).
The breakfast menu was as follows:
Prelude: A choice of apple, tomato, or freshly squeezed orange juice
Starter: Choice of cereals or yogurt (cornflakes with milk or bircher muesli, plain or fruit yogurt
Main:
-Baked crepe with ham and mushrooms, cherry tomato and hash brown potatoes
-Kway teow phad kai (Thai fried rice noodles with chicken, leafy greens and egg)
-Egg frittata with vegetables, roasted tomato, mushrooms and beef sausage
Breads: Assorted breakfast rolls and muffins
Coffee and fine teas.
The only flaws I could see, besides my beef rending being really fatty, was one of the bathrooms didn't have hand towels – just tissues.
So there you have it. If you live on the east coast or in Europe and need to get to Singapore or Southeast Asia, you can't go wrong with Singapore Airlines. And for those worried about being trapped on an airplane for countless hours, it all goes away the moment you step on the plane.
The Singapore Airlines A380 will operate daily flights between Singapore and New York JFK (via Frankfurt). The schedule is as follows:
All times stated are local
Singapore – Frankfurt– New York JFK
| | | | | |
| --- | --- | --- | --- | --- |
| Flight number | Departs Singapore | Arrives Frankfurt | Departs Frankfurt | Arrives New York JFK |
|  SQ26 | 11: 55 p.m. | 6:10 a.m. | 8:20 a.m. | 11:10 a.m. |
New York  JFK – Frankfurt – Singapore
| | | | | |
| --- | --- | --- | --- | --- |
| Flight number | Departs New York JFK | Arrives Frankfurt | Departs Frankfurt | Arrives Singapore |
|  SQ25 | 8:10 p.m. | 10:00 a.m. | 11:50 a.m. | 6:50 a.m. |
 RELATED (COMING SOON!): Raffles Hotel | Shangri-La Singapore | Crowne Plaza Changi Airport | Singapore's Chinatown | Singapore's Bay Gardens
Note: This trip was sponsored by www.SingaporeAirlines.com