Note: This trip was sponsored by www.SingaporeAirlines.com
With the introduction of JFK-Frankfurt-Singapore daily service, travelers can now circumnavigate the globe on the A380 with one carrier.
The Singapore Airlines A380 is now serving New York's JFK Airport, and I was on the inaugural flight, which departed JFK, January 16th at 8:10 p.m. Singapore Airlines was the first carrier to operate the A380 when Airbus delivered it to them in October 2007. But it took them four years to bring it to the United States of America when they replaced their 747 Singapore-Tokyo-Los Angeles service last July. Now they just made the same replacement but this time on their Singapore-Frankfurt-New York route, making The Big Apple the tenth destination in Singapore Airlines' network to receive the world's largest commercial aircraft.
The daily A380 flight is the fifth A380 to serve the New York market (after Emirates, Air France, Lufthansa, and Korean). What makes this plane so special is that it's the first to have double suites – a private cabin equipped with a double bed for two passengers. I didn't get to sit in the suites (it costs $28,000 round-trip for two) but I did get a quick preview. The 12 suites (two doubles) looked plush but I was more than content with my special invitation to try out their award-winning business class. In fact, I will be sitting in one of those dreamlike seats all the way around the world. My itinerary is New York-Frankfurt-Singapore-Tokyo-Los Angeles and so far I've only completed half of it. Once I touch down in Los Angeles, it will make me one of the first commercial passengers to go (almost) around the world on an A380 – how exciting is that? I will keep you updated after each segment but here's how it's been so far: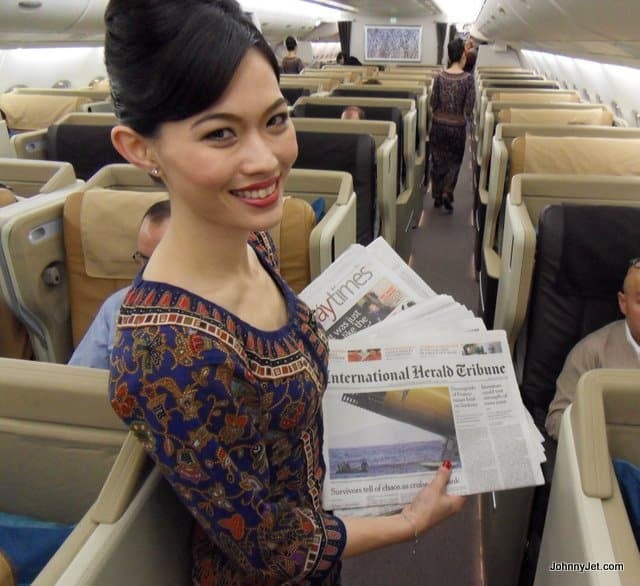 New York to Frankfurt
I checked in for the 8:10pm flight at 5:45pm. I arrived at the airport early because I didn't want to take a chance getting stuck in mad traffic and missing the festivities as it was the inaugural flight. On the way to the check-in counter, Singapore Airlines had a representative offering a variety of those delicious Lindt chocolates in an Easter egg-like basket. I grabbed one but didn't have time to eat it since there was just one person in front of me to check-in. Although I was going around the world, I didn't have checked luggage and luckily, my carry-on was light enough because the agent strictly enforced the 10kg (22 lbs) limit per bag. In his defense, the overhead bins are surprisingly small in business class and my bags barely fit in, though they have plenty of storage closets and the bins downstairs are a lot larger.
With a business class ticket, you are provided access to the Oasis Lounge, which has a pretty cheesy feel from the outside. The inside is better and has all kinds of free drinks (including booze), food, and snacks. Their free Wi-Fi was patchy and so slow I used the Verizon card that I rent from Rovair.com. FYI: The lounge is on the wrong side of security so I left it early just in case there was a long line – you never know with the TSA. There wasn't and I cleared in just a few minutes and walked to A6, which is where the impressive jumbo plane was parked.
At the gate, Singapore Airlines had a professional photographer taking pictures of passengers with their beautiful flight attendants for a nice souvenir. They also gave business class passengers a box of chocolates and a USB stick when we boarded. The gate area was stocked with sandwiches, chips, and drinks before the ribbon cutting ceremony. There were many members of the media on hand covering the occasion, including CNN.
When it was time to board, about an hour before the 8:10 pm scheduled departure time, they began with families and those with special needs. This was followed by suite passengers, business class, then economy. There are 12 suites located on the front section of the lower deck. Business-class takes up about three-quarters of the upper deck with 60 seats on this plane (not all of Singapore's A380's are configured the same – one of them has 86 business class seats, all upstairs). There were 88 economy seats upstairs and 399 downstairs. To board, they had two jetways, one for business and suites passengers and the other for economy. Surprisingly, one of them wasn't directly to the upper deck like they do at other airports including Frankfurt and Singapore. But luckily, passengers didn't have to carry their bags up the stairs; they had porters to do the heavy lifting.
I've been on Singapore Airlines a few times but the last was June of 2004 when I took the inaugural longest commercial flight in the world from Singapore to Newark (18.5 hours nonstop). The seats have drastically changed since then and I couldn't wait to try them out. To get myself familiar with the plane, I logged on to SeatGuru.com and scouted out its floor plan (Here's the LINK). I was shocked that the business class configuration was 1-2-1. That's unheard of and that's because Singapore Airlines has the widest seats in the world at 35 inches! You could seriously seat two people in them; in fact, I did see a couple of friends doing just that to watch a movie.
Walking down the aisle to find seat 25A, which would be mine for the next 18 hours, I was surprised by how close the seats were to each other. I thought there would be a lot more space in between from the magazine photos but once you sit down you realize they are brilliantly designed and there is plenty of leg room – at least for someone who is at least six feet tall (okay, I'm 5' 11" but don't tell anyone). Each seat has a 23-inch video screen with more than 1,000 on-demand entertainment options. There was every kind of TV and movie genre available to help you while away the flight. So no matter how long your flight is, you would never be able to even sample all the selections. Like most state of the art entertainment systems, you can make your own music playlist, play video games, and even learn a new language with a Berlitz feature. The only thing it didn't have that the other A380s do are live webcams. I'm not sure why they don't – it's a great feature.
Each seat also comes with four lights (two overhead and one on each seat side). They have comfortable headphones but they aren't noise-canceling, a mirror, and plenty of storage space. There are two USB ports and a universal electrical outlet so you will never run out of juice and your electrical gadgets will all be fully charged by the time you land.  With these seats, you don't need to wait for a flight attendant to make your bed. All you do is pull the lever on the back and flip your seatback to turn it into a wide flat bed. An extra pillow and blanket, as well as a super-long seat belt are magically sitting on the bed when it's flipped over. The bedside is definitely the most comfortable side – even for eating, working and watching movies.
*Tip: If you are traveling in business class alone, make sure to reserve one of the window seats. If you are with a loved one, get the two middle seats.
After boarding the flight, we were offered a pre-flight drink (Champagne, orange juice or apple juice with bitters), then a variety of newspapers, magazines, and the menu. We pushed back from the gate at 8:13 pm and took off at 8:30 pm. Flight time to Frankfurt was a quick six hours and 45 minutes. Ten minutes after takeoff, the seatbelt sign was off (ditto for my Frankfurt to Singapore flight). The beautiful flight attendants then come around with hot towels, the drink, which you ordered prior to takeoff, and some warm nuts. Then another places an eye mask and some socks on your seat. Surprisingly, only suites passengers get a full amenity kit, which features Kiehls products. But I later learned that the flight attendants carry earplugs on them and the always-clean bathroom is stocked with toiletry supplies like toothbrushes, toothpaste, razors, and combs. There's also L'Occitane perfume, aftershave, and body lotion.
The flight was smooth and the seat belt sign only went on twice briefly. Once over Nova Scotia and then again over Ireland. Turbulence wasn't bad at all. About an hour after takeoff, the food onslaught began. The starter was tian of crab with apple, and mozzarella with cherry tomato. The choice of mains were:
-Roasted halibut fillet in clam chowder with bacon and potato, sautéed spinach
-Braised lamb shank in red wine with baby vegetables and ratatouille
-Braised Shanghainese-style pork rib with vegetables and local noodles
-Gaeng kiew wan kai (Thai green curry chicken, leafy greens, carrot, cauliflower and steamed rice
For dessert came a selection of citrus crème brulee and mango ice cream with passion fruit coulis. Then a selection of fresh fruit and cheese. I'm not a drinker but the drinks menu was the size of a small book!
Hot towels were passed out after each meal including the continental breakfast, which was served an hour and 45 minutes before landing in Frankfurt. We were over Ireland when they began offering a selection of juices, assorted breakfast rolls (bagels, croissants and a Danish), along with butter, cream cheese and fruit preserves (apricot and orange marmalade). And of course, there were coffee and fine teas.
We landed in Frankfurt at 9:25am – ahead of schedule. The captain said the outside temperature was -5C (23F). Everyone had to get off the plane and bring all of their belongings so they could clean it thoroughly and for security purposes.
LINKS:
RELATED:
10 Reasons to stay at the Shangri-La Hotel
Why Changi is one of the best airports in the world
Note: This trip was sponsored by www.SingaporeAirlines.com