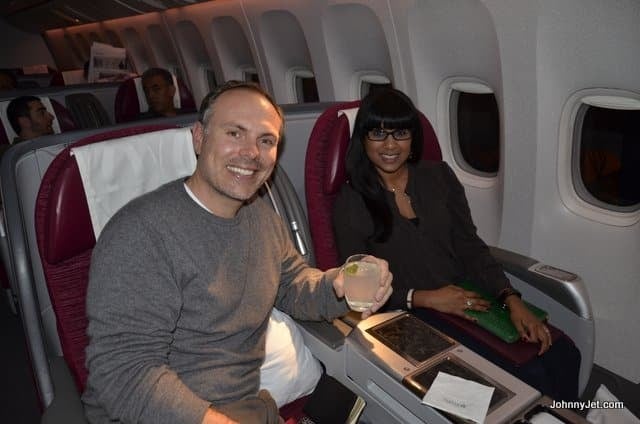 Yesterday, I flew from New York to Mumbai via Doha on Qatar Airways. It was my first time flying on Qatar and I hope it's not my last. Both flights were like a dream and went by super fast. The JFK-DOH flight is operated by a Boeing 777-300ER aircraft which departs at 11:40pm.  The flight has two classes of service: Business and Economy. Business Class has 42 full flat seats with 78 inches of pitch and 22 inches in width. There are 293 seats with six degrees of recline and 32-34 inches of pitch and 18.9 inches of width. All have individual in-flight entertainment systems called Oryx Entertainment, which offers over 1,000 entertainment options—movies, television, video games, and music. You won't get bored that's for sure! And their business class menu even offers buttered popcorn – what goes better with a movie than popcorn?
We pushed back from the gate nine minutes early and we were airborne at 11:50pm.  Flight time was just 11 hours and 50 minutes and the flight was smooth with the exception of moderate turbulence over Greenland. We flew over Norway, Eastern Europe, Turkey, and Iraq before landing in Doha at 6:27pm local time. We had a two-hour layover in Doha, which wasn't enough time because their Premium Class Lounge is seriously off the hook! You can get all kinds of food, drinks, and snacks. There are showers, free Wi-Fi, duty free shopping, a kids room, a video room, and a prayer room, among other things, to help you pass the time.
The city is currently building a new airport so for the time being, all passengers are shuttled between their gate and plane. It's kind of a pain but the buses for premium passengers are plush. The first class bus looked like it had La-Z-Boy chairs while the business class had padded seats without armrests — but they didn't fill it up so there was plenty of space. There are plenty of photos below including of the two-hour and 43-minute flight from Doha to Mumbai. That was operated on an A340-600 aircraft. The service was actually better on the shorter flight but the seats on the 777 offered more room and comfort.
NEW YORK JFK QR 84 28MAR 2340
TERMINAL:8
DOHA ARRIVAL TIME: 1900
DOHA QR 200 29MAR 2105
MUMBAI ARRIVAL TIME: 0310
TERMINAL:2