I've been traveling so much that I have a backlog of stories to share so I'm going to start with the first destination of my recent around-the-world trip … Trinidad and Tobago!
I got invited to this Southern Caribbean destination and I accepted for a couple of reasons: number one, I had never been and number two, they had an interesting concept. They asked all five of the journalists to poll their readers/followers to create an itinerary for them – that's why I told everyone my destination in advance. Usually, I like to make it a surprise and let people guess my Twitter (@JohnnyJet) and Facebook clues. Well, it turned out all of us practically received the same advice so instead of running around separately we tackled the island together. Fortunately, the group was really cool so it made it even more fun. Below are my new best friends who operate worthy websites and Twitter handles.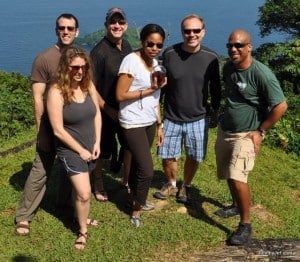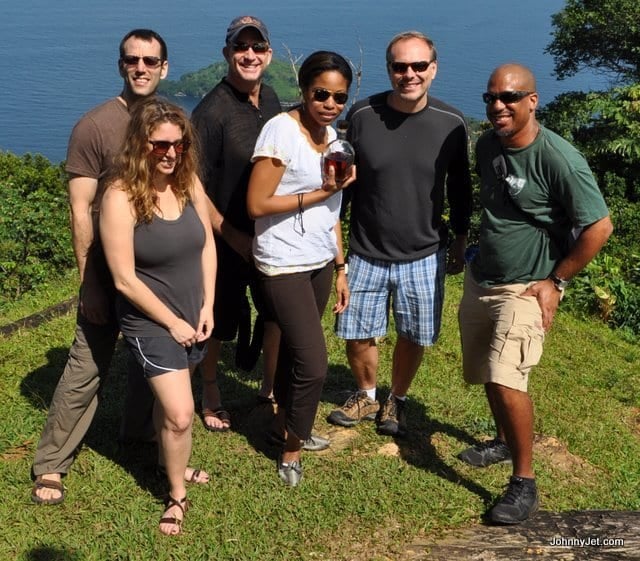 Background of Trinidad and Tobago
To get to Trinidad is kind of a trek from Los Angeles. I flew American Airlines four and a half hours to Miami and then another three to Port of Spain which is its capital. Trinidad and Tobago are two separate islands 21 miles (33km) apart but they are considered one country and officially called the Republic of Trinidad and Tobago.
I had mixed feelings about going because a couple of people told me it's unsafe and to be very careful – one of those was my dad who's never been.
Flying in I was shocked at how many lights there were along the mountainous hillside. With a full moon it was absolutely picturesque but my camera didn't capture the moment. It turns out there were so many lights because Trinidad has a population of 1.2 million people and most live near the capital. The island of Trinidad is 1,841 square miles (4,768 km) — roughly 50 miles (80 km) in length and 37 miles (59 kilometers) wide.
Tobago has just 54,000 people for their 120 square mile (300 km) island. And it's 25 miles (41 km) long and 7.5 miles (12 km) wide. The craziest thing is from Trinidad you can see Venezuela as it's just 6.8 miles (11 kilometers) away but very few locals that I met had ever visited. I heard there's a ferry every Wednesday but that's it.
We landed after midnight and I was the first off the plane so I had no line at passport control. The friendly agent was pretty slow so the ones lagging behind had to twirl their thumbs. After clearing customs I walked outside then jumped in my ride's car. There's nothing like a balmy 78 degrees in mid-January. And that was at night! During the day the temperature was 90F. Here's the current 10-day weather forecast.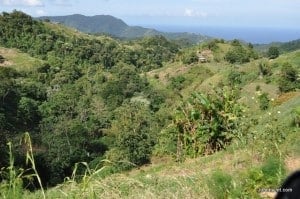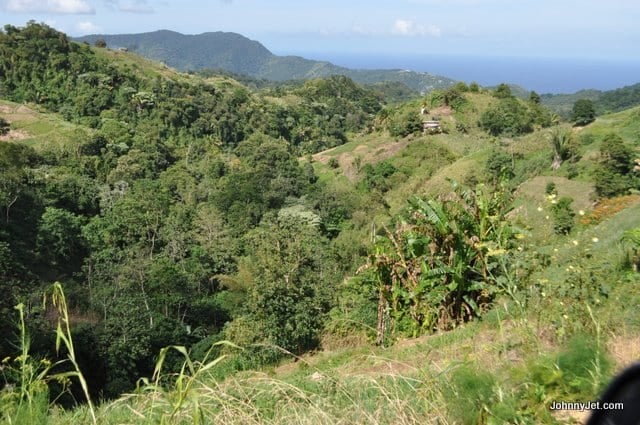 On the 20-minute drive to the Hyatt Regency my driver gave me the rundown and history of the island. Basically Trinidad is multiethnic. The Caribs and Arawaks were the natives before Christopher Columbus and his crew showed up in 1498. The island changed hands between the British, French, Dutch and Courlanders, but eventually the British made the two islands a single crown colony in 1889. In 1958 Trinidad and Tobago obtained self-governance and in 1962, independence from the British Empire. In 1976 it became a republic. Yeah, I was falling a sleep too when I heard it but it's important info. A couple other interesting facts is the nation lies outside the hurricane belt and Nicki Minaj is from here. The latter was just to make sure you are still with me. My driver did warn me that the area where the hotels are located is indeed dangerous at night so don't go walking around. For history of Trinidad and Tobago check out Wikipedia.
RELATED: