Planning a retreat with friends or colleagues? Vancouver Island, B.C., can provide just the high-end unique bonding experience you're looking for.
Located just off Canada's Pacific coast, beautiful Vancouver Island is known for its mild climate, incredible people and opportunity for adventure. Situated on the southern tip is Victoria, British Columbia's bustling capital and where your trip will begin and end. This waterfront city is loaded with things to see, do and eat. My fantastic three-day retreat brought me not only to Victoria, but also to towns neighboring the city to experience high-speed racing and world-class golf.
Here's how it went down:
Day 1: The Vancouver Island Motorsport Circuit
Especially if you're a thrill-seeker, I recommend adding the Vancouver Island Motorsport Circuit to your bucket list. The VIMC is an amazing place to bond with friends or colleagues as you spend the day whipping around this state-of-the-art raceway. The less adrenaline-crazed can rest assured that the staff provides amazing support for all comers. You can go at your own pace.
The track at Vancouver Island Motorsport Circuit is comprised of five different design configurations, which together are designed to accommodate drivers of all ability levels. There's also an off-road course simulating a trip into a west coast rainforest by SUV!
While you have the option to drive your vehicle at VIMC, the rental cars provided have been individually modified to deliver a peak performance driving experience. The house cars are also configured with cameras to document and analyze your driving skills.
During the day, these cameras—via the impressive capture station—document your time behind the wheel. The team packages your captures onto a USB flash drive at the end of the day before you depart, and you get to take it home with you. One of the best forms of memorabilia I've ever received came after my day at Vancouver Island Motorsport Circuit.
For food, The Paddock Lounge overlooking the racetrack is a great place to refuel—or as the situation calls for it, celebrate a special occasion. The on-site culinary team can provide a truly sophisticated dining experience.
Where to stay: Villa Eyrie Resort
After a great day of driving at Vancouver Island Motorsport Circuit, you'll be excited to know the accommodations provided by the Villa Eyrie Resort deliver the same attention to detail that makes VIMC special. The reason for this? The same group owns and operates both entities.
The Villa Eyrie Resort is situated high above the Pacific Ocean and the Finlayson Arm inlet. Located just 30 minutes north of downtown Victoria, this mountainside offers great nights of sleep in rooms inspired by the villas of Lake Como, Italy. While there, you must take advantage of the Tuscan Spa or resort-offered yoga or pilates class.
Breakfast, brunch, lunch, and dinner are fantastic at Villa Eyrie's Summit Restaurant. The amazing panoramic views overlooking Vancouver Island complement the even better food.
Day 2: Golf at Bear Mountain (and Merridale Cider Farm)
While in transit between amazing events stop by the Merridale Cider Farm. This family-run farm produces a full line of ciders, fortified ciders and spirits. It's home to a farm store, gastropub and bakery. If you've got the time, it's worth the visit.
After the quick stop at the Merridale Cider Farm, it was off to Bear Mountain Golf Resort. This 36-hole golf resort features Canada's only Jack Nicklaus designed golf courses, the Mountain Course and the Valley Course. It's a fantastic spot specializing in tournaments for small corporate and social groups, and its on-site team of specialists can accommodate all sorts of golf needs.
All green fees at Bear Mountain include a GPS-equipped cart and a warm-up round at the driving range. Be sure to check the site as fees may change pending on the season. The resort also provides biking, tennis and fitness options.
Where to stay: The Westin at the Bear Mountain Golf Resort and Spa
The Westin at the Bear Mountain Golf Resort and Spa is a newly renovated hotel with all the high-end amenities you'd look for in a golf resort. In addition to several great restaurants, the resort is also home to Sante Spa, a full and award-winning spa offering package deals and a wide range of spa treatments and aesthetics.
While the resort has several great options, one option at the Westin set a particularly high standard. The Cellar is a unique dining experience in an extremely private and intimate dining room. A private sommelier pairs each course with the perfect wine or champagne. At The Cellar, my group capped an amazing bonding experience surrounded by over 2,000 bottles of wine and champagne.
If you and the group would prefer to travel light the pro shop has got you golf or tennis needs covered. Daily rentals are readily available for your stay at the resort.
Day 3: Victoria
Regardless of where you choose to eat while in Victoria—the capital of B.C.—I strongly suggest taking advantage of the amazing seafood whenever you have the chance. Q at the revamped Fairmont Empress has amazing food in a chic atmosphere—and an equally chic bar overlooking the harbor. If sushi calls you as did me, there's no place like the small, almost-hole-in-the-wall Ebizo Sushi. It's a local hotspot and almost always full for both lunch and dinner, so plan accordingly.
If time permits and you would like to learn about the history of Victoria, take a Taste of Victoria Walking Tour with this guy. His knowledge of this great city paired with great food and a couple beers made for a special afternoon.
Where to stay: The Fairmont Empress & Oswego Hotel
If you plan to spend time in Victoria at either the start of the trip or at the end there are several great hotel options. My first recommendation is The Fairmont Empress, situated in the heart of Victoria. From the website: "Regarded as a Condé Nast Readers' Choice and Gold List hotel, and honored with the Travel + Leisure distinction as a top Canadian hotel, the Fairmont Empress graces Victoria's sparkling Inner Harbour with an iconic presence." Truly a remarkable stay.
The second is the Oswego Hotel, a boutique accommodation that's just minutes walking from the The Fairmont Empress and downtown Victoria.
Getting to Vancouver Island
From Vancouver International Airport (YVR), it's a short ride via a free shuttle bus or a cab to South Vancouver Terminal. From here, it's just a short Harbour Air flight to Victoria.
Bonus: Layover in Vancouver
The Pan Pacific in Vancouver is a great place to hang your hat if you're spending the night in Vancouver. It's centrally located with great beds and a view to match.
I found amazing sushi at The Lobby Lounge raw bar in The Fairmont Pan Pacific, just minutes walking from the Pan Pacific.
The Flying Pig in Gastown is a great eatery. In its own words, "As seasoned veterans in our field, it is our obligation to exceed expectations and we never forget 'that you're only as good as your last meal.'"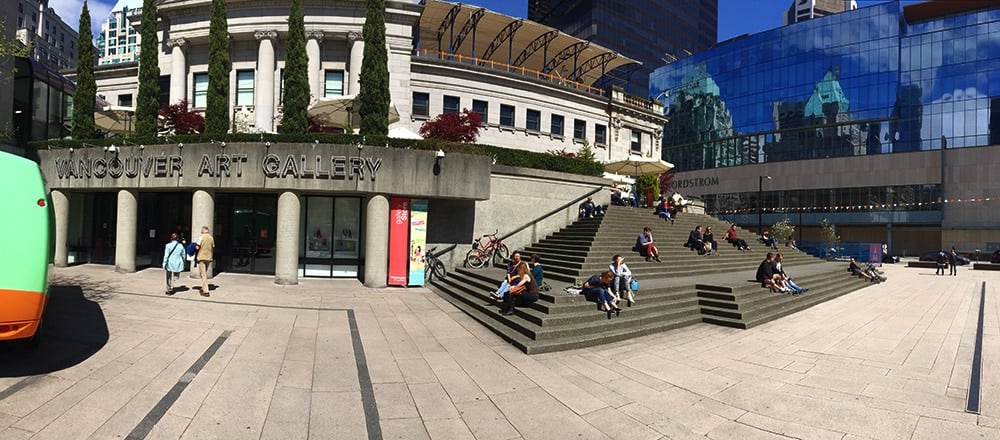 The Vancouver Art Gallery is another great place to spend some time in the heart of Vancouver. It's about a ten-minute walk from the Pan Pacific.