I was supposed to be sending today's newsletter from an epic, family-friendly California road trip. We were going from the beach to the mountains to wine country to the desert, all in the span of four days – one of the many incredible things that makes California so amazing. Unfortunately, when I got sick in October with a respiratory virus (not Covid), it messed up my lungs. I have asthma, so I already have problems with my lungs. So, while 6,700 feet up on Big Bear Mountain, I was having a difficult time breathing. It's a real shame because it was our first time to Big Bear and we were really enjoying our cozy cabin and looking forward to snow tubing and many other fun activities.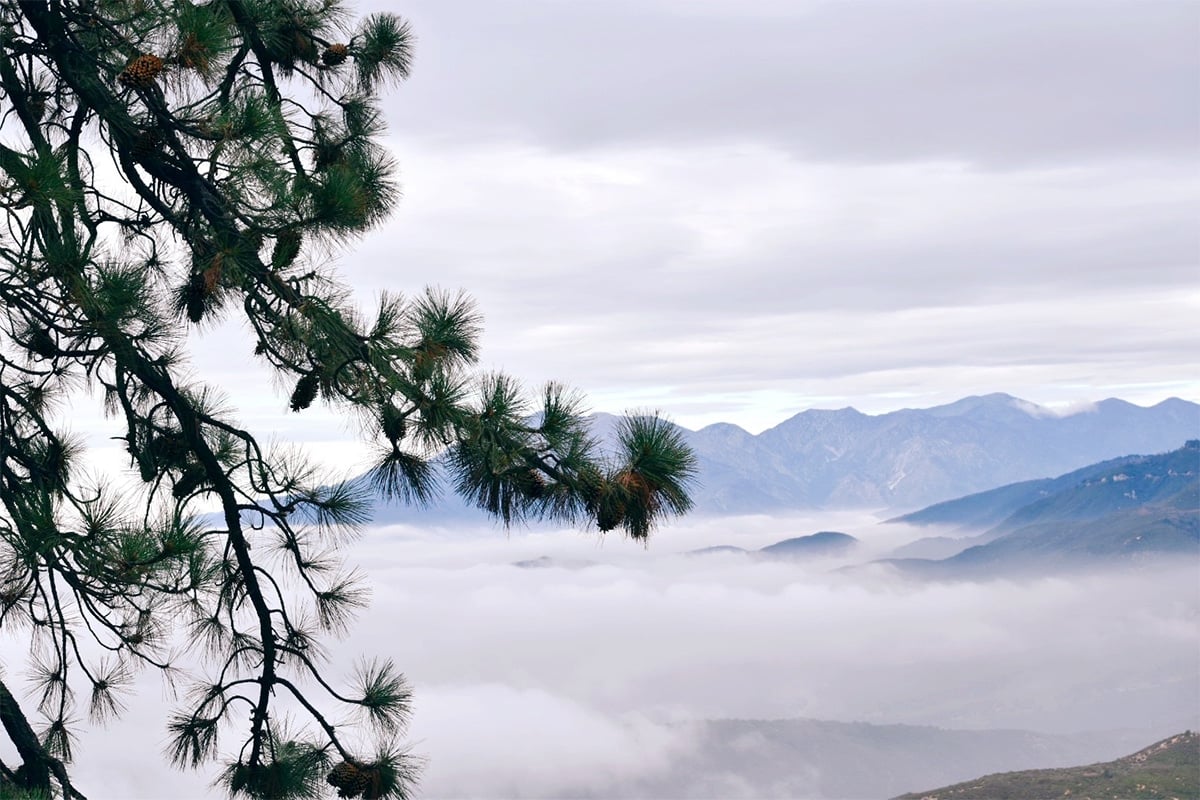 First of all, the drive up to Big Bear (and down) is jaw dropping once you get off the freeway. At one point, we were above a layer of clouds, which just thrilled the kids. From LAX, it takes two hours and the last 45 minutes (28 miles) is the scenic part. The last 14 miles or so get pretty twisty so much so that my wife felt a little nauseous and my daughter tossed her cookies (well, oatmeal, really) on the ride down after breakfast.
As part of our partnership with Visit California, they arranged our stay at Colorado Lodge. We were in C4, which has 2 bedrooms, 2 baths, a hot tub, a full kitchen, laundry and a fireplace. This mountain retreat was fully renovated in winter 2020 and has walls lined with Baltic birch, custom cabinetry and a beautiful clawfoot tub in one of the bathrooms. It's the perfect expression of modern Nordic style. Perhaps best of all, it was extremely family-friendly, with few hazards for our two little ones.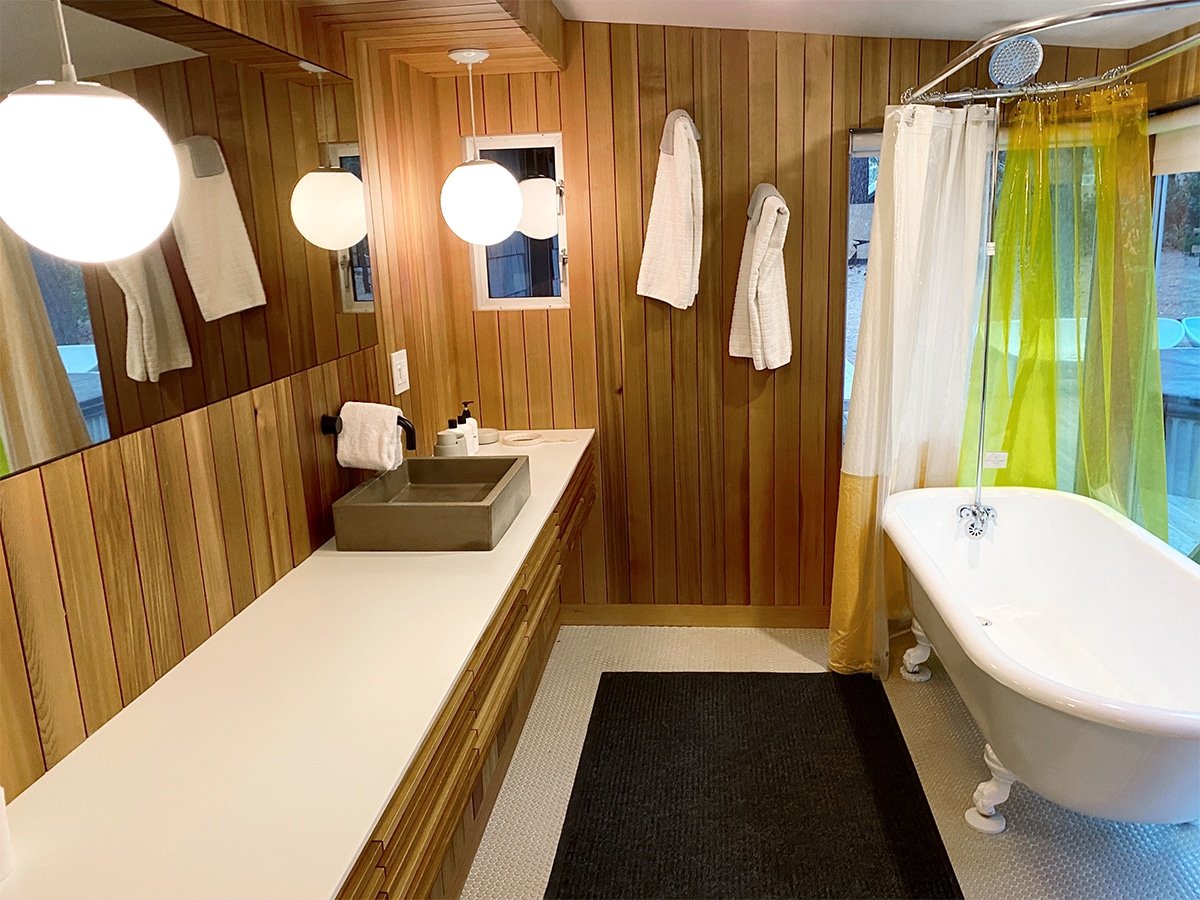 The cabin was really clean, spacious and plush. The shower in one of the bathrooms really nice, not just because it was newly renovated and stylish but in terms of the water pressure, too. My wife and I both commented on how nice it was. The cabins near us had outdoor Ooni ovens, which I've written about before as they make authentic pizzas in less than a minute.
Unfortunately, we didn't get to spend much time there because we arrived in the late afternoon and left the following morning after I was up most of the night struggling to breathe. The only thing I did was grab takeout Mexican food from Sonora Cantina (delicious – the kids gobbled up their dinner so fast, I contemplated going out to get them some more) and go to Vons (a full-size grocery store) to get some milk and yogurt for the kids and other goodies for our road trip. FYI: Our other destinations were supposed to be Temecula and Borrego Springs.
Before we left home, I was worried about my asthma since it's been bothering me for weeks. I don't know what's up with it because after being "cured" by a Chinese doctor in Malaysia in 2007, I have rarely used my inhaler. Prior to that, I would use an inhaler multiple times a day and not even go out to the mailbox without one.
After that life-changing trip, I only used my inhaler once or twice a year (usually when cleaning my closet). But after getting sick in October, I've been using it regularly so I was worried about the high elevation.
Big Bear is 6,700 feet above sea level and to put that in perspective, Denver, the Mile High City, is 5,280 feet elevation. I've never really had an issue with altitude before and I've been to countless high destinations, including the French Alps, Bogota (8,661), Zermatt (5,276) and Cameron Highlands (4,750) just to name a few.
But for some reason, this time I did have problems, despite drinking plenty of water and using a humidifier to combat the dry air. I also used this powder mix I now travel with to fend off dehydration.
I felt fine until I went to sleep … or at least tried to. I was sucking air and when I took my oxygen levels with the pulse oximeter, my heart dropped when I saw that it read 88. Anything below 90 is no bueno and earlier that day, news broke that Donald Trump was in serious medical trouble at one point in 2020 when his oxygen level reached 86. We started traveling with a pulse oximeter when the pandemic began, so that we could always measure our blood oxygen. My doctor says a pulse oximeter is the new thermometer so I do recommend getting one if you don't have one already.
Needless to say, in the morning, and to my kids' great dismay, we packed up and drove home. There are elevation markers along the drive and when we past 3,000 feet, I could actually feel my lungs starting to open up. It was weird and when I measured my blood oxygen at home, the level was 95-97, which is in the normal range … and that was without taking my inhaler. I'm now dealing with an upper respiratory infection but I've had plenty of those in my life.
My son keeps begging me to take him back to the mountains so he can go snow tubing but unfortunately, I won't be able to go until my asthma clears up. I might need to make another trip to Malaysia first.