As I wrote yesterday, my family and I were recently invited to visit Temecula by the tourism board. Unsure what to expect, we all left pleasantly surprised and ready to plan another visit. We stayed at the newly renovated Pechanga Resort & Casino and when we weren't enjoying the hotel's many amenities, we were out exploring Old Town Temecula. Here are a few of our Temecula highlights:
Old Town Temecula
After we dropped our bags off at the resort, we jumped back in the car and drove 10 minutes to Old Town Temecula. Old Town Temecula is everything you'd hope it would be; you feel like you're in the Old West. It really feels like taking a step back in time as you walk the wooden boardwalks past rustic, Western-era buildings, antique shops, and specialty boutiques featuring Temecula-made artisan goods.
Pennypickle's Workshop
It was a busy Saturday, but we found a free parking spot just half a block from the center of town across the street from Pennypickle's Workshop. Pennypickle's is Temecula's children's museum where the fictional character Professor Pennypickle lives. His "home" is 7,500 square feet and cluttered with hands-on inventions, gadgets and experiments.
Pennypickle's Workshop (formerly called the Imagination Workshop) has won a THEA award from the Themed Entertainment Association (representing creators of compelling places and experiences), two awards from the California Park & Recreation Society, and Nickelodeon's "Parents' Pick Award for Best Museum and Best Birthday Party Place." It's also won the award from my wife as her new favorite place to take Jack. The admission price is $5 per person and worth every penny(pickle!).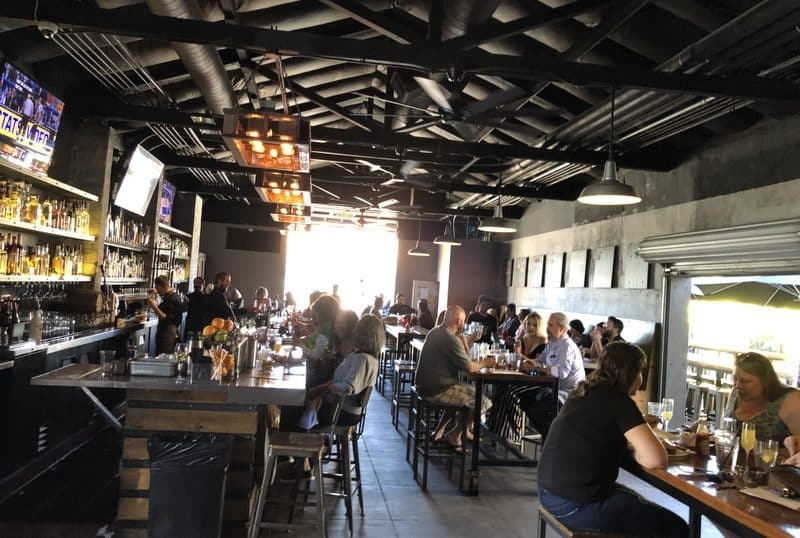 1909 Temecula



Since there's so much talk in Temecula about farm-to-table dining, we decided to try some local food. We walked half a block from Pennypickle's Workshop to 1909 Temecula. The place has been around since September 2014 and is a tribute to the Machado building where the restaurant and bar now live. In past lives, the building was home to a trading post, a livery, an auto shop, and most notably a bar. During the 70s, the Long Branch Saloon was known as the roughest place in town to get a drink. Locals often stop in and tell stories of brawls and shootings. In fact, several bullet holes are still in the ceiling.
Today, the building serves as an ideal spot for unique food, handcrafted cocktails and craft beer. 1909 has an industrial appearance that is still inviting and fun. Sit on the huge patio or sit inside for a pub atmosphere. There are even dog bowls, as it's a very pet-friendly place (they even have a menu for dogs). We sat outside and dined on some great grub while people-watching and checking out the shiny, classic cars and motorcycles driving by. It was a real show, as some drove by numerous times!
We each had a salad (I had the cranberry white cheddar for $11.50) and a cup (more like a bowl) of the house chili with blue cornbread ($7.50). The chili was made with steak, bacon, beef, beans, beer, and coffee. 1909 is famous for its "1909 Burger" ($15.50), which looked darn good (so I'll have to go back).
FYI: If it's your birthday, order a Coke float. They looked insane and the mug is covered in sprinkles.
Wilson Creek Winery



About a 15-minute drive from Pechanga Resort & Casino is Wilson Creek Winery. It's surrounded by lush 30-year-old Cabernet grapevines, an herb garden and flower-filled baskets. On site is Creekside Grille, which is open only for lunch and Sunday brunch (10am to 3pm). It features a seasonal menu and locally sources ingredients. As you might expect, the wine menu includes a variety of Wilson Creek wines, including the famous almond sparkling wine (formerly known as almond champagne).
Reservations are highly recommended and I suggest getting there right when it opens at 10am to have the place to yourself for about 15 minutes. From there, the place turns into a madhouse. On the Sunday we visited alone, there were 500 reservations and 150 walk-ups! Sunday brunch costs $45/person without wine or $55 for unlimited free flowing sparkling.
Sugarplum Farm (zoo and chocolate shop)



Just five minutes from Wilson Creek Winery is one of the best kept secrets in Temecula. Not even the folks at Wilson Creek knew about Sugarplum Farm. After providing some of the finest five-star hotels with chocolate amenities, the Sugarplum team opened a store on a gorgeous property so that guests could enjoy their handmade creations.
They added the zoo portion because they supposedly love animals. The place doubles as a therapy zoo that hosts all special needs groups. The dwarf horse, Odette, is Pet Partners-certified as well. She goes into the hospital once a week to help patients. Entry fee is $10/person and includes a free piece of chocolate at the end. A staff member tours you and other guests around on demand for about 10 minutes then lets you mingle with the animals on your own.
We'll be back!
We found there's a lot to see and do in Temecula, and we were only there for two nights. While most people might think of Temecula as an adult getaway because of its wine country, it's also very-family friendly with lots of things for kids to do. We'll definitely be back to explore some more!
---
For more on travel to Temecula, visit visittemeculavalley.com.