When my family and I were invited to Temecula for a weekend hosted by the tourism board, I admit that I didn't really know what to expect. I didn't know much about Temecula and I wasn't even sure where it was located. It was only after I started asking around that I began to get pumped, as multiple friends and family members said they love the charming inland town that's best-known for its wine country.
My wife, son and I packed up the car and made the drive on a Saturday morning. We live near LAX and according to Waze, my favorite driving app, there was no traffic, so the 96-mile drive would take 90 minutes.
A little over an hour into the trip, we realized that we were driving right by California's famed super bloom in Lake Elsinore. We were just 15 minutes from Temecula but because of all the people exiting the freeway to take photos, we sat in traffic for 40 minutes. And for that we were actually lucky, because a few hours later the same drive took a couple of hours.
TIP: If you're driving, leave early in the morning—especially when there's a super bloom. To avoid traffic, get an Express Pass and use the dedicated lanes to save time on most of the roads (except I-15, which doesn't offer the dedicated lane).
If you're going to be stuck in traffic, it might as well be because of the super bloom as it's breathtakingly beautiful. And if the super bloom wasn't enough, we were also greeted by thousands of Painted Lady butterflies, which were migrating by the millions across California. I learned that the migration happens every year and usually goes unnoticed. But thanks to all the rain and the super bloom, they were everywhere.
Pechanga Resort & Casino



Upon our arrival into Temecula, our first stop was to drop off our luggage at the Pechanga Resort and Casino. FYI: It's pronounced peh-CHONG-gah. I'd seen the TV commercials but I never knew it was so nice or that it was located in Temecula. I was expecting something entirely different, but I have to say, with the exception of the smell of cigarette smoke in the lobby and casino (our tower was smoke-free and so is part of the casino), I was pleasantly surprised.
Here are 10 reasons to love Pechanga Resort & Casino:
1. The valet
When we pulled in, there were a ton of cars in front of us and I thought we were going to be sitting there for a while but that wasn't the case. The resort has an army of valets. We never waited more than a minute for our car. We did always call down to have our car ready before going out, but I noticed that they have an automated kiosk that will scan your valet ticket so you don't have to wait in line. Parking is free.
2. The casino



The casino is huge. Believe it or not, Pechanga has the largest hotel casino on the west coast, larger than any hotel in Las Vegas. I found that shocking. There's a 200,000+ square-foot casino floor with 4,500 slot machines; 130 table games (including Pai Gow, Blackjack, Let it Ride, and California Craps); a 43-table, non-smoking, state-of-the-art, 24-hour poker room with a 90-seat OTB lounge; and more.
3. The rooms



Pechanga recently completed a $300 million expansion and renovation so everything is brand-spanking-new and clean. There are two towers with a total of 1,090 rooms, and the entire property is rated Four Diamond by AAA. Rates start at $149/night.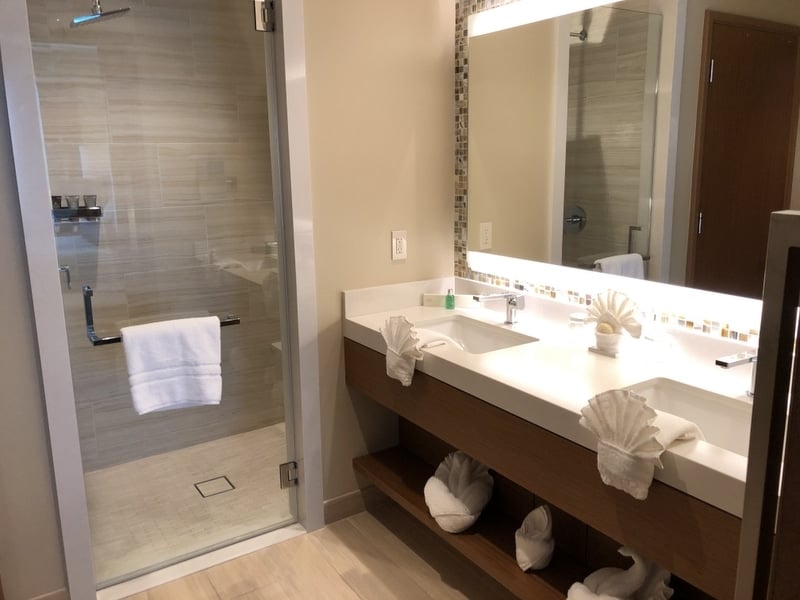 FYI: The resort tower is the newer one and is generally priced about $10 to $20 per night more than the casino tower is. The casino tower rooms aren't as plush (apparently they will be enhanced soon) but I was told that a lot of guests want to be closer to the casino and so request to stay in the casino tower.
4. The pool



Everyone is going to love the new 4.5-acre pool complex. There are four pools, including a family lagoon with two waterslides, a beach-entry pool, family cabanas, and a splash pad for kids. The main pool has a swim-up bar and there are also relaxation pools and five spas. Cabanas are available throughout the pool complex.
5. The spa



Near the pool is Spa Pechanga. It's 25,000 square-feet and offers a wide variety of massages (including couples massages) and facial treatments, body wraps, exfoliation, and more. There's also a full-service hair and nail salon with an emphasis on the use of Native botanicals.
6. The gym



I hate when hotels charge to use the gym, as it seems many in Vegas do. But Pechanga doesn't charge for use of itss state-of-the-art workout facility. It's complimentary for all hotel and spa guests and includes yoga and wellness sessions.
7. The restaurants



As you'll see, one of the best parts about going to Temecula is dining in the town's incredible restaurants. However, sometimes you just don't want to get in the car and leave your hotel. Fortunately, Pechanga has over a dozen to choose from, including the Great Oak Steakhouse, winner of AAA's Four Diamond award and Wine Spectator's Award of Excellence.
We dined at Paisano's Italian and the chicken parmesan was big enough for the three of us! Seriously. So is the loaf of warm bread they bring when you sit down. I loved the caprese salad, but the pizza crust wasn't very good. We told the waitress our son had some food allergies and they went above and beyond to make sure he was safe.
Other restaurants on property include: Blazing Noodles, Pechanga Buffet, Pechanga Café, Bamboo, Kelsey's, Temptations Food Court, Umi Sushi & Oyster Bar, Blends Coffee & Wine Bar, Lobby Bar & Grill, and Coveside Grill (see them all here). The last two are new restaurants that were part of the $300 million expansion.
8. The golf



Unfortunately, I didn't get a chance to play golf but looking out of our window and seeing the course made me want to get out there and take some hacks. I read that the 7,219-yard, par-72 course, which rises and falls more than 300 feet over its 18 holes, is rated among the top public courses in California by GolfWeek magazine. It's built into the native canyons and ravines of the south end of the Temecula Valley and it has all kinds of natural features including lakes, waterfalls, streams, indigenous flowers, and plants and wildlife. Greenskeeping is eco-friendly.
9. The entertainment



We didn't get to see any of the resort's entertainment but I did see multiple ads for bands and comedians that I would love to see. They have a lot of A-listers performing in Pechanga Theater, which holds 1,200 people. There's also the 270-seat Comedy Club where stand-up comedians that perform every Friday, Saturday and Sunday.
There's even a 2,000-seat Grand Ballroom, where Pechanga hosts live championship boxing, MMA and muay Thai events, and the Eagle's Nest with a live DJ/dancing every Friday and Saturday night.
10. The location



I've been living in Los Angeles for almost 30 years, and I always thought that if you wanted to go to a world-class resort and casino, you had to go to Vegas, which is a 45-minute flight or 4.5-hour drive. Now I know that if I ever want to get away without that hassle, I can go to Pechanga. It's just 96 miles from LAX!
FYI: From San Diego's airport, it's only 50 miles and from SNA (Orange County) it's 65 miles. And the best part is that it's a 10-minute drive to the center of Temecula, where there are all kinds of things to see, eat and do.
---
For more on Pechanga Resort & Casino, visit pechanga.com. For more on travel to Temecula, visit visittemeculavalley.com.