If you're a Diet Coke lover or are addicted to the popular soft drink like so many, then you're going to love this story. Jill Zarin, an original cast member of Bravo's Real Housewives of New York City, was filmed by her daughter after just touching down in Europe with something you don't see every day. At least, I certainly haven't. RELATED: The One Thing Some Women Do on Airplanes That Drives Me Nuts – And I Can't Believe It's Not Illegal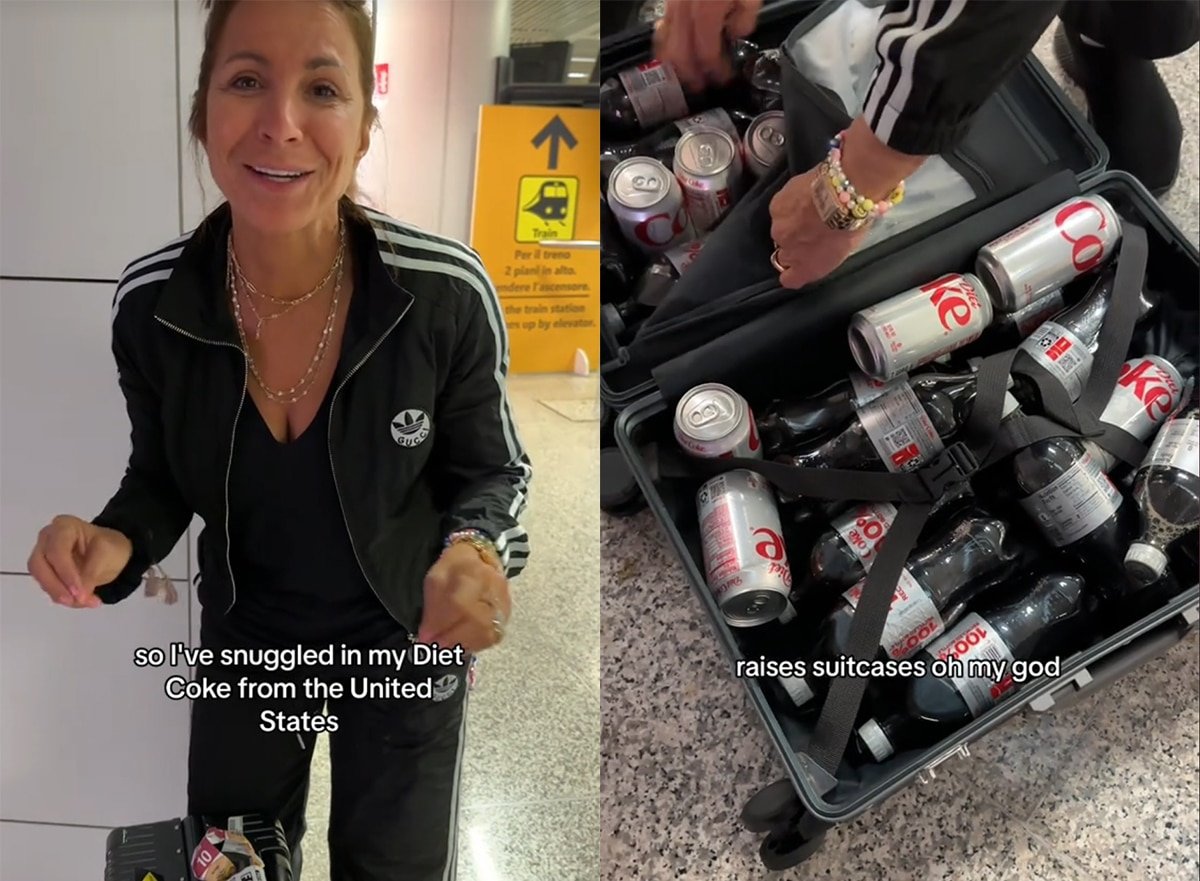 In the viral 60-second video, which has received over three million views on TikTok and almost seven million on X, formerly known as Twitter, Jill shows the moment she opens up her checked suitcase and it's chockfull of cans and bottles of Diet Coke.
Jill says, "So I've smuggled in my Diet Coke from the United States because they don't sell it in Europe. They only have Coke Light and Coke Zero and it sucks."

There's a lot wrong with Jill's statement above. Let's start with the most important one. Never ever post on social media that you smuggled something into a country. There are people in jail right now for posting stunts like this. The reason Jill isn't in jail is because it's not illegal to bring soda into Europe.
Another thing wrong with her statement is that they do sell Diet Coke in some parts of Europe like the United Kingdom. But some people have pointed out in the comments section that it tastes different:
"It doesn't taste the same prob. because 70% of the ingredients in the US are banned in EU." ~ Sirikho✌🏽
"Coca Cola light is the exact same as Diet Coke in Europe. It's probs tastes different to Americans because of additives which are illegal here." ~ Christina

"European Coke Light and Diet Coke are the exact same. Diet is the brand name in U.K. and Ireland. Light in the rest of Europe." ~ Eibhlinn
Another mistake Jill made is that she should have packed just bottles and not cans. As you can see in the video, the only containers that burst open out of the two dozen or so were cans.
She also should have wrapped them in one or two heavy-duty plastic bags so if they did leak, it wouldn't get all over her suitcase, which is going to be a pain to clean. I have experience in this department as I once foolishly packed a bottle of red wine in my checked luggage on a trip back from Italy without taking the proper precautions. Here's my advice on how to safely pack wine or olive oil or any other liquid.
As one person pointed out on Reddit, it would have been smart to put it in a clear plastic bag so if the TSA needs to inspect it, they will see it's soda and not a hazardous liquid.
Obviously, with the 3-1-1 liquid rule, you can't bring your soda through security checkpoints (unless you spend a lot of money in one of the airport shops). But you can bring soda onboard.
Here's what the TSA says regarding soda:

Carry On Bags: Yes (Less than or equal to 3.4oz/100 ml allowed)
Checked Bags: Yes
TSA officers may instruct travelers to separate items from carry-on bags such as foods, powders, and any materials that can clutter bags and obstruct clear images on the X-ray machine. Travelers are encouraged to organize their carry-on bags and keep them uncluttered to ease the screening process and keep the lines moving.
My wife drinks Diet Coke and drinks a few sips (though rarely finishes a can) and we just returned from a six-country European trip. She says that in the countries we visited (Spain, Gibraltar, France, Italy, Vatican City and Germany), they didn't have Diet Coke, just Coca-Cola Light, which some people say is the same drink just branded differently.
Fortunately, my wife isn't addicted to Diet Coke like one of my friends was. She used to have to drink at least two cans of Diet Coke each morning to avoid a headache. 
So if you're going to bring Diet Coke to Europe, which I don't recommend, be smart about it. Wrap it in clear plastic, pack bottles not cans and don't say you're smuggling something into a country. But if you're addicted to Diet Coke, then a trip to Europe might be a great opportunity to kick the habit or at the very least, try the local ingredients, which apparently don't have as many terrible additives.
KEEP READING:
–8 Ways To Make Sure An Airline Doesn't Lose Your Bag … And That You Don't Get Robbed or Stalked
–The Trick For Getting Airport Luggage Carts for Free
–Airline Lost Your Luggage? Do This If You Want to Get Compensated
–Why Frequent Fliers Use Apple AirTags or Samsung SmartTags When They Travel
–An Airline Executive's Number One Tip for Avoiding Lost Luggage When You Fly
Want more travel news, tips and deals? Sign up to Johnny Jet's free newsletter and check out these popular posts: The Travel Gadget Flight Attendants Never Leave Home Without and 12 Ways to Save Money on Baggage Fees. Follow Johnny Jet on MSN, Facebook, Instagram, Pinterest, and YouTube for all of my travel posts.