WHERE TO STAY
*please note, most places don't have an address.  This is the way it is here, it is small enough to not need them.  When you arrive, simply ask someone or you will very likely see the signs.
There are two areas of Hampi.  The main Bazaar, which sits at the foot of some of the oldest temples and ruins in the country and the 'other side' of the river called Virupapur Gaddi, which has been growing in popularity over the years because of its western friendly culture; namely meat and alcohol.  It also happens to be much more peaceful with easier access to the marbled landscape.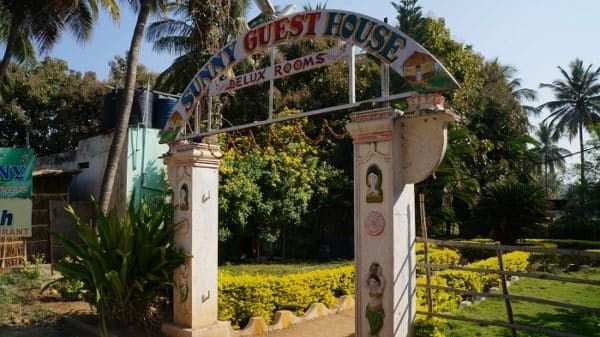 I enjoyed my stay at Sunny's. They have three different priced guest houses.  For 500 rupees you can stay in dorm type rooms, suitable for backpackers.  For 800 rupees you can stay in the round, bamboo huts which are equipped with ceiling fans, little balconies and mosquito nets or for 900 rupees you can rent their concrete huts which are slightly more comfortable.  I was happy with my 800 rupee a night bamboo hut.  It butted the corner of the property which offered me a private, spectacular view of the boulders and rice fields, and all from a hammock if I preferred.
It also has hot water and a generator.  The power goes out frequently in Hampi and the temperatures are high.  Having a place that won't let your ceiling fan go out when you sleep is a godsend.  They also host movies most nights.
WHERE TO EAT
On the other side of the river there are some great restaurants lining the river.  The Laughing Buddha was a particular favorite of mine.  Follow the signs from the road down a little dirt road which steers left and you will see it tucked away in a jungle like setting, on your right.  Once you enter, kick off your shoes and lay around on the mattresses under the canopy of bamboo.  It also has ceiling fans to ward off the flies and offers spectacular views of the river.
The German Bakery does a solid breakfast, with good coffee.  It is on the corner of the main street and the entrance to the river, you can't miss it.
Hampi isn't particularly known for its exquisite cuisine.  It's a pretty common menu of south Indian, western and Israeli dishes.
On the way out to the temple, however, you will pass a few tiny little food huts, run by locals often for the locals.  One evening I walked over the boulders to a little family restaurant tucked away behind a bamboo wall serving delicious Dosas (a south Indian popular dish).  I highly recommend getting a little braver with your meal decisions, this was a great experience and for less than $1.
You won't be short of ways to find sustenance to explore the surrounding areas, particularly the temples and ruins.
This link will take you to my main post about Hampi. Click here to read about my adventures on a motorbike. To read about the temples of Hampi, and what to do, read here.
—
Lyn Girdler is a yoga teacher and a freelance writer currently traveling the world and finding home and heart in the people she meets.  Originally from Australia but based out of Connecticut, USA, she can frequently be found either upside down on a yoga mat, hunched over her computer updating her blog, designing t-shirts and accessories or officiating weddings!  She spends most of her time in the company of people who inspire her, and avoids spending time with people who don't.  Life is too short to waste it shrinking into cultural inertia.  She mostly travels solo however, it's how she finds the most adventure.  You and can follow her on Twitter, Facebook  and Instagram, she would love to hear from you.