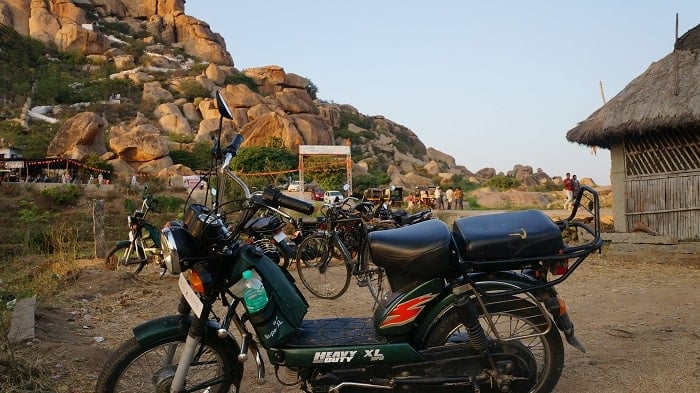 After arriving in Hampi I didn't have a plan as to how the day would unfold.
With my room at Sunny's secured, though not available for a few more hours, my new Russian friend and I sat at the German bakery for breakfast.  Lingering over a hot coffee and rather doughy 'croissant', serenity was only shortly lived as our guest room manager approached to rent us motorcycles for 200 rupees ($4) per day.  The Russian didn't hesitate to say yes and I, who had never ridden a motorcycle, wasn't so brave.  Until, that is, the Russian insisted.  Russians have an irrefutable ability to make every suggestion, compliment or request sound like a demand.
Russian: "You take bike.  You vill love it"
Me: "Well, I've never ridden a motorbike.  I'm not sure"
Russian: "You take bike.  It is good"
Me: "Um, I don't know.  The roads are a bit dodgy here and….well…I don't know how to ride a motorbike…"
Russian: "Do vot youlike.  But, you take bike.  You vill like"
Me: "Right.  Yes, I'll take a bike"
After a 1 minute lesson on where the brake was, how to start the bike, what brake not to use and how to accelerate, I was left with a motorbike to manage.  The Russian handed me a map he had bought, watched me swerve my way down the little street ahead of him and then took off the other way.  So much for him being any kind of 'protector'.
And, was a turban on my head as good as a helmet?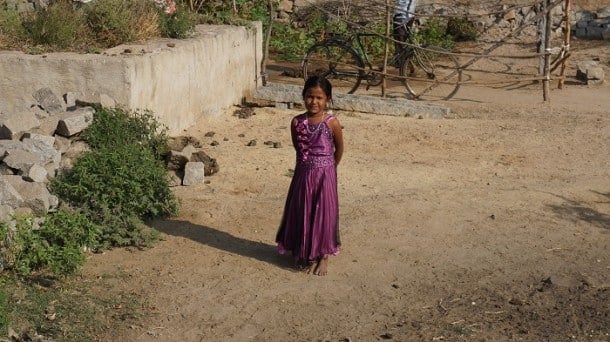 Once I got the hang of riding the bike, I just kept riding.  I headed out onto the main road and turned left.  I rode through little rural villages where local children came outside and ran alongside me.  Young men on bikes passed and said hello.  Families walking along the roads, waved.  Cows, mawing on their morning feed might have raised a brow at my rumbling past, but they barely turned a head.
Renting a motorcycle or a bicycle are the two most popular, and highly recommended, ways to get around Hampi.  It's quite hot during the day and there is a lot to cover, which isn't always in walking distance.  There are no formal rental companies, all you have to do is ask.  You won't have any problem finding a bike.
As for me, after spending my first day exploring solo on a bike and visiting the temples I returned to have a quiet dinner alone, hoping for some stillness.  That is, until, I heard a familiar voice bellowing my name from a restaurant above.  It was the Russian, of course.
"Lyn.  Come.  Zis is good place.  Ithas gud whiskey"
All I can say is when a Russian snake catcher tells you to drink shots of whiskey (I know, blew the vodka myth out of the water – but he insisted he doesn't drink crap vodka), you drink shots of whiskey.  And when, despite your protests, he demands you have another, you have another!
"You drink.  Ve have another.  You vill like"
Namaste, my friends!
Feel free to read more about my adventures around the temples of Hampi and on where to stay and eat.
—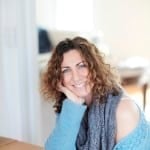 Lyn Girdler is a yoga teacher and a freelance writer currently traveling the world and finding home and heart in the people she meets.  Originally from Australia but based out of Connecticut, USA, she can frequently be found either upside down on a yoga mat, hunched over her computer updating her blog, designing t-shirts and accessories or officiating weddings!  She spends most of her time in the company of people who inspire her, and avoids spending time with people who don't.  Life is too short to waste it shrinking into cultural inertia.  She mostly travels solo however, it's how she finds the most adventure.  You and can follow her on Twitter, Facebook  and Instagram, she would love to hear from you.