Having arrived in Hampi in the early morning and then exploring the surrounding areas by motorbike, I wanted to experience the spiritual side of this majestic town so I took the bike to explore the temples.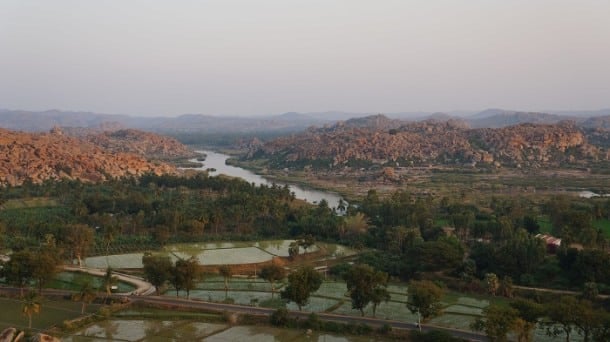 There are three main temples in Hampi; Hanuman, Lakshmi & Durga.  I recommend reading a little history on the significance of these mythological figures, since it helps to understand the significance when you visit the temple of their namesake.  The Hanuman temple is particularly captivating.  It's set at a high elevation, at the top of 700+ steps so it's a perfect place to look out onto the vast landscape and to catch a sunrise or sunset.  You'll meet a lot of Indian families on their way down the steps who will greet you with "Sita Ram" which sounds like Seetah-rum.  Along with Namaste, it is an auspicious way of saying hello.  At the temple, I was met with a lot of appreciation when I returned this greeting.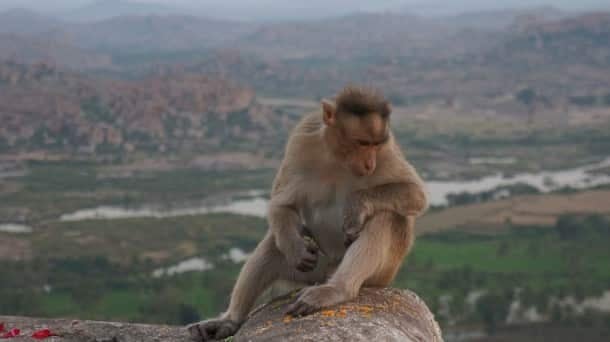 The Hanuman temple is teeming with monkeys, which is poignant since Hanuman is the Monkey God.  Ironically, it is the only temple with monkeys in such abundance but, India is like this, it is brimming with magic and mystery.  The vendors at the bottom of the temple will sell you bananas to feed the monkeys.  It's not a lot of money but can be a bit of a hassle as the monkeys eventually start trailing you and go bananas for your bananas!
Next up the road is the Lakshmi temple.  I happened to get there as a festival was taking place so it was quite crowded.  The Lakshmi temple is at ground level, set back behind a set of boulders so it's not very easy to see.  It has a man-made lake in front of it with an abundance of lotus growing.  Lakshmi is the goddess of abundance and the temple is surrounded by lush greenery and vivid color.  Don't be afraid to attempt to participate in any of the ceremonies, if you look generally interested the locals will guide you and will be very pleased to help.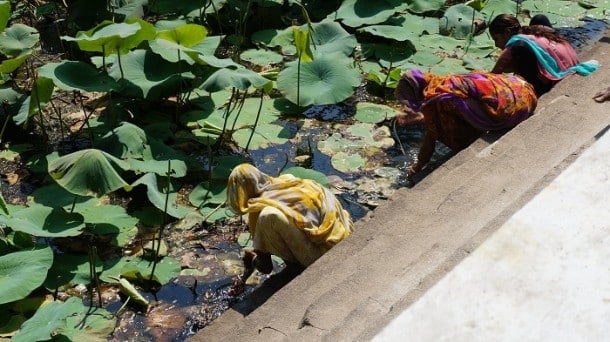 The Durga temple is a few kilometers along the road from Hanuman and Lakshmi temples.  It doesn't have steps but it is a steep walk up a paved road.  So, unless you have a bike, I wouldn't recommend going in the middle of the day.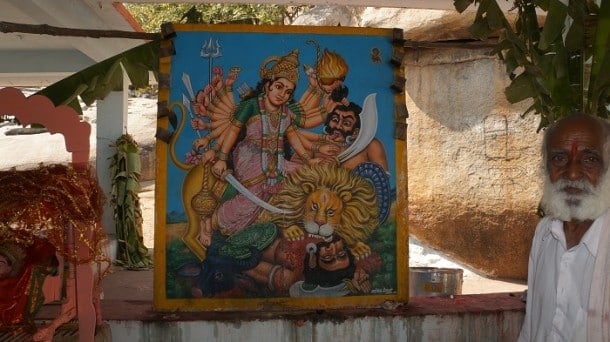 It's a colorful temple, with beautiful paintings of the many variations of the Goddess Durga.  Be sure to seek out a Sadhu (holy man) and have him take you on his private tour beyond the temple for breathtaking views, and hidden caves.  100 rupees donation at the end is sufficient and is more than worth it.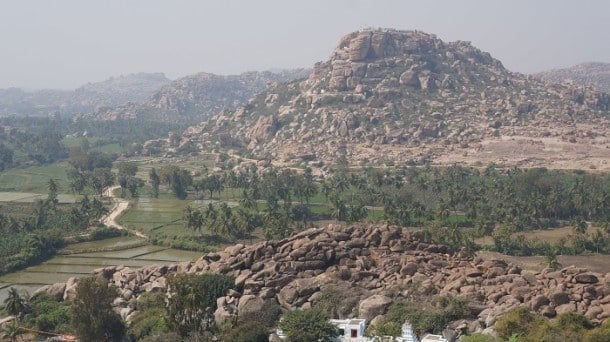 The ruins are situated on the bazaar side of Hampi and for 10 rupees (about 10 cents) the boat will take you on the 5 min. ride across the river.  Be warned though, the last boat is usually around 6 pm and after that, you won't be able to get back to the other side unless you take a taxi and it's quite a long journey.
In the mornings between 7 – 8 am the local temple elephant; Lakshmi comes down to the river from the main bazaar side, to take her bath.  Before doing so, she stands to entertain the small sunrise crowd who offer money, which she takes and offers thanks by resting her trunk on your head!  After the show, she waddles down to the water where she splashes and bathes in the river with the hundred or so other Indian families and school children also taking their morning bath.
The ruins are what really make Hampi so magical.  It's almost incomprehensible to understand the engineering, sophistication and level of commitment these ancient structures are embedded with.  Dating back to 1c they are epic, on a grand scale and are some of the oldest ruins in the country.  They are spread out over hundreds of kilometers, with the main ones close together.  One of the best ways to get around is to take a rickshaw.  Three hours covers quite a bit of ground and you can get this for about 300-450 rupees ($6-$9 usd).  I highly recommend using Anja, the Rickshaw driver I used quite a bit.   You can contact him by calling his number directly +91 9535358364.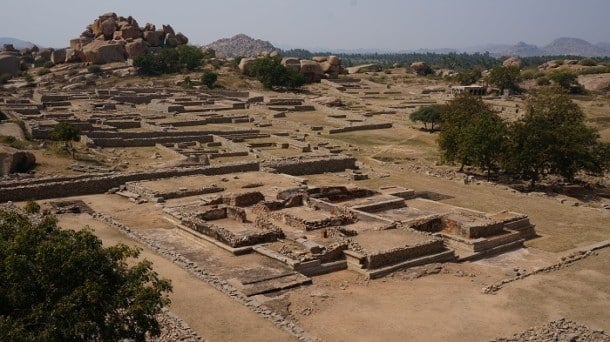 There isn't a lot to do in the evenings.  A lot of the guest houses host evening movie nights.  Look out for chalkboards announcing the evening film.  All free of charge.
Hampi is quite a mellow place, its magic is in the stillness and serenity.  So, explore the majesty of the ruins and the temples and then come back to your hammock and linger a while.
Click here to read more about Hampi.  If you'd like to hear about my motorbike adventure click here and if you're interested in where to stay and eat in Hampi click here.
—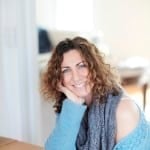 Lyn Girdler is a yoga teacher and a freelance writer currently traveling the world and finding home and heart in the people she meets.  Originally from Australia but based out of Connecticut, USA, she can frequently be found either upside down on a yoga mat, hunched over her computer updating her blog, designing t-shirts and accessories or officiating weddings!  She spends most of her time in the company of people who inspire her, and avoids spending time with people who don't.  Life is too short to waste it shrinking into cultural inertia.  She mostly travels solo however, it's how she finds the most adventure.  You and can follow her on Twitter, Facebook  and Instagram, she would love to hear from you.