This is a sponsored post.
As Canada's largest online travel agency, FlightHub has carved out a significant slice of the travel market north of the border. The name FlightHub isn't yet an American staple, and one day it might be, but for the moment, in both countries, it remains at least a great place to book flights and hotels. Up to 80% off, it claims, and while some of its flights and hotels are certain to be better deals than others, as another booking resource it can only strengthen your travel search. We've emphasized the importance of diversifying your search before on this site.
Beyond its search and booking functionality, FlightHub has placed great emphasis on analysis of the travel market—as seen in its reveal of the top five booked European cities from 2015. The list includes some familiar names, ranked here from 5 to 1:
5. Rome, Italy
The Italian capital comes in as the fifth-most booked European city as recoded by FlightHub for the second year in a row. No surprise. The remarkable history of one of our greatest empires—highlighted by the Colosseum (above), the Pantheon, the Roman Forum, and much more—is weaved into every corner of Rome's modern fabric, creating an urban experience unrivaled anywhere in the world.

Related JohnnyJet.com story: The Best Hotel View in Rome.
4. Madrid, Spain
New to the top five, says FlightHub. In 2015, people apparently sought the Spanish capital in greater numbers. And why not? The Plaza de Cibeles (above) and the world-famous Prado museum crown this traditionally Iberian capital, where imperial Spain and timeless art survive. Grand streets, parks and architecture add to the appeal for guests.
Related JohnnyJet.com story: Spain with Monograms: Madrid & Barcelona.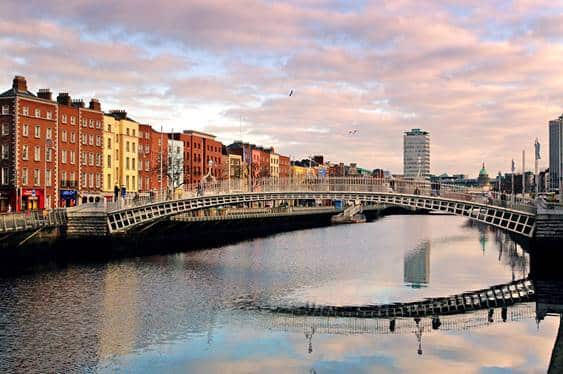 3. Dublin, Ireland
A slightly shorter flight than most European destinations, Dublin draws the eye of many—often as a place of family pilgrimage. But there's plenty to Dublin for everyone, and much more to the fertile Irish countryside it grants access to. On the River Liffey (above), Ireland's capital is new to FlightHub's list in 2015, as well, suggesting more eyes may look its way in 2016.
Related JohnnyJet.com story: Merrion Hotel: Dublin's Best Hotel.
2. Paris, France
Paris is Paris, and so it's no surprise to see it among the top-booked European cities. In fact, says FlightHub, it's been the number-two city on the list for three years running, behind only the top draw across the English Channel. From world-class baked goods and cheese to renowned art and fashion to the Eiffel Tower (above), the vibe in Paris is enough for anyone to fall in love with.
Related JohnnyJet.com story: 9 Reasons to Stay at the Pullman Paris Bercy.
1. London, England
Year after year, the number-one city by bookings per FlightHub. The home of the Queen, the Palace of Westminster (above, with London Eye on the Thames), Buckingham Palace, six (usually) rabidly supported Premiere League football teams, afternoon tea, fine theater in the way of Shakespeare, and so much more—it's all in London, all alongside a global center of multifaceted business.
Related JohnnyJet.com story: 30 Hours in London.
So, what to do with this information? From its analytics, FlightHub hopes to predict which flight hubs will trend next, and you can attempt to do the same. Trends predict trends, and as you consider new cities for future trips, you may want to consider where the masses are headed next, as well. And you may just want to give FlightHub a try.
About FlightHub
FlightHub is one of the top-grossing national travel agencies and has gone from a start-up to a well-respected establishment in under 3 years. Their business model is to beat out their competition and negotiate with over 210 global airlines in order to provide the best possible discounts for travellers who are otherwise unable to negotiate a better deal themselves.