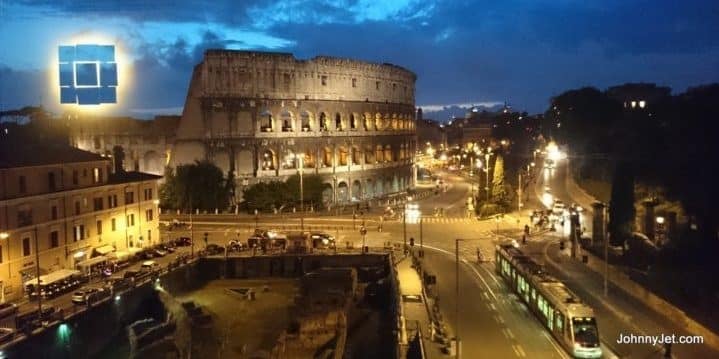 My dad and I topped off our incredible trip to Europe, which began in Barcelona on the inaugural voyage of Windstar's Star Pride, with a stay in Rome. Rome is without a doubt one of my top 10 favorite cities in the world and my favorite hotel there is the Palazzo Manfredi (Via Labicana, 125; Telefono: 06 7759 1380).
The Palazzo Manfredi is a small boutique property with just 14 rooms and two suites in a historic four-story, 17th-century palace. There are a lot of things that make this hotel special, such as the friendly personalized service, English speaking staff, the exceptional food, and comfortable beds. The rooms also have soundproof windows, marble bathrooms, luxury toiletries, and fun designs (like the bookcase wallpaper). The Palazzo Manfredi is also part of the Relais & Châteaux consortium, which means it has annual luxurious standards it needs to maintain.
But without a doubt, the number one thing that makes Palazzo Manfredi so special is location, location, location! The hotel is directly across the street from the Colosseum and the views are jaw-dropping. Literally.
Our room didn't have a direct view of the Colosseum but I got my fill while dining in the hotel's AROMA restaurant. This is where you go for that special dinner that you will never forget. You need to book weeks (if not months) in advance as they have fewer than 20 tables and the views are stunning. If it's just two of you, then ask for a table outside along the window so you will have uninterrupted views and be sure to arrive just before sunset as the twilight sky makes the view even more memorable.
My dad and I ate breakfast and dinner there and we both felt like we were dreaming. It's hard not to pinch yourself to ensure you're not dreaming. Because that's what it feels like.
If the location to the Colosseum isn't enough to recommend the Palazzo Manfredi, it's also right next to the Imperial Forum and the Domus Aurea (Emperor Nero's villa) and a number of Rome's other attractions. For the others, like the Vatican, there's a subway station two blocks away for easy access (you can hear the train run below).
Good to know:
-Directly below the hotel are the ruins of the Ludus Magnus, the main gymnasium used by Roman gladiators. They weren't discovered until 1937 and were only exposed in 1962.
-Rack rates begin at 300 euros ($407 USD).
-To avoid the Colosseum's long lines, buy your tickets in advance at coopculture.it.
Disclosure: The hotel covered the cost of my stay but all opinions expressed here are my own.