This post contains references to products from one or more of our advertisers. We may receive compensation when you click on links to those products. For an explanation of our Advertising Disclosure, visit this page.
Something that you won't regret having when driving is some type of access to roadside assistance. But instead of paying an expensive towing bill, you can use the best credit cards with roadside assistance protection benefits to cover all of the costs. Several of the best travel credit cards include these benefits for free. Read on to see if your credit card is on the list.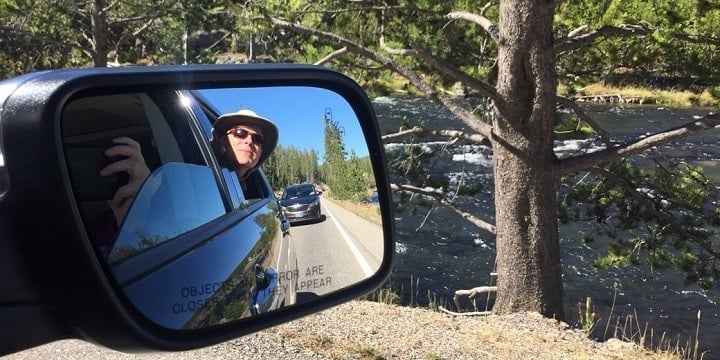 What Does Credit Card Roadside Assistance Cover?
Every rewards credit card might have a slightly different policy, but you can expect your benefits to cover the following events:
Tow to the nearest repair shop or desired location (usually a 10-mile distance for free)
Winching
Jumpstart a dead battery
Replace a flat tire (if you have a spare tire)
Two gallons of gas
Your car insurance policy or AAA membership might offer similar benefits, but you usually need to pay an additional monthly fee. If your credit card already includes these benefits, why pay more for your car insurance?
Credit Cards With Roadside Assistance Exclusions
Like many of the best credit card review benefits, there are a few exclusions regarding what type of vehicle qualifies for the benefit. You're most likely covered if you drive a regular passenger car, SUV, or truck. You will need to pay your own way when your vehicle meets one of the following characteristics:
Weigh more than 10,000 pounds (the average car weighs 4,000 pounds)
Is a camper
The vehicle is in tow
Motorcycle
Taxicab
Unlicensed vehicle
Credit card roadside assistance benefits are usually valid in the United States, Canada, Puerto Rico, and US Virgin Islands.
Since you'll most likely rent a car if you travel overseas, the rental agency should offer roadside assistance for your non-covered situations. Or, you can purchase an add-on rider for your travel insurance policy. See this post on the best credit cards for car rental insurance. 
American Express Roadside Assistance Benefits
Some people regard American Express cards as having the most generous roadside assistance benefits because they don't set a price limit.
To get free roadside assistance benefits, you will need to use one of the cards listed below with Premium roadside assistance:
The Platinum Card® from American Express

The Business Platinum Card® from American Express
Hilton Honors American Express Aspire Card
Delta SkyMiles® Reserve American Express Card
Delta SkyMiles® Reserve Business American Express Card
American Express® Gold Card
American Express® Business Gold Card
Learn more about some of these in our best premium cards post. The other American Express rewards cards only offer free access to the roadside assistance hotline. It's free to call Amex for help, but you will need to pay for any assistance.
With the American Express Premium Roadside Assistance, you're entitled to free assistance up to four times a year:
Free tow service up to 10 miles ($3 per additional mile)
Winching
Jumpstarts
Flat tire when you have a workable spare tire
Lockout service when the key is in the vehicle
Up to two gallons of gas
Considering a 5-mile tow costs up to $125, this little-known benefit can be more valuable than you realize.
Chase Roadside Assistance Benefits
Chase also offers roadside assistance benefits on several premium credit cards, but they will only cover up to $50 per incident. You can use this benefit up to four times a calendar year, but only once every seven days for the next dispatch to be free.
The benefits apply to any vehicle you own, lease, or are driving a vehicle furnished by the owner for the following services:
Battery Boost
Towing
Flat Tire Service
Fuel Delivery
Lockout Assistance
Depending on how much the total service costs, you may not have to pay out of pocket for roadside assistance. You only need to pay any expenses that are greater than the first $50 Chase pays.
Chase offers free roadside assistance on the following credit cards with travel rewards:
Some of these cards are also some of the best Chase credit cards.
Citi
The premium Citi Prestige® Card is the only Citi-branded credit card that offers free roadside assistance benefits. Citi's benefits are very similar to American Express in that you only need to pay when the tow distance is longer than 10 miles. You can also call Citi's 24/7 hotline when you need a battery jump start, flat tire repair, fuel delivery, or lockout assistance too.
Check out the best Citi credit cards as well if you want to learn more.
Credit Cards With Roadside Assistance vs. Your Car Insurance
Your auto insurance provider most likely offers roadside assistance for an additional fee. Most insurance roadside assistance plans cost between $5-$10 a month for similar services. The one area where your car insurance might be better is the free towing distance. For example, they might offer free towing services for 20 miles or 30 miles instead of 10 miles.
Depending on your driving habits, breaking down in a rural area means you're more likely to be at least 10 miles away from a repair facility. When this is the case, your car insurance policy can be the better option because the $3 charge per additional mile adds up quickly.
Another reason to consider going with your car insurance is if you don't own one of the credit cards with roadside assistance mentioned above. The main reason you go with one of the best premium credit cards is so you can enjoy top-notch rewards and benefits when you travel. However, not everybody travels enough to justify the higher annual fee.
What To Do When Your Credit Card Doesn't Have Roadside Assistance Benefits
When your credit card doesn't offer free roadside assistance benefits, you have three options:
Apply for one of the cards that have free roadside assistance
Pay the fee through your credit card's 24/7 travel assistance hotline
Add roadside assistance to your car insurance policy
If you have a newer vehicle, you may choose to rely on your credit card benefits to save a few bucks in car insurance. Even though you might have to pay for each dispatch, it can still be cheaper than adding the benefit to your insurance policy.
Which Credit Cards Have Roadside Assistance?
You're headed out of town, just to escape work and stress for the weekend. You've just reached the open road and are feeling your stress melt away when your car starts to steam. You're now miles from any service station and there are no friends to call to pick you up.
This is the opening scene to so many scary movies and TV shows, but it doesn't have to be your worst nightmare. There are lots of ways to find help in this scenario, and one that most people don't think of is the credit card residing in your wallet. Many credit cards have road assistance benefits that you can take advantage of if you're in trouble.
What To Look For
Some credit cards (keep in mind, not all, but we'll get there) have a benefit that offers you as the cardholder discounted or free access to roadside assistance when you find yourself stuck on the side of the road. Though this might seem like a nice benefit, it never should be the deciding factor for why you sign up for that specific card. We'll also do a little price comparing to see how worthy these benefits are of our praise.
For some of these cards, you'll find this is a nice added bonus, for others, you may decide you aren't getting your money's worth for the service you're receiving. But let's get started talking about which cards carry these benefits and which cards don't.
Visa
Visa has what's titled Roadside Dispatch service and is offered on the Visa Signature cards, like the Chase Sapphire Preferred® Card and many others. What this means is that Visa has a special phone number that you can call and they'll connect you to someone in your area who can come out and fix your tire, bring you gas, or tow you to the nearest mechanic.
But, there is a cost and there are restrictions. This service is good for any car, including rental cars. The rates are pre-negotiated by Visa and therefore may or may not save you money.
For the flat rate of $59.95 per call, you can be towed for 5 miles, get a tire changed, get a jump start, get into your car if you've been locked out, or have up to 5 gallons of fuel delivered.
For many breakdowns, a five-mile tow may not get you very far. Plus, that's going to cost you extra. Be sure to think about what you need and price compare before calling. Sometimes the convenience of a 24/7 number where someone will just handle it when you're stuck on the side of the road in the middle of the night is exactly what you want or even need.
Charges incurred will automatically be placed on your card.
Discover Card
Similar to Visa, Discover credit cards offer roadside assistance to drivers, but for $10 more at $69.95. Again, it's important with these benefits that you make sure it's worth your time and money. In certain locations and at certain times, it might be cheaper to use an existing AAA membership or to just call a friend who has a tow truck and help you out of the situation.
Master Card
Like Visa and Discover Card, if you call the roadside assistance phone number, your card will be charged a pre-negotiated fee. When taking advantage of these services, consider the pre-negotiated fee and don't jump in blindly. It's possible that the fee you'll be charged by your credit card company will be much higher than if you just called the locksmith yourself.
Citibank
The Citi Prestige and American Airlines AAdvantage cards both offer the cardholder a Roadside Assistance Dispatch Service. When you call the designated phone number, the operator will connect you with someone who can fix your problem and will coordinate your location. Your tow will only take you 10 miles though.
There are some other restrictions in the fine print, but you can access this service four times a year without charge.
American Express
The Premium Roadside Assistance from American Express is a slightly beefier plan than some of the others on this list. This service is included on the American Express Platinum Card. Just give the 24/7 phone number a call and the operator can help you find someone to get a jumpstart for your car battery, change a flat tire and a tow for up to 10 miles.
You can get any of these services up to four times a year for free. This is definitely one of those benefits that you should remember during your times of need. It could easily save you money.
Considerations To Make
The roadside assistance benefits are not a reason to get a credit card, nor are they a magic wand. Choose the card you want because it has numerous benefits that will fit with your current lifestyle. If that includes roadside assistance benefits, be sure to make use out of them.
Also, note that this is a convenient service, but that doesn't always mean faster service. There are stories online from cardholders who were stranded far away from civilization and it took hours to find tow trucks and for the trucks to get to them.
I actually used my Chase Sapphire Preferred Card when I had a flat tire and dead battery (on separate occasions). Both happened to be on HWY 35. Those traveling between Dallas and Austin know the pain in dealing with HWY 35. For $59.95, someone came out in less than an hour and fixed both issues.
Side note that this is just one of the Chase Sapphire Preferred bonuses.
What Else To Know
Once you've reviewed your card's policy, think about whether or not you need your AAA membership. If you have a new car that's unlikely to break down and your card offers free help, why pay the AAA membership for something you'll never use?
On the other hand, your card may offer very little help. Your AAA membership fee may be cheaper for the number of times you use it and the limited coverage your card offers. No matter what card you have, it's good to periodically review what benefits each of your cards has. Make sure that you're always making the most out of the benefits that are just sitting in your pocket.
Summary
Most credit card companies now reserve roadside protection benefits for their premium credit cards. By owning one of the cards, you have additional peace of mind when you drive your vehicle. And, you can use the benefit up to four times a year for free and save hundreds of dollars when the unexpected happens. Credit cards with roadside assistance are great if you hit the road often.
Eligibility and Benefit level varies by Card. Terms, Conditions and Limitations Apply. Please visit americanexpress.com/benefitsguide for more details. Underwritten by New Hampshire Insurance Company, an AIG Company.