This post contains references to products from one or more of our advertisers. We may receive compensation when you click on links to those products. For an explanation of our Advertising Disclosure, visit this page.
If you have been watching the financial news or have noticed that your high-yield savings account is earning more interest than over the past several years, you have likely heard discussions about interest rate hikes. Another topic worth covering is where credit card interest rates are going.
Current Credit Card Interest Rates
Credit card interest rates reached historic highs in 2023. The national average exceeded 20% for the first time ever in early January. Rates are still at or near record highs. The national average was 20.82% APR for the week of July 19, 2023, according to CreditCards.com.
Below is a table comparing the rates by different types of credit cards in July 2023 compared to six months before in January 2023.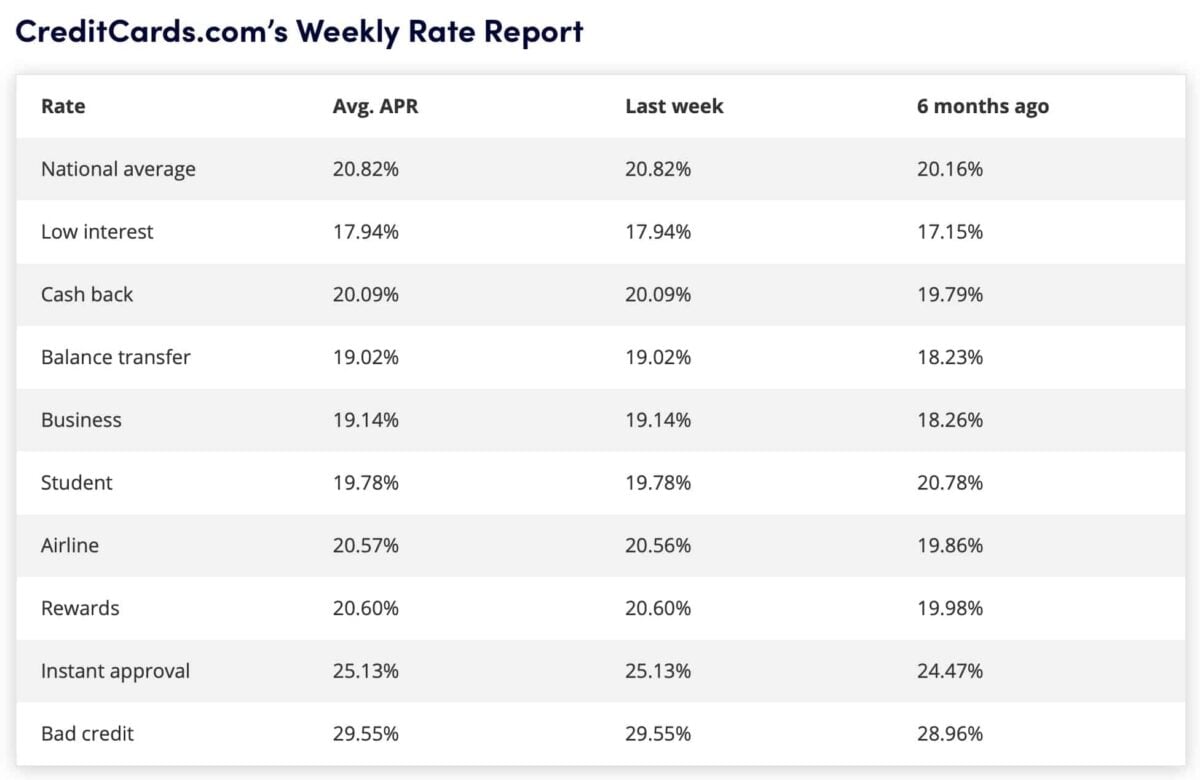 Historical Interest Rates
Organizations track credit card rates differently. So, the average rate and historical rate can vary by outlet. For an additional perspective, the Federal Reserve System also tracks rates for all credit card accounts and accounts assessed interest:
May 2023: 20.68% (all accounts) and 22.16% (accounts assessed interest)
Q1 2023: 20.09% (all accounts) and 20.92% (accounts assessed interest)
Q1 2022: 14.56% (all accounts) and 16.17% (accounts assessed interest)
2021 annual average: 14.60% (all accounts) and 16.45% (accounts assessed interest)
2020 annual average: 14.71% (all accounts) and 16.28% (accounts assessed interest)
2019 annual average: 15.05% (all accounts) and 16.98% (accounts assessed interest)
2018 annual average: 14.22% (all accounts) and 16.04% (accounts assessed interest)
Rates are clearly in an uptrend over this five-year period. This makes carrying a credit card balance pricier and more challenging to pay off quickly.
Why Are Interest Rates Going Higher?
Credit card APRs are going higher. The Federal Reserve has been increasing rates at a steady pace since March 2022. Card issuers typically base the APR on the U.S. Prime Rate plus a floating percentage.
While Fed rate hikes and rate cuts don't directly affect credit card interest rates, the prime rate is based on the federal funds rate that the Fed controls. So, the prime rate tends to go up and down as the fed funds rate adjusts after the public meetings.
Banks and non-bank lenders have been increasing interest rates for various loans. This includes auto loans and home mortgages to multi-year highs too.
Related: Can You Pay Your Mortgage With A Credit Card?
Will Credit Card Rates Go Higher?
It's difficult to accurately estimate where rates will land at the end of 2023 and going into 2024. One reason is that the general public is waiting to see if the Federal Reserve will resume interest rate hikes to further curb inflation.
Another reason why it's prudent to take a "wait and see" approach is because the Fed has never increased interest rates so quickly in its history. The financial world and Main Street economy are still digesting the moves. This is as individuals and businesses repay or refinance existing debt and shift their spending patterns due to higher borrowing costs.
In July 2023, it's probable that rates will increase after the Fed meetings on July 25-26, 2023, and in September. Creditcards.com estimates that two 0.25% rate increases could push the national average above 21.00% APR if issuers have corresponding rate hikes.
As a glimmer of hope, there is a possibility that the Fed start pausing or lowering rates consistently beginning in 2024, which makes credit card interest rates drop too.
Additionally, you may consider the best rewards credit cards, which are more likely to have lower APRs. These cards can also be more likely to offer introductory APR offers. This can help you pay off large balances without interest for a limited time.
How To Get Lower Credit Card Interest Rates
While consumers don't have much control over how much banks charge on credit card balances, there are several steps to take to get a lower rate on new credit cards:
Consider 0% APR promotions: Balance transfer credit cards offer 0% APR on qualifying transfers and purchases during the opening months. That's usually the first 18 to 21 months after account opening. A one-time balance transfer fee usually applies, but you're saving money and can apply your extra cash to pay off your balance in full.
Increase your credit score: Having excellent credit (a 740 credit score or higher) can help you qualify for the lowest interest rate tier for a particular card. Most products have two or three rates, and your creditworthiness is a determining factor.
Look for limited-time offers: Your existing card may offer temporary reductions on your existing account. You can also contact your credit card company to modify your repayment terms for a short period if you're in a bind such as changing jobs or a large, unexpected expense.
Summary
Credit card interest rates are at record highs and will remain near them for the rest of 2023. Rates are also likely to go higher before the national average drops. Being conscious of how much interest you're paying is wise. If possible, pay your balance in full and reduce how much you spend each month on a credit card to avoid carrying a balance and paying expensive interest charges.
Related Articles: