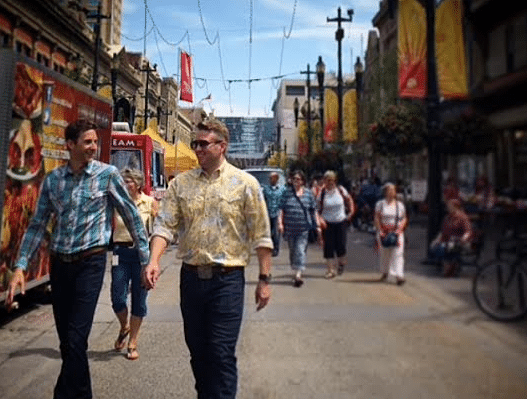 This is the third part in Trishna Patel's five-part series on the Calgary Stampede. Check out the series homepage here, the first part here, the second part here, the fourth part here, and the final part here.
During the Stampede, it's as though the entire town is part of the festivities. Locals and tourists alike are out and about, ready for a good time. Here it was…a Tuesday afternoon during my visit…and there was not an empty barstool in sight. Here are three stops you shouldn't miss:
1. Stephen Avenue Walk
Known to many as the heart of Calgary, Stephen Avenue Walk is a lively street that boasts some of the town's finest shops, bars and restaurants. Outside the Calgary Stampede grounds, the avenue is the one of the places that truly captures the excitement that the Stampede brings to the city. I took my time, perusing the boutiques, galleries and pubs, while also stopping to enjoy the live music every couple blocks.
Tip: Stephen Avenue is not your typical promenade. Allow yourself several hours to roam and enjoy what it has to offer. Also, this is where you'll want to come to get any last-minute cowboy gear. However, I suggest doing most of your shopping before the Stampede since the demand was high and the prices were, too.
2. Calgary Tower
Being in town for the Stampede and its festivities, I had to stick to a schedule. If this is the case for you, just make sure to include the Calgary Tower on your itinerary.
One of the city's most famous landmarks, Calgary Tower boasts a breathtaking 360-degree view. The observation deck, the highest in Canada, allows you to experience a "floating in space"-type phenomenon with its glass floor feature.
I also highly recommend the personal, interactive audio tour, which runs about 45 minutes. In just under an hour, you'll learn all there is to know about Calgary and access an unparalleled view to help put all that history into perspective.
3. Ranchman's Cookhouse and Dancehall
I was told if that if I wanted to meet a genuine, professional, rodeo-competing, honest-to-goodness cowboy, I'd have to go and have myself a good time at Ranchman's Cookhouse and Dancehall.
The festive bar is as authentic as it gets. They've got a mechanical bull (for those brave enough), reasonably priced BBQ and strong cocktails. If it weren't for all the memorabilia of Alberta's rich Canadian heritage hanging from the walls, I would've guessed I was somewhere in the Midwest.
Call ahead and ask about the live entertainment, especially during the Stampede. Luckily for me, I happened upon the "Cowboys versus Fire Fighters" auction and pole-climb competition, both of which were harmless fun.
Tip: Come early for prime seating and standing room, as the crowd fills up fast, especially during the nightly entertainment. Also, coordinate transportation via taxi as Ranchman's is a 15-minute drive from downtown Calgary. Always be safe!
For more on the Stampede, head back to the series homepage.
Tickets for next year's Stampede (July 8-17, 2016) are on sale October 5th 2015 at calgarystampede.com. Buy in advance for better seat selection, premium seating and potential discounts. Contact the extremely helpful folks at Travel Alberta and Tourism Calgary for inquires for large groups (20 or more) and for additional help with planning your itinerary. And of course, tell 'em Trish sent you!