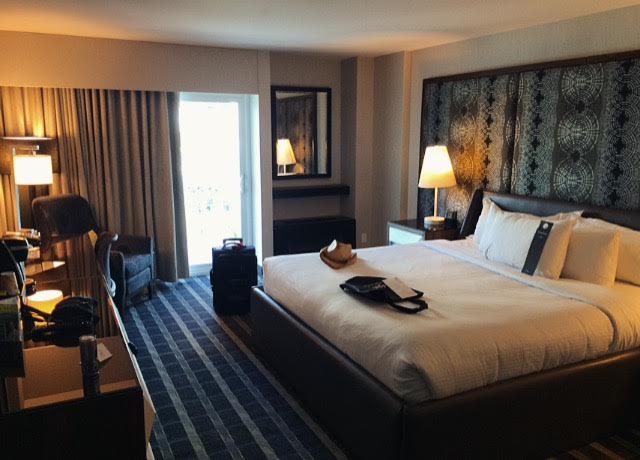 This is the third part in Trishna Patel's five-part series on the Calgary Stampede. Check out the series homepage here, the first part here, the second part here, the third part here, and the final part here.
When I told local friends I was staying at the Hotel Arts, they were impressed. Apparently, this was the place to be.
The boutique-inspired hotel is located downtown, which for Stampede-goers is only a convenient 10-minute walk from the grounds. (I easily made the short trip a couple times a day.)
The Hotel Arts' newly renovated, sleek ambiance is complemented by their internationally curated and funky art collection. It's the perfect combination of trendy-chic and warm-welcoming. The rooms are quite spacious and the service is excellent.
In just my four-night stay, the lobby and outdoor pool area hosted everything from high-profile corporate events to a vegan expo to a Bollywood-themed wedding. In other words, if it's happening in Calgary, there's a good chance the Hotel Arts is involved.
Don't miss an opportunity to dine at the Yellow Bistro. Located conveniently in the Arts' lobby, it's a wonderful option especially for breakfast and brunch. The restaurant boasts a lovely ambiance; its décor consists of refurbished shutters from Belgium and the "classic menu with a modern twist" is both delicious and hearty enough to cure that Stampede hangover. And trust me, you'll have several. (The breakfast buffet did wonders for mine.)
Note: If you have time, make sure you also check out their bicycle rental program. Simply call ahead and the front desk will set you up a beach cruiser bike and a picnic basket.
And don't miss…
And if you're a coffee-lover, cycle over to renowned Phil & Sebastian Coffee Roasters for a cup of joe. This place knows good java. I spent some time in the open, airy coffeehouse scoping out the local scene—which happened to be a very hip, young and artsy crowd.
The coffee house is on the river, so take your picnic outside. It's a perfect little outing to give you a slice of Calgary beyond the Stampede.
For more on the Stampede, head back to the series homepage.
Tickets for next year's Stampede (July 8-17, 2016) are on sale October 5th 2015 at calgarystampede.com. Buy in advance for better seat selection, premium seating and potential discounts. Contact the extremely helpful folks at Travel Alberta and Tourism Calgary for inquires for large groups (20 or more) and for additional help with planning your itinerary. And of course, tell 'em Trish sent you!