If ever there were a city to be best visited in the summer, it's Chicago. As a Johnny Jet travel rep, I was invited to stay at the historic Blackstone Hotel for an extended weekend in mid-August.
The early 2oth-century landmark hotel is celebrating its recent acquisition by the Autograph Collection Hotels family, a brand within Marriott International. Like the Algonquin in NYC or the Boscolo Exedra in Rome, The Blackstone was selected because it is a reflection of its place and has many stories to tell. In all there are over 100 luxury hotels all over the world in this exclusive portfolio.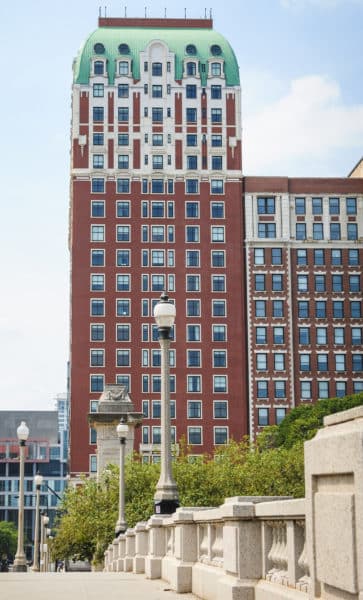 When the neoclassical Beaux-Arts-style hotel opened in 1910, it was the tallest building in the city. Now, dwarfed by many newer buildings three times its size, The Blackstone still looms large in the story-telling department.
Warren G. Harding's presidential nomination was argued over in this "smoked-filled room," a phrase famously coined by an Associated Press reporter when describing the cigar-smoking haze created by GOP leaders when trying to make a decision during the 1920 convention.
From Taft to Carter, 12 consecutive Presidents have stayed in the suites—hence the reputation as the "hotel of presidents." Apparently, while sipping clam chowder at the hotel, JFK got the first troubling information about Cuba's nuclear threat.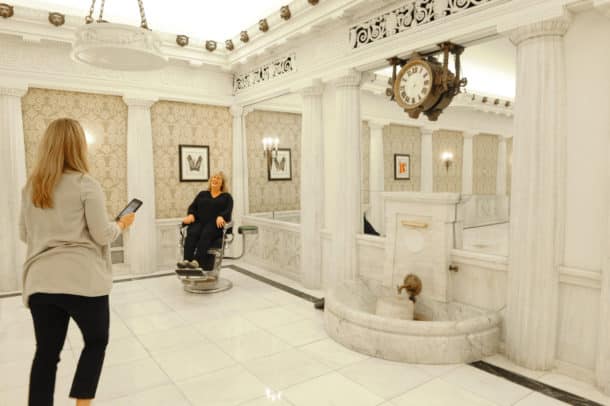 The hotel was also a favorite of gangsters, most notably Al Capone. He frequently used the services offered in a grand windowless barbershop in the lower level of the building. Because no one could view him from the outside, he could relax with some privacy during a shave. The room now is often used for meetings. A barber chair sits in the corner and the marble sink where barbers rinsed off their blades is nearby.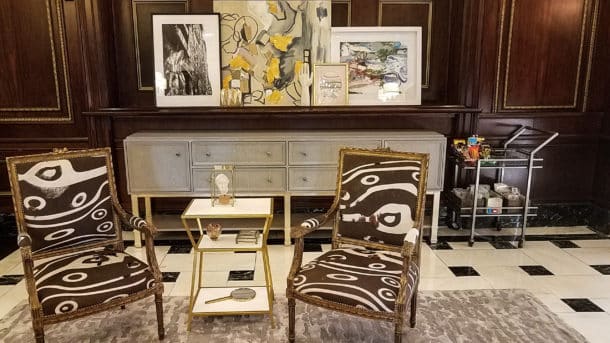 In 2008, after years of neglect and closure, the completion of a $139 million architectural restoration allowed the hotel to reopen its doors and continue its story. While retaining its original early 1900s ornamentation and style, it was fully updated to 21st-century technology standards and amenities.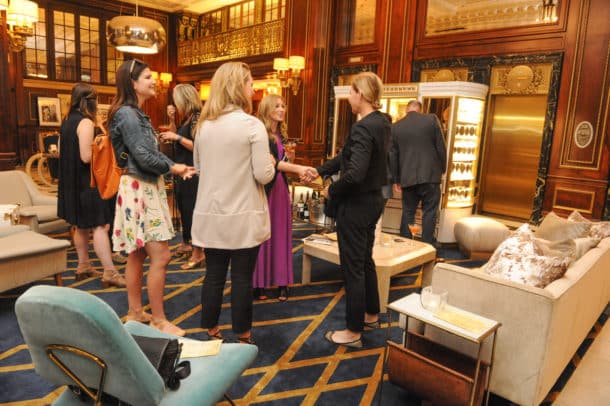 The lobby feels more like a living room, especially with Timothy's Hutch in the center of it all, serving up signature cocktails.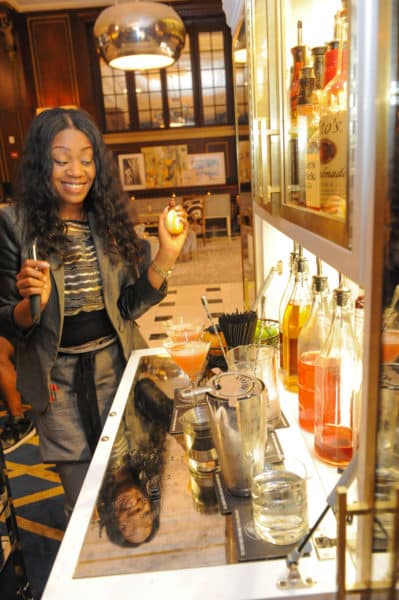 I was definitely loving my spacious tenth floor, double-queenbed guestroom (I brought along my sister), the marble-accented bathroom and the view—oh my goodness, the East-facing lake view—was jaw-dropping! A room like this is costs $270 on season.
Timothy Blackstone, a 19th-century railroad executive for whom the hotel is named (it was built on the site where his mansion once stood) was also an art enthusiast. He donated a considerable amount of money to the nearby Art Institute of Chicago.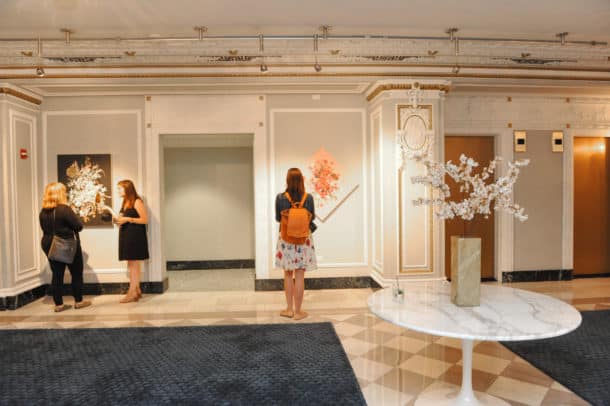 In keeping with that tradition, The Blackstone has acquired a collection of more than 1,600 contemporary art pieces and displays them throughout the property: the hallways, guestrooms, bathrooms, everywhere. Almost of the art was done by local artists. Even the room keys display art; they represent art pieces featured on each floor.
Outside The Blackstone
A walk around the neighborhood
On my first full day after flying in from New Jersey (Trenton—O'Hare on Frontier for $298), I just wanted to walk. As soon as you step out the door and on to the Miracle Mile that is Michigan Avenue, you join a multicultural crowd of visitors and natives to the city.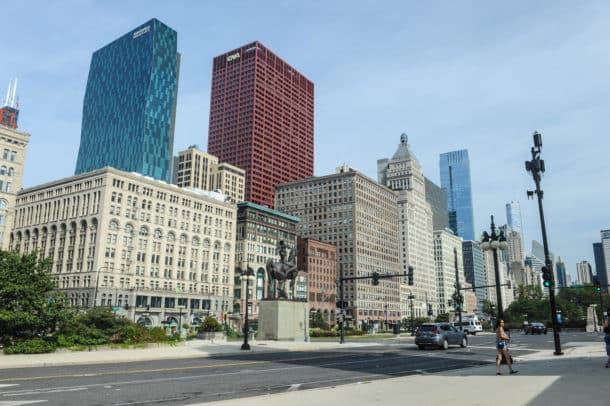 Because of the way the streets are laid out (post-1871 Chicago fire city planners gave more space between structures), there is ample room to walk without sideswiping people on your way through town. And there is light, an openness that allows you to look up and out at all the diverse architecture that Chicago is known for.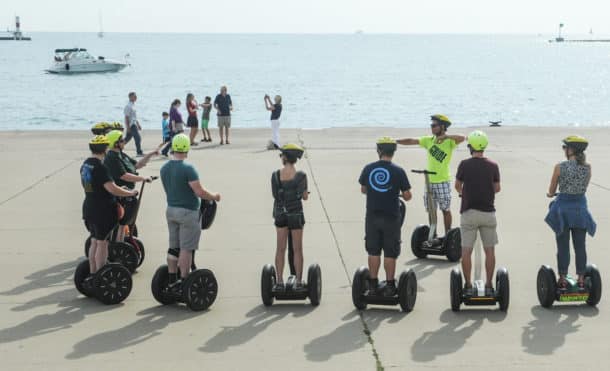 As my sister and I headed across Grant Park, followed along Lakeshore Drive and on to Navy Pier (about a two-mile walk), we encountered cyclists, roller bladers, a Segway tour, and even first-responders taking a break from a drill. Everyone seemed to be heading to Navy Pier to get a good view of the afternoon's airshow.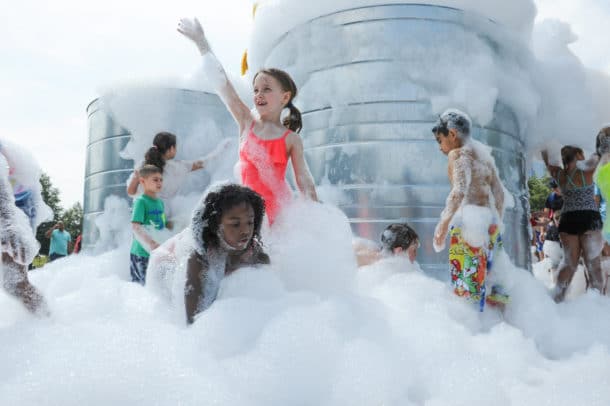 There are a multitude of things to do at Navy Pier including kid-cooling off activities like the fountain and a hilarious suds-making machine.
Dinner at Mercat a la Planxa
We ended the day with dinner at Mercat a la Planxa (adjacent to the hotel lobby). Zagat top-rated the Spanish/tapas restaurant as the best in all of Chicago in July, 2016.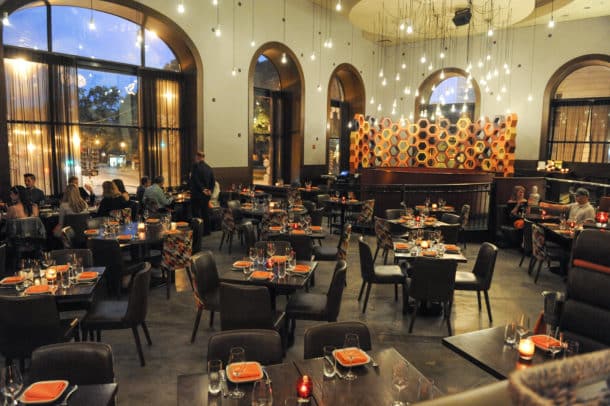 In an elegant yet festive space with a beautiful open kitchen we were served a never-ending array of regional dishes—title of the chef's menu: "Passeig de Gracia," aka Barcelona's most famous avenue.
Barcelona-born Executive Chef Diego Lopez Amat, left, introduced himself before presenting us with dish after amazing dish throughout the evening.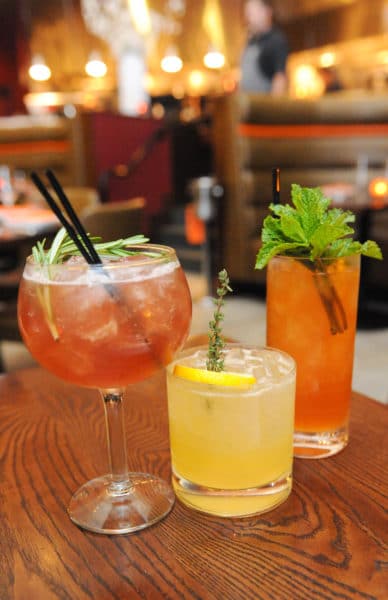 Signature cocktails were served before dinner. Above, from left: "Mercat Gin Tonic" (mahon gin, hum cardamom liqueur, lemon, rosemary, fever tree mediterranean tonic; "Bascule" (Hendrick's gin, honey, lemon, celery bitters, Spanish cider; "Es la Hora" (Mount Gay black barrel rum, Lustau Oloroso sherry, aperol, passion fruit, apple cider shrub, soda).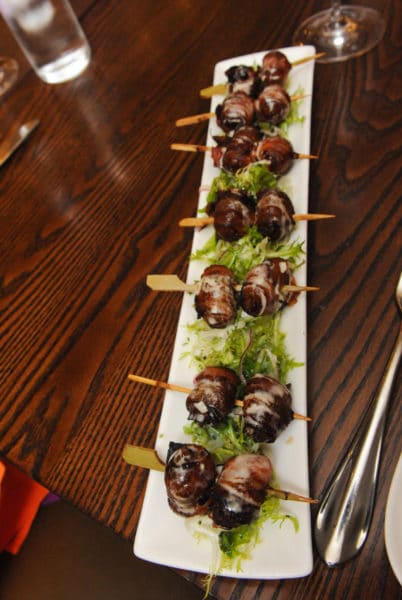 My favorite dish came right at the beginning: Bacon-wrapped dates stuffed with Marcona almonds.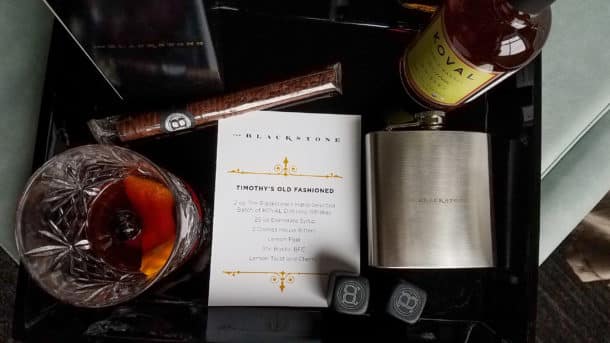 An unexpected amenity when we returned to our room was a 2oz bottle of Blackstone's hand-selected batch of Koval craft distillery whiskey along with instructions and ingredients for making a "Timothy's Old Fashioned." A nice touch.
A visit to the Koval distillery
The following day we got the behind-the-scene story of this hand-selected batch business by paying a visit to Koval craft distillery, located in the Northside of Chicago. Koval is known for its organic grain-to-bottle process producing whiskey, liqueurs and specialty spirits.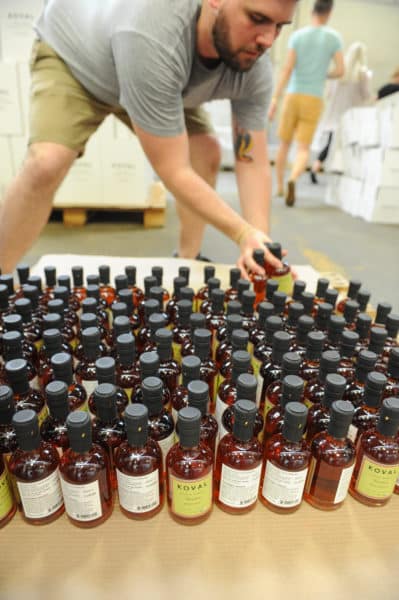 The Blackstone had an opportunity to brand its own barrel, which it would then be able to share with its specialty guests. Since Koval's whiskeys are aged in a "single barrel" process, each of these 30-gallon oak charred barrels produces a slightly unique flavor. From that chosen barrel I received my lovely amenity the night before.
Following a tour of the small plant, we taste-tested Koval's five whiskey and two gin brands. Those tiny little shots, meant to be sipped, were tasty but took a toll on my equilibrium. Thank God for car service! One-hour tours and tastings are offered on Wednesday, Thursday, Saturday, and Sunday for $10.
An architectural boat tour
If visiting Chicago, an absolute must is to take an architectural boat tour on the Chicago River. There are several companies to choose from and my experience was on Chicago's First Lady. Apparently it's a bit more expensive than the others, but I was very impressed with the knowledge and clarity of our volunteer docent. It's the only cruise ship partnered with the Chicago Architecture Foundation. A 90-minute tour costs $43 (kids are same price).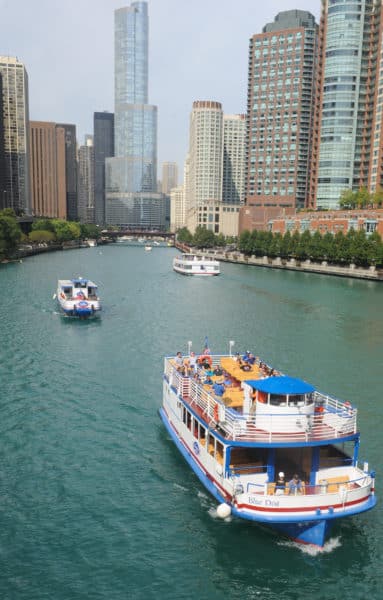 Never-ending photo ops. If you plan on sitting on the upper level I highly recommend that you buy sunscreen at the boat launch if you forgot to bring your own. A few of mine: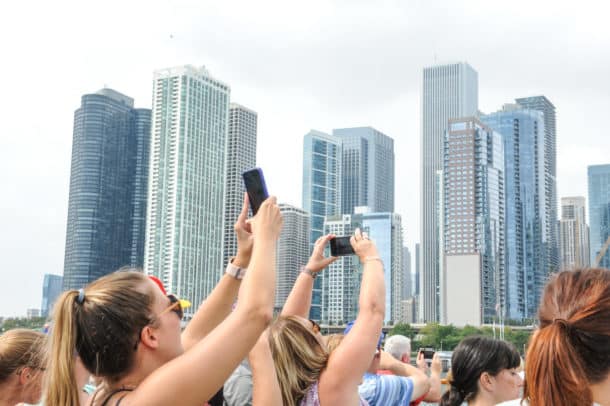 And: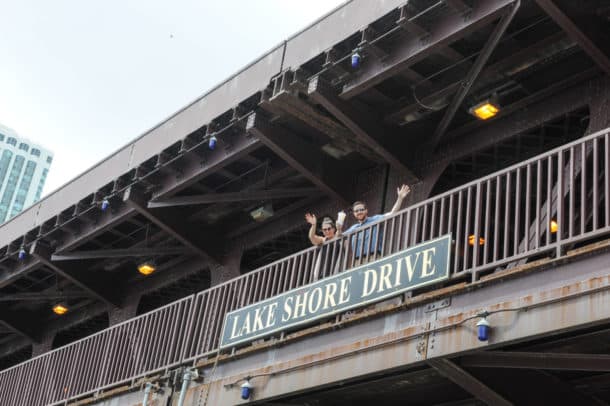 And one more:
Lunch at City Winery
After our tour we grabbed a quick lunch at City Winery at Riverwalk where we shared a bread board with a selection of butters & salts ($12) and I had a super-yummy simple grilled cheese sandwich with apple butter and sun-dried tomato ($10) and a glass of rosé.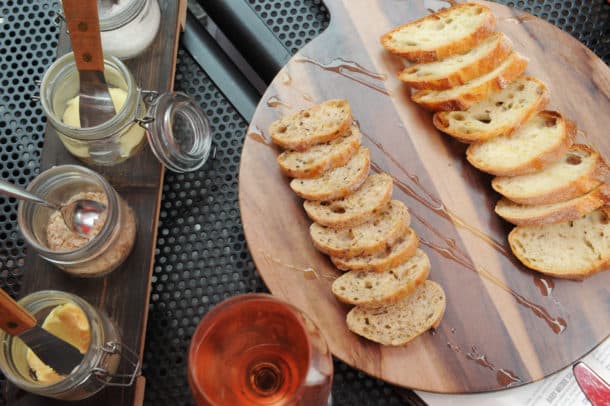 And for a special treat during lunch, we got to see a bit of the solar eclipse—at least a crescent of it before it disappeared behind clouds. The best part was watching all who came out of their office buildings to see the spectacle.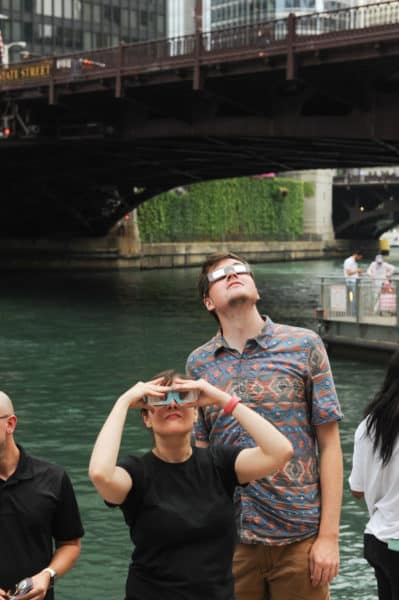 Returning to the hotel I found a vintage Corona typewriter with Blackstone stationary AND a lovely bottle of red placed in my room—another nice amenity. A working 1908 Oliver typewriter sits in the front lobby where guests are encouraged to type a note, perhaps a story about their stay at the Blackstone. Postage is provided at the front desk.
Dinner at The Signature Room
Dining choice for our last evening in the Windy City is The Signature Room, a restaurant on the 95th floor of the John Hancock building. The food was fine, not standout, but who can compete with the view? Weirdly, the best view is from the women's restroom. If the coast is clear the occasional guy comes in to see for himself.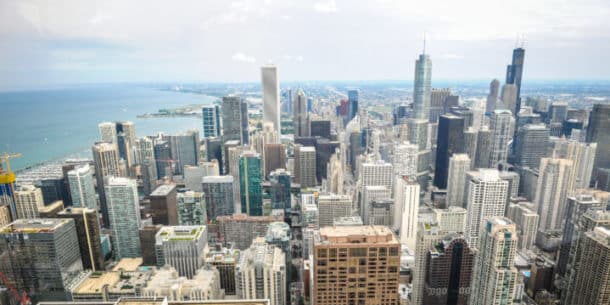 As far away as we were, and though competing with all those dizzying skyscrapers, The Blackstone was still identifiable by its iconic green mansard roof.
A day at the museums
Before flying back to glorious Trenton, NJ, we had a few hours to visit both The Field Museum of Natural History and the Art Institute of Chicago. The Field Museum is currently featuring Jurassic World, an interactive Disney-like experience with life-size moving and roaring robotic dinosaurs. Fun, but I'm liking the real stuff inside like Sue the T. Rex, the largest, most complete T. rex ever discovered.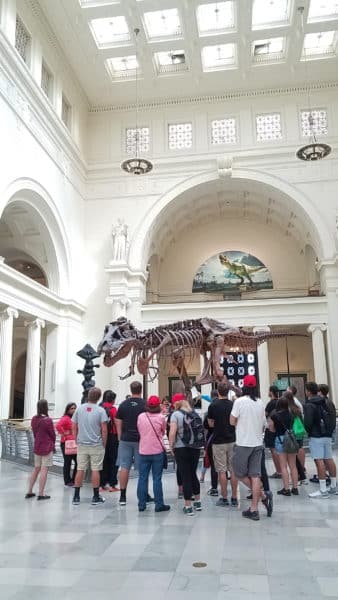 Closing September 4th is the museum is the "Tattoo" exhibition, well worth the all-access adult pass of $36.
Spending barely more than an hour at the Art Institute of Chicago was truly difficult. Masterpieces by Monet, Degas and Van Gogh are just a very few of the treasures that fill these rooms.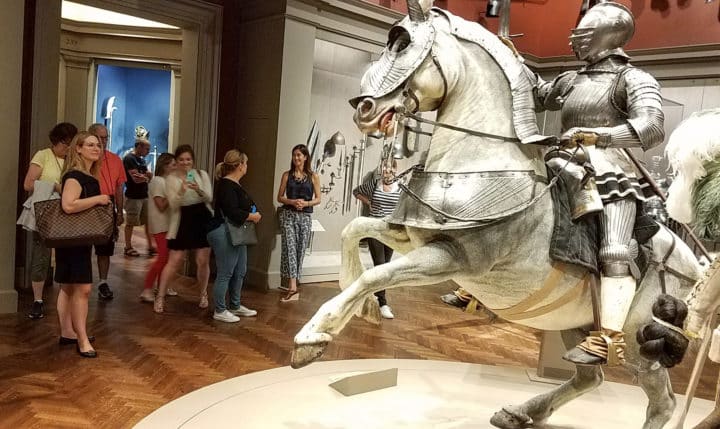 Hundreds of objects from the Middle Ages and Renaissance—monumental altarpieces, exquisite jewelry, arms, and armor collections—were in a sumptuous, immersive display.
Getting close and personal to paintings I've seen for years in books is a surreal experience. Three versions of van Gogh's bedroom were painted and one of them resides in Chicago—as does George Seurat's "A Sunday on La Grande Jatte"(of which a poster version hung in my home office for years).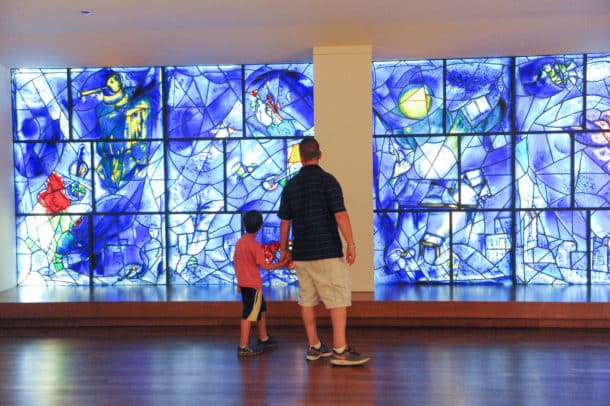 Marc Chagall's stained glass windows was created specifically for the Art Institute. It was also used a backdrop for a scene in Ferris Bueller's Day Off (Ferris and Sloane kissing at the art museum)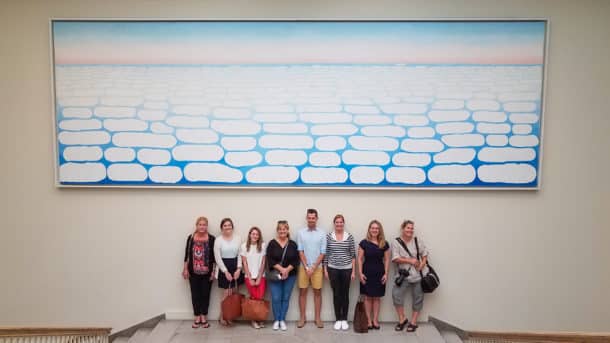 To bring it all full circle, we end with a visit to Timothy Blackstone-gifted piece "The Family Concert," an oil on canvas created by Dutch painter Jan Steen in 1666. It hangs in the European Painting and Sculpture Gallery.
Heading home
As we head to O'Hare I take what I think is a final glance at The Blackstone—but from the plane I'm certain that I can see that green roof…
---
For more on The Blackstone, visit theblackstonehotel.com.