If you've been following me on Facebook and Twitter then you know Natalie and I got married in Toronto, then flew to Seoul on Korean Air (in their flatbed seats so it made the trek painless), spent the night in Seoul – Gangnam Style. We then got on another Korean flight and flew 6 hours to Bali and stayed at three incredible hotels all around Bali (Amanusa, Amandari, and Amankila).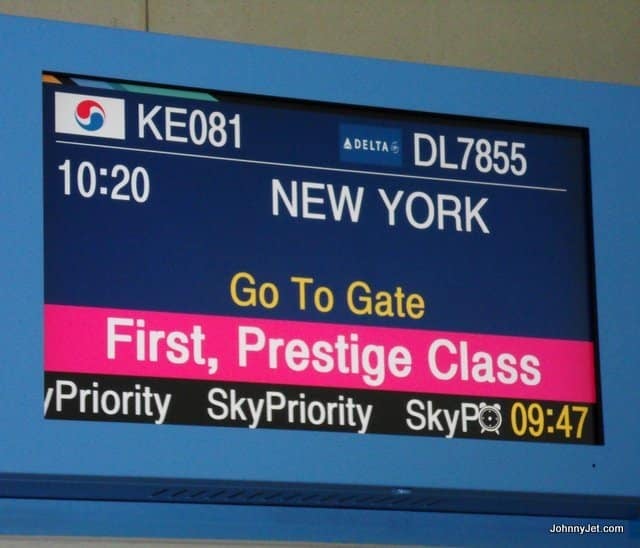 Time to go home
When it was time to go and make the long trip back to North America my head was killing me because I needed to be in Darwin, Australia six days from then for a last-minute work trip. Darwin is just 1,100 miles (two hour flight) from Bali but I couldn't change my plans for a couple of reasons. Number one we were having a wedding party for my friends and family in Connecticut who couldn't make our wedding. Number two it was Natalie's birthday and I had some surprises for her in New York. The only thing that kept me sane was the fact we were flying in Korean Air's Business Class which is like a dream.
Amanresorts Service
The first leg of our flight left Bali (DPS) at 12:30am on September 29. We arrived to the airport a couple hours before our flight and just like the Aman service we received on arrival we got on departure. The hotel car pulled up and a representative was waiting curbside to carry our bags and escort us to the right counters. It's a trip walking through the Bali airport and seeing so many American companies: Cold Stone Ice Cream, Dunkin Donuts, McDonald's, Burger King, Starbucks…. You almost forget you are half-way around the world. But seeing the Uzbekistan fencing team brought me back to Asia.
Bali Airport
When you enter the Bali airport everyone has to go through security check. We then went to the Korean Air check-in counter where there wasn't a line for Prestige Class (Business). That was painless and so was paying the departure tax of $15USD per person. We said goodbye to our escort at the immigration line because they don't have any special access and we waited for a good twenty minutes to get our exit stamp before exploring the airport.
The Bali airport is just okay. There are a few nice shops but their international business class lounge shared by a bunch of airlines is subpar. The food wasn't looking too good, the chairs tired and not comfortable and Wi-Fi cost money ($5). The internet on the three free computers was so slow no one was using it. The best thing going for the lounge is the fact you can get foot massage for 50,000 ($5) for 10 minutes but I passed since the room felt dirty.
Bali to Seoul
There was one more security check at the gate and the line was long but moved quickly. Boarding was  chaos but once you get on the plane all anxieties go away. We both slept most of the six and a half hour flight to Seoul and the most amazing experience was that they served breakfast just 39 minutes before landing (in business class). I was shocked. Fruit came out with just 24-minutes left. In America the flight attendants would already be in their seat. Am I wrong?
Incheon Airport
The sun was just coming up when we landed and we had a two hour layover in the Incheon Airport. Incheon is a fantastic airport to pass time and the first place we went was to Korean Air's beautiful lounge to download emails using the airports free Wi-Fi. Then we did some last minute shopping before making our way to gate 10.
Seoul to New York
We were both excited to be getting on one of Korean Air's A380s. It was Natalie's first time on one of these huge double decker planes and my tenth! The A380's I've been on are Emirates, Qantas, Lufthansa's and Singpore Airlines. All are amazing in their own way.
A380 By Numbers
In case you are curious here is the A380 by its numbers:
The maximum distance an A380 can fly is: 8,372 miles (13,473 km)
The A380 cruising speed is 566hr (912km)
Overall Length/Wing Span/Height(ft) of an A380: 238/261/79 (72.72/79.75/24.09m)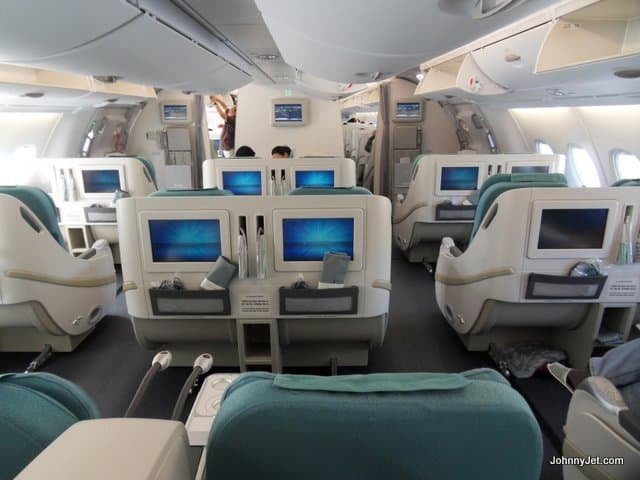 Korean Air's A380
What makes Korean Air's so special is that they have an amazing lounge for business class passengers and a duty free shop onboard for everyone. Their A380 can hold 407 passengers and the entire upper deck is business class with 94 Prestige Sleeper seats. There are two upstairs bars – I only saw the one near the back near where we were seated but I heard it's the nicer of the two and the only one staffed with a bartender.
Duty Free
Downstairs is 301 economy class seats and 12 first class Kosmo Suites seats. The onboard duty free shop is all the way at the back near the bathrooms so it gives people something to do while waiting. All seats have Korean Air's excellent entertainment systems with the same amount of on-demand movies, TV shows, games, music CDs, and kids' channels. The only difference is the individual screens get bigger in the more expensive cabins. The coolest thing about the A380's entertainment system is that they have three live cameras including one that is positioned on the tail of the plane.
Birthday Cake
Flight time to New York's JFK airport was 13 hours and 20 minutes and what was awesome for Natalie is that it was her birthday and with the time change she was going to have the longest birthday of her life. We took off from Seoul at 10am on September 29 and landed in New York at 11:30am on September 29th. Gotta love crossing the International Date Line!
On top of that Korean Air allows passengers in any class of service to order either a honeymoon cake or birthday cake free of charge. I requested one before we left and it was supposed to be a surprise but the flight attendant came by and asked Natalie when would you like your birthday cake? Oh well.
Just like on all of our previous Korean Air flights the service was fantastic. Here are some of my observations:
There's plenty of overhead and side compartment storage space.
They don't provide pajamas in business class but I saved the ones from our first class Toronto – Seoul flight and changed into them shortly after takeoff. It's so much more comfortable to be in soft loose fitting clothes.
Each passenger is provided slippers so it makes it easy to pop up and use the loo instead of struggling to put your shoes on.
When you order the beef they ask how you would like it cooked. Do you know of any other airline that cooks your steak to your liking?
A thoughtful Korean mother took her crying baby to the back of the plane every time she acted and so they wouldn't disturb the sleeping passengers.
The bar in back had a large TV with the flight information and some of the seats had seatbelts.
The bar is stocked with colorful lollipop looking crackers (strawberry, herb, sesame seed…) that don't taste as good as they look.
Bartender makes martinis or whatever you want.
The snake reading lights at each seat are much better on this plane – they aren't in your face like other seats.
For a mid-flight snack they offer pizza, soup, cookies and ice cream
We flew right over Japan and Alaska
The only thing I found wrong with the flight attendants is that they don't call passengers by their names and they were slow serving drinks after takeoff and picking up food trays.
The flight was smooth and the seatbelt sign only went on three times including on decent which was just nine minutes before landing.
Without a doubt Korean Air is one of my top five favorite airlines in the world and the A380 is one of my favorite airplanes. My other favorite is the 777-300.
RELATED:  Toronto to Seoul on Korean Airlines
Seoul to Bali on Korean Airlines