I think I speak for everyone when I say that getting ripped off sucks. I really can't stand seeing people take advantage of others by making them pay more for something than they really should be paying. RELATED: How to Save Money With a Secret Third Carry-On
One way to prevent spending more money when you travel is to always pay in local currency. Rarely do I carry cash anymore, including when I travel internationally. I usually just keep a small amount of local currency for things like public transportation, farmer's markets and mom-and-pop shops. But other than that, I use my credit cards for everything. TIP: Here are some of the best international credit cards for travel.
I always carry multiple credit cards from different banks like a Visa, a Mastercard and/or an American Express, just in case one of my cards is not accepted by a merchant or is denied. I make sure all of the cards have no foreign transaction fees so I don't get dinged another one to three percentage points. Here's a deep dive on credit cards with no foreign transaction fees.
One of the tactics stores outside of the United States often use is asking customers if they would like to pay for their purchase in U.S. dollars or local currency. Paying in U.S. dollars might seem like the more convenient option, but in reality it's not. In fact, it's a total rip-off. The stores that do this charge a higher exchange rate than your bank back home does. So remember to always pay in the local currency of the country you're in.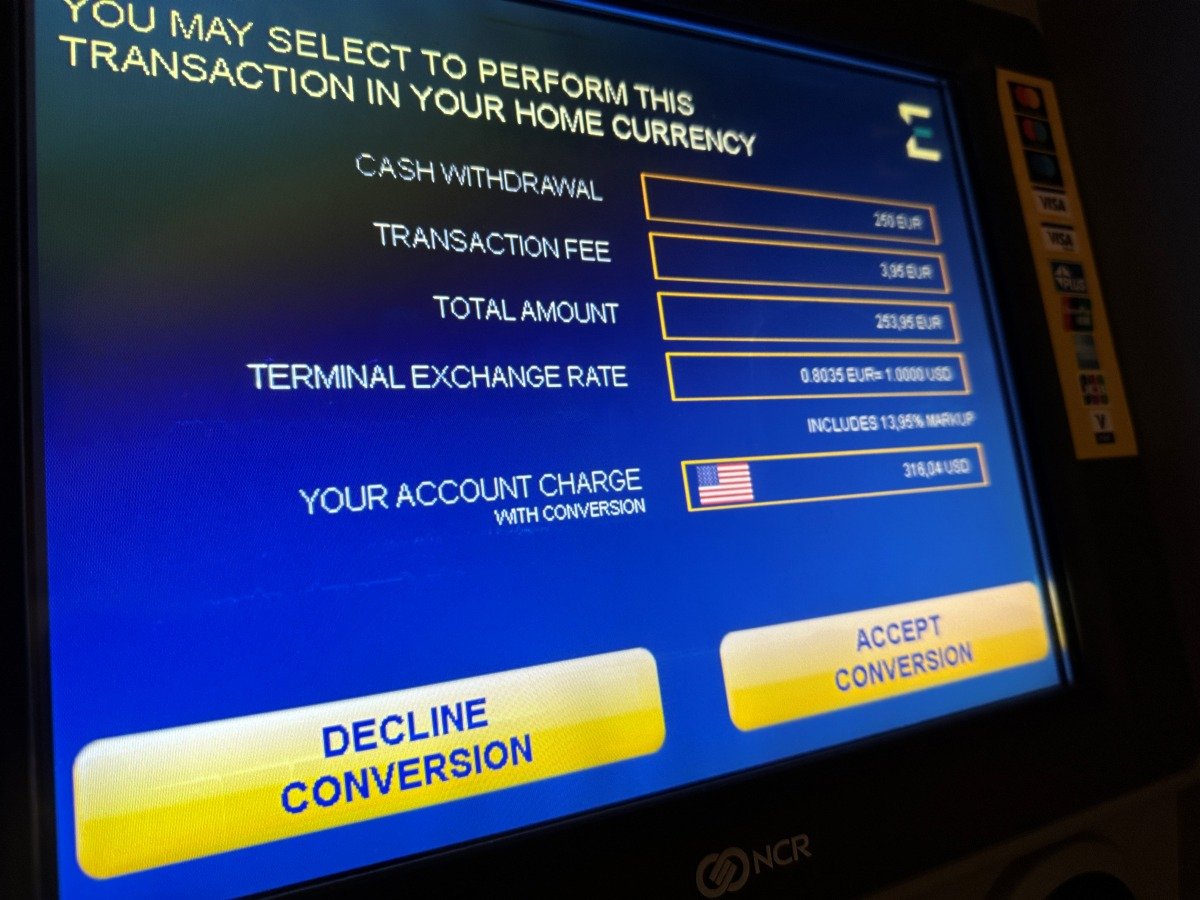 FYI: I find Harrod's, the popular department store in London, does this every time I buy something (nothing flashy, usually just goodies from their famous Food Halls) but others do it too, including ATM's so always be on guard.
KEEP READING:
–12 Passport Tips That Will Save You Time, Money and Headaches
–The Most Important Thing I Do When I Travel Internationally Is …
–Rick Steves Got Pickpocketed in Paris: Here's What He Wants You to Know
–The Most Important Thing For Travelers to Do According to a Safety Expert
–What You Need To Know About Renewing or Getting an Emergency Passport in the U.S.
Want more travel news, tips and deals? Sign up to Johnny Jet's free newsletter and check out these popular posts: The Travel Gadget Flight Attendants Never Leave Home Without and 12 Ways to Save Money on Baggage Fees. Follow Johnny Jet on MSN, Facebook, Instagram, Pinterest, and YouTube for all of my travel posts.