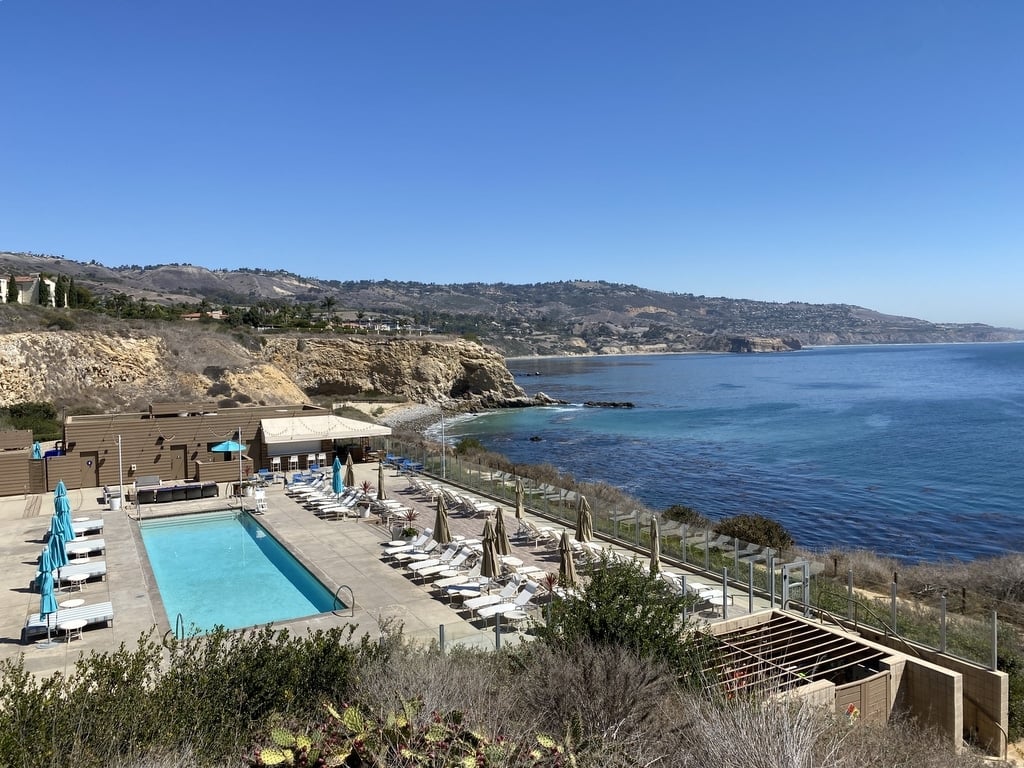 In 2014, I wrote about my first stay at the incredible Terranea Resort in Rancho Palos Verdes, California. But it's been seven years and we decided to check it out again. Well, this time was even more special because I was with my two little ones and I was very excited to show them this beautiful part of California.

First of all, Terranea is located just 17 miles south of Los Angeles International Airport (LAX) on the Palos Verdes peninsula. It's arguably the most beautiful piece of land in the United States. I know this area well because I spent my sophomore year at what was then Marymount College Palos Verdes (now Marymount California University), living in an apartment complex next door to the land where Terranea Resort would one day be built. I've been mesmerized by the area ever since and you will be too after just one glimpse of the cliff overlooking the Pacific Ocean and Catalina Island, just 26 miles away.
The $450 million, 102-acre resort opened in 2009 on the old Marineland property. Marineland was built in 1954 and was the largest oceanarium in the world. In 1987, they closed after the owners of SeaWorld purchased it and moved to San Diego.
According to Wikipedia, "while still in operation, the park was prominently featured in several television shows, including two episodes of The Beverly Hillbillies, The Munsters, The Partridge Family, Hart to Hart, The Six Million Dollar Man, Emergency!, The Colbys, Wonder Woman, Sea Hunt, and The A Team. In one episode of The Lucy Show, Lucille Ball falls into a Marineland animal exhibit."
After Marineland went bust in 1987, the vacant property was used by major production companies including the first three Pirates of the Caribbean films, Charlie's Angels, Pearl Harbor, The Aviator, and Lethal Weapon. When I was living next door, we would see production crews filming all kinds of commercials, shows and movies. In fact, my roommate almost ran Harrison Ford over by accident while they were filming Patriot Games. They also shot part of the movie This Is 40 at the resort.
To give you an idea how nice it is, this is the place Tiger Woods was staying when he had his horrific accident. The backdrop is so beautiful that it's long been one of Hollywood's favorite locations and now anyone can experience it, not just celebrities or local homeowners.
Terranea is now really popular with a whole range of guests, from business travelers hosting exquisite events and couples looking for a romantic getaway, to girls' and guys' weekends and of course, family getaways. I was fortunate to experience an incredible family-friendly stay with my wife and kids, compliments of the resort.
Terranea has 582 guest rooms and suites and we were assigned one of their Ocean View Casita Suites (32-301). Here's what our stay was like, from start to finish:
We pulled up to the valet just before 4pm, which is when check-in is. Because we were in a Casita suite, the valet told us to leave everything in the car because we'd be able to park right in front of our room after check in.

Check-in only took a few minutes and I was informed that the resort is a smoke-free and cashless property, and that in accordance with the Los Angeles County Department of Public Health, face coverings are required for all guests while indoors.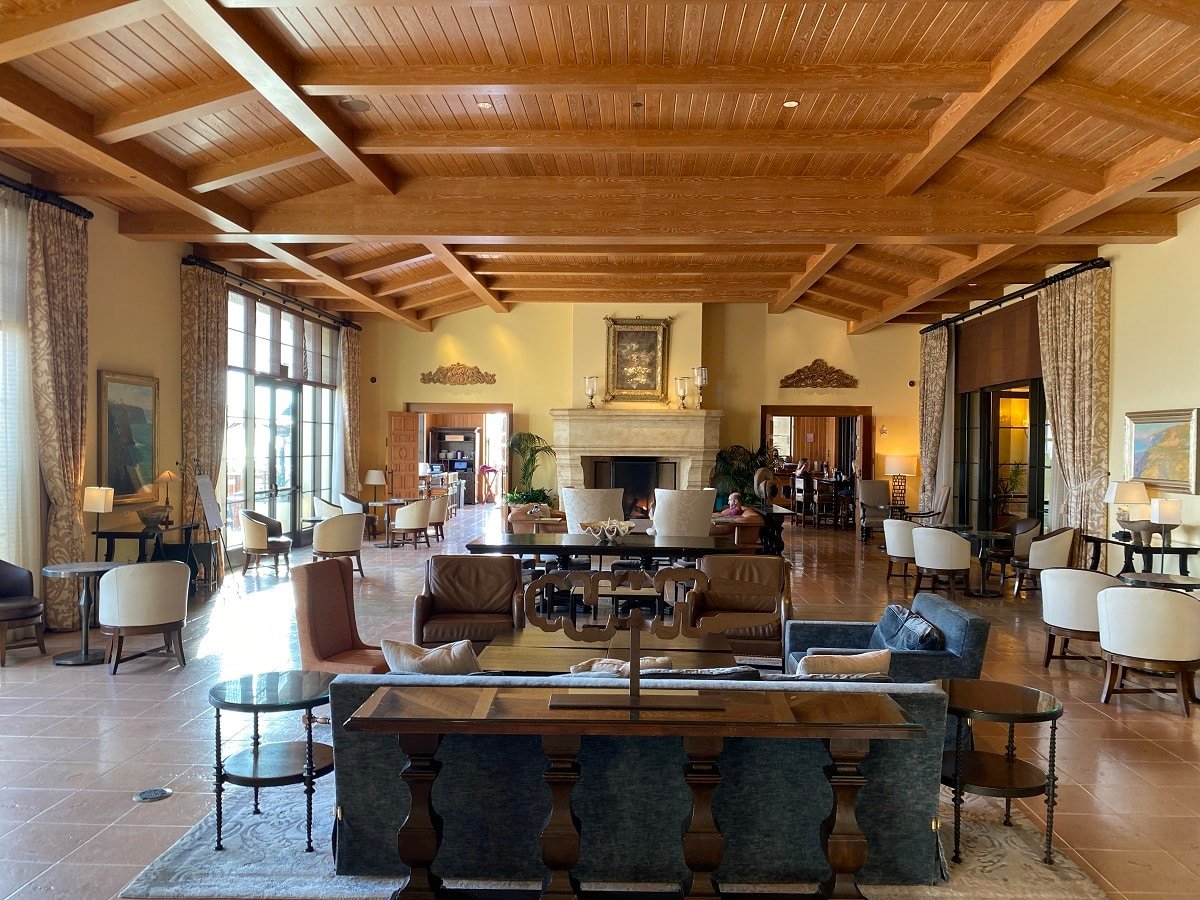 Here's a quick peek at the grand lobby of Terranea Resort.
The entrance to our Ocean View Casita Suite.
Our suite had an al fresco foyer, complete with a cozy sitting area and fireplace – the perfect spot to roast marshmallows in the evening.
Traveling with two little kids, space is definitely important. This casita provided ample room for the kids to play and my wife and I especially loved having a kitchen to make food and keep milk and other snacks cold for the kids.
The master bedroom has a king-sized bed and a lounger that the kids just loved to hang out on.
The master bathroom has both a tub and a shower and a toilet behind a closed door for added privacy.
The bathrooms have luxury amenities like this soap, shampoo and conditioner.
Our adjoining room had two queen-sized beds.
After a long day out playing and exploring, the kids look forward to a movie but unfortunately, you have to pay for the PBS Kids or Nickelodeon package.
Laundry facilities are handy for all travelers but especially when you've got two little ones.
Watching playoff baseball with a fire!
You don't have to go very far to enjoy gorgeous scenery and gentle walking paths. The entire resort is surrounded by California beauty.
In fact, the luxury accommodations aside, one of the best parts of Terrenea is the natural landscapes and the walking trails. The hotel takes up just one quarter of the 102 acres so you can explore more than 75 acres of its natural landscape. The coastal trail is open to the public but surprisingly, not many seemed to take advantage of it.
We walked down to the cove that I used to frequent when I was in college, where's a cave that was used in the opening sequence of the original Batman series. But when we were in college, we just thought it was the perfect place to have parties and bonfires.
Keep your eyes peeled because there's a good chance you will see dolphins, sea lions, and whales from November to May.

We went on multiple walks during our stay and the trails are easy and scenic for kids.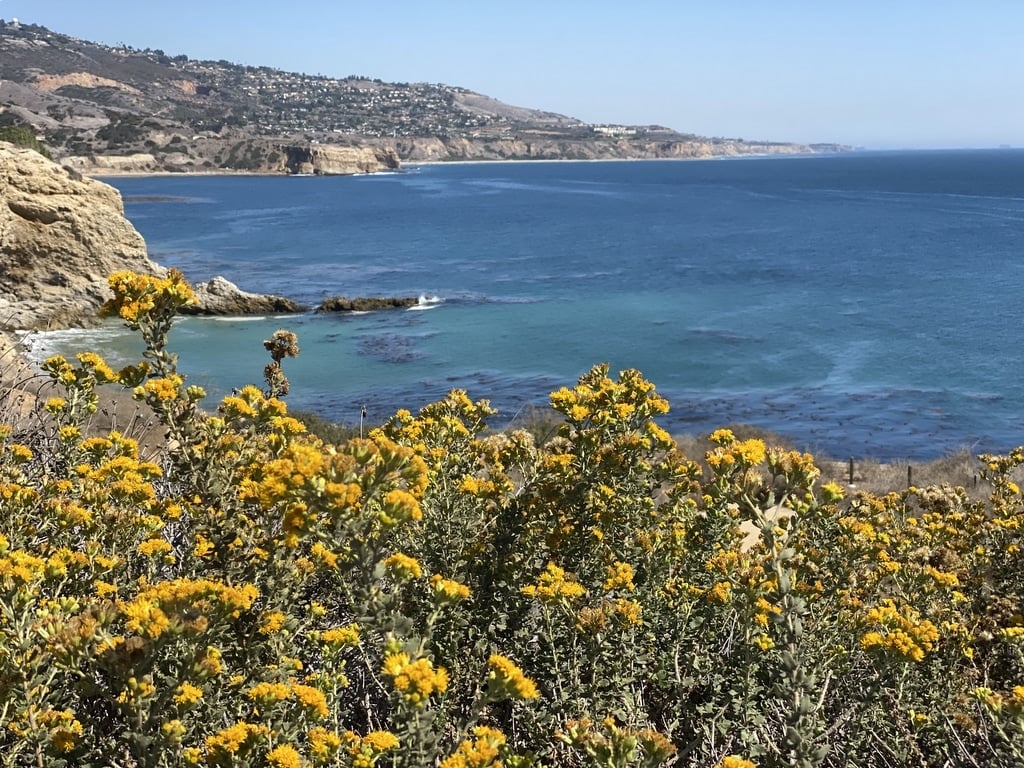 Terranea is surrounded by some of the most beautiful scenery in California.
For dinner one night, we went to one of the hotel's five restaurants: Catalina Kitchen. We sat outside and dined under the stars. We were fortunate to have perfect weather. The outdoor setting was great, complete with heat lamps and palm trees. In one direction, it looked like we were in Hawaii (except much cooler) and in the other, it looked like Italy with the PV peninsula. The hot sourdough bread and garlic butter ($5) was insanely good. My wife and I both had the CK salad and the kids had mac and cheese ($12).
My food photos didn't come out great since it was dark but it's worth repeating that this hot sourdough bread with garlic butter was off the charts!
We found a complimentary Smores kit in our room but guests can also buy them in the Sea Beans store. They're perfect for ending the night at one of the resort's many firepits.
Jack roasting marshmallows in our fireplace.
For breakfast, I stopped by Sea Beans Cafe to grab some pastries, tea and fresh fruit.
After breakfast, we had a private falconry experience. We met with Lori Prichard (pictured above) who was filling in for the resident falconer who was on vacation. She was a wonderful and knowledgeable guide.
The 90-minute private lesson isn't cheap at $550 but the kids absolutely loved it. My wife and I found it fascinating as well. Lori had a red tail hawk (we also saw a wild one), an Asian owl and a falcon. She was full of facts that the kids loved learning and seeing the birds in action was a highlight for everyone.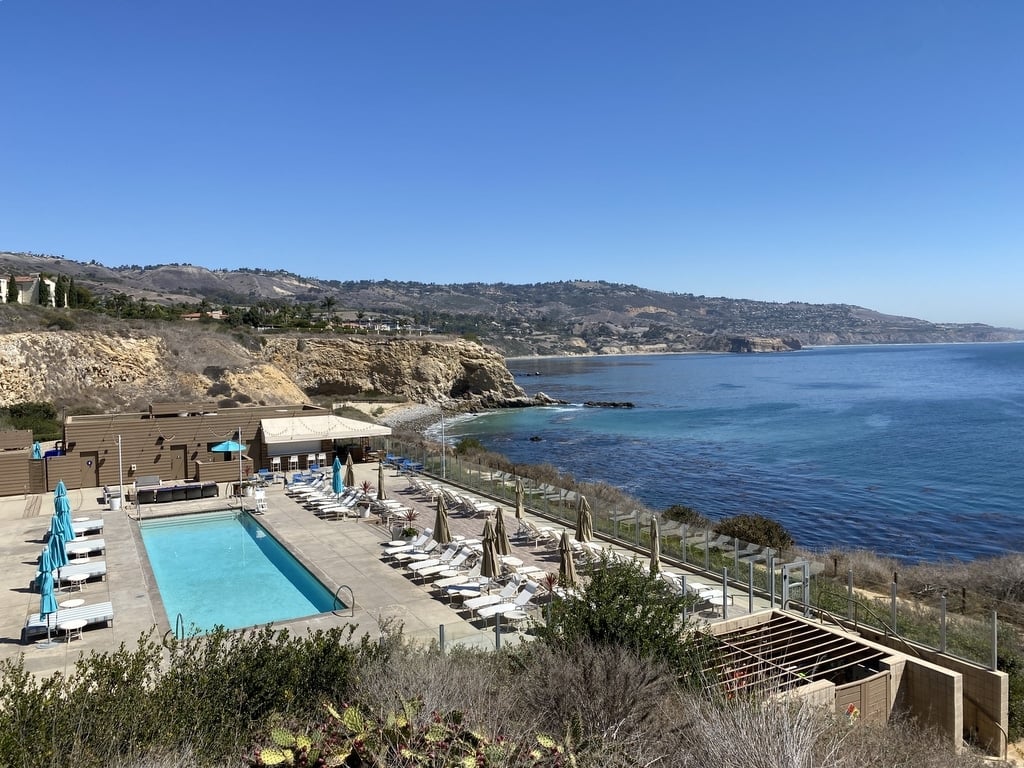 Terrenea has three pools including this adult pool called Cielo Point, for adults 18 and over. The second one is a 25-meter spa pool that's located in the spa complex but requires a spa treatment to use.
The most popular pool is the 5,000-square-foot family pool with 140-foot waterslide and jumping splash pad. To say that the kids absolutely loved it is a huge understatement. They would have spent all day there if they could.
We got to check out one of their cabanas, another amazing family-friendly feature. It's the perfect spot for taking a break from the pool, enjoy some snacks and in the case of our daughter, take a quick nap to recharge.
The cabana fridge was stocked with coconut water, soda, Icelandic water and Honest juice pouches for kids.
We forgot to pack our swim diapers so we were very happy to see that the resort provides the to guests for free.
For lunch, we went to Nelson's, which, on a warm, sunny day, is one of the best places to dine in SoCal. Locals love this place, too, not just the hotel guests.
I had the spicy chicken sandwich while Natalie had a lobster roll.
On our last night, we went to Bashi for dinner, which serves Asian cuisine and we had the chicken dumplings ($18), green beans ($15) and glass noodles ($18) with chicken (+$6). I would go back just to get the latter, it was that good. It was a perfect night out (73 degrees and the stars were out) and the coastline was magical, making it the perfect ending to a perfect stay.