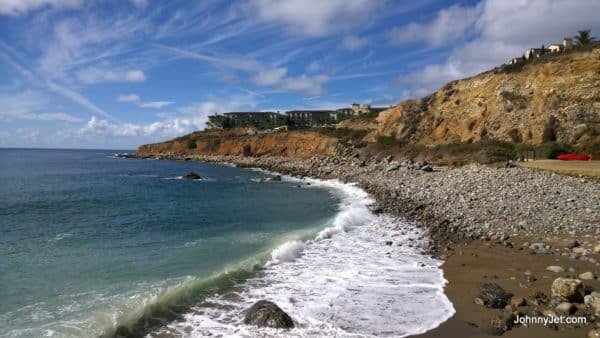 Thirty minutes south of Los Angeles International Airport (LAX) on the Palos Verdes Peninsula coast lies arguably the most beautiful piece of land in the United States. I know this because I spent my sophomore year (pic below) at then Marymount College Palos Verdes (now Marymount California University), living in an apartment complex next door to the land where Terranea Resort would be built. I've been mesmerized by the area ever since and you will be too after just one glimpse of the cliff overlooking the Pacific Ocean and Catalina Island, just 26 miles away.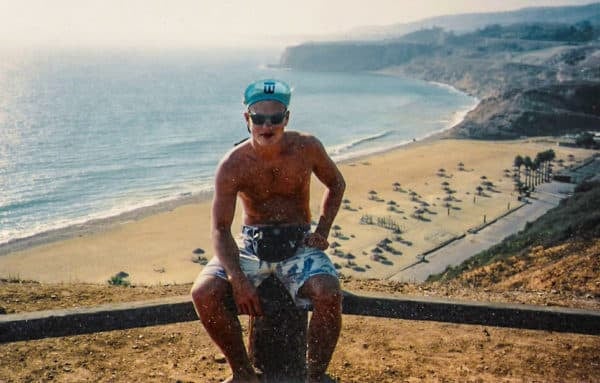 It took me five years since the $450 million resort opened to experience it but thankfully with the assistance of the hotel's PR department, I spent two nights this past weekend. Here are 10 reasons to stay at Terranea Resort.
1. Hollywood uses it as a backdrop
The  102-acre estate features 582 guest rooms and suites built on the old Marineland property. Marineland was built in 1954 and was the largest oceanarium in the world. In 1987, they closed after the owners of SeaWorld purchased it and moved to San Diego. According to Wikipedia, "while still in operation, the park was prominently featured in several television shows, including two episodes of The Beverly Hillbillies, The Munsters, The Partridge Family, Hart to Hart, The Six Million Dollar Man, Emergency!, The Colbys, Wonder Woman, Sea Hunt, and the A Team. In one episode of The Lucy Show, Lucille Ball falls into a Marineland animal exhibit."
After Marineland went bust in 1987, the vacant property was used by major production companies including the first three Pirates of the Caribbean films, Charlie's Angels, Pearl Harbor, The Aviator, and Lethal Weapon. When I was living next door, we would see them filming all kinds of commercials, shows, and movies. In fact, my roommate almost ran over Harrison Ford by accident while they were filming Patriot Games. They also shot part of the movie This Is 40 there.
My point is that the backdrop is so beautiful that it's long been one of Hollywood's favorite locations and now anyone can experience it – not just movie stars or local homeowners.
2. Locals stay there
The piece of land that Terranea lies on is so incredible that one of their biggest customers (if not the biggest) are Angelenos. How many hotels do you know where locals not only use the facilities but sleep there? In fact, while my wife and I were there, we ran into two separate groups of friends who were staying there just for a night and they both live within 20 miles but wanted a staycation. It's a popular place for everyone but especially local women who go for birthday parties or girls' weekends.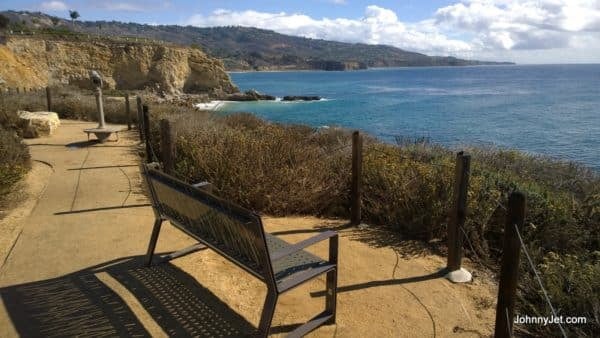 3. Ocean trails
My favorite part of the hotel is the natural landscapes. They did a fine job landscaping the property. The hotel takes up just one quarter of the 102 acres so you can explore more than 75 acres of its natural landscape. The hotel has a coastal trail where you can walk down to a cove that I used to frequent when I was in school. In fact, there's a cave that was used in the opening sequence of the original Batman series, something I just learned. But when we were in college, we just thought it was a perfect place to have parties and bonfires. Keep your eyes peeled because there's a good chance you will see dolphins, sea lions, and whales.
4. Pools
Terranea has three pools: A 5,000-square-foot family pool with 140-foot waterslide and jumping splash pad. There's also an adult pool called Cielo Point, that's for ages 18 and older, and a 25-meter spa pool that's located in the spa complex but requires a spa treatment to use. There are private cabanas and fire pits and if the area looks familiar that might be because this part of the property was featured in the movie This is 40. FYI: The hotel's website says the pools are open from Memorial Day through Labor Day but I was there in November and all three were open.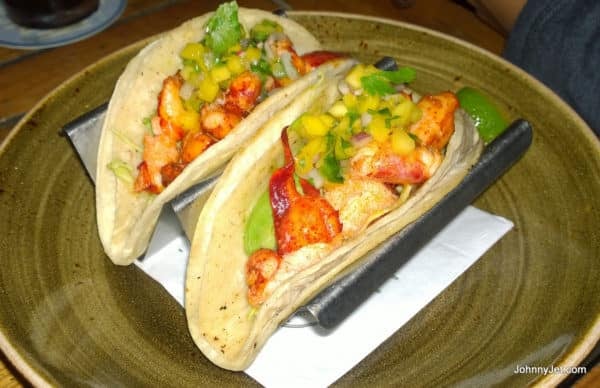 5. Restaurants
The only bummer about being out on the Palos Verdes peninsula is that there are not a lot of dining options and to get to any of them off property you will definitely need a car. It's a good thing that Terranea has eight places to eat, from full-service to casual fare. Their signature restaurant is called Mar'sel, which has a modern twist on California cuisine. Their most popular is Nelson's since it sits on top of a cliff directly above the Pacific Ocean and is very casual with delicious lobster tacos and Nutella ice cream sandwiches for dessert.
For breakfast, I recommend going to the Spa Café and getting the breakfast burrito and sitting by the sparkling spa pool. Here's a list of the other dining options.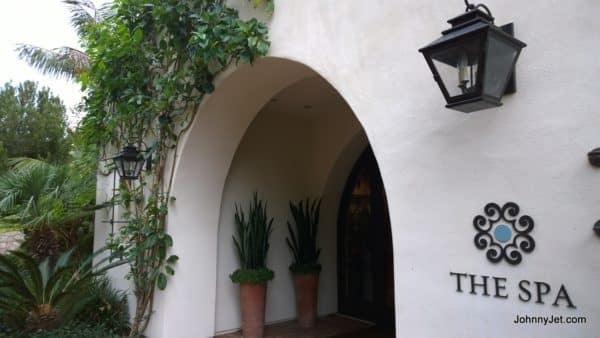 6. Spa
The Good: Terranea has a 50,000 square foot spa and fitness center with 25 treatment rooms and an oceanfront yoga and pilates studio. The place is so nice that in 2012, Travel + Leisure Magazine named it one of the "Top 5 Hotel Spas in the Continental United States." Natalie and I had an incredible couple's treatment in their room directly above the cliffs. They left the balcony doors open so we had an amazing view of Catalina Island and heard the ocean waves crashing down so hard that I was expecting to feel their splashes. Ask for Cecilia.
The Bad: One of the two male attendants watching over the men's room was not very friendly. He wasn't very happy to get off of his computer when they asked him to show me to the lockers and around the facilities. I also didn't like that there weren't any spoons for the nuts and dried fruit that were laid out for guests. So people were just grabbing handfuls with their grubby hands. And I'm not sure if this is intentional or not but after taking a steam, I was looking for a clock to see how much time before my treatment but there was no clock to be found.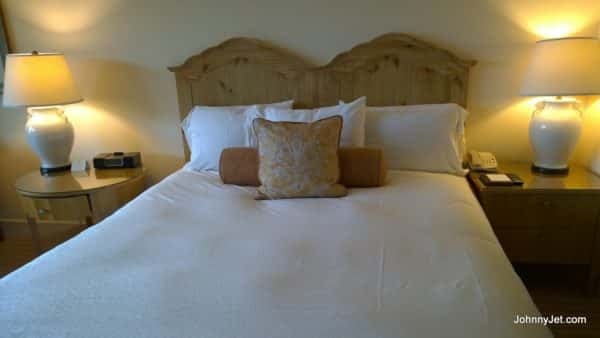 7. Rooms
Terranea Resort has 582 guest rooms and 85 percent of them have ocean views. The main building has 326 guest rooms and 34 suites that range from 450 square feet to the 1,800-square-foot Presidential Suite.
If you want more space and privacy, they have 20 two-bedroom bungalows, 50 three-bedroom ocean view casitas, and 32 villas that range from 1,850 square feet to 2,800 square feet. Each has kitchens and living areas.
All rooms feature soft linens, stone baths, and amenities such as flat-screen TVs, iPod docking stations and Wi-Fi access.
The maids bring two bottles of water at turndown and the in-room mini bar sells large Voss glass bottles for a reasonable (by hotel standards) $6. If driving, stop at the Trader Joe's a mile away on the corner of Palos Verdes Drive and Hawthorne Blvd to pick up large bottles of water for $0.65.
8. Golf
Unfortunately, I didn't have time to play golf on Terranea's 9-hole par 3 oceanfront course for just $27 per person. It was designed by Todd Eckenrode and my cousin Arty plays there all the time and loves it. If you want something more challenging the hotel will give you a free ride to Donald Trump's National Golf Club, which is just a few miles up the road and is a public 18-hole course. Trump charges $150 per player.
9. Activities
Besides golf and the hiking trails, Terranea has a Kids' Club and sea adventures such as ocean kayaking, paddle boarding, and watersports.
They also have falconry to keep the seagulls away and the person in charge is super friendly so don't be shy to ask him about it.
10. Meeting Facilities
I wasn't there for a conference or a wedding but there was a group in-house and it seemed like a fine place to have a large function since Terranea has more than 135,000 square feet of flexible indoor and outdoor event space. Here's more information.
Good to Know:
Terranea charges a $25 per day resort fee which includes:
Complimentary glass of Champagne at check-in
Unlimited in-room high-speed Internet access, wireless and hard-wired in guest room & all public space (not in meeting rooms )
Nightly turndown service
Complimentary In room coffee & tea set up
Daily newspaper delivery
On site transportation to all venues including 3 sparkling pools & secluded beach cove
Transportation within 5 miles of resort to include Trump National Golf Course and Los Verdes Country Club / Shopping / Tennis (not valid for group transfers)
Complimentary local & 800 access calls
Trained Naturalists for guided tours
Full access to The Fitness Center
Complimentary daily yoga and Pilates classes
Access to The Links at Terranea's short game practice area
Pool & Beach Service (chairs / umbrellas
-Normal check-in time is 4:00pm and check-out time is 12:00 noon.
-Valet parking: $35/night
-Non-Resort Guest Parking: Saturday and Sunday Valet: $20 ($10 with validation)
-Monday – Friday Valet: $10 ($5 with validation)
As you can see Terranea is a special place in one of the most beautiful locations. During our stay, we did have some service issues – particularly with a few bad apples who gave us a bit of attitude but overall we really enjoyed it and can't wait to go back when it's a bit warmer. Room rates begin at $365 but occasionally they run specials on sites like LivingSocial.com.