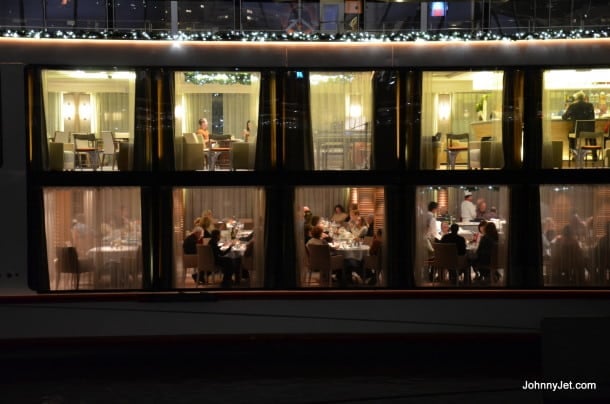 River cruising is one of the fastest-growing segments of the travel industry, so recently, I decided it was time for me to put away my prejudices (ie: river cruising is only for older people) and check it out for myself. I went on two European river cruises in the past six months: the first was in the summer on Scenic Cruises and the other was last week on Viking for a Christmas market cruise. Both were seven-day trips on the Danube and both were amazing experiences.
On Scenic (here's my story) we began in Budapest, Hungary and finished in Regensburg, Germany. My Viking trip was almost the exact itinerary except we stopped in Bratislava, Slovakia and were headed in the opposite direction.
Obviously, I had no idea what to expect. But in short, I was pleasantly surprised by both experiences. Besides the fairytale-like scenery, there are many other reasons to go on a European river cruise. Here are 11 to consider:
1. You won't get seasick
I know tons of people who have no desire to go on a cruise because they are afraid they are going to get seasick. I was one of those people and though I rarely get seasick on the big ships, I can still feel them moving. On a river cruise, the water is so flat you can barely tell when the ship is moving. Only once in a while did I feel it and it was when we made a turn or went through a lock. I've heard of many people getting seasick on an ocean cruise but never anyone on a river cruise. You? In fact, you don't even see seasickness remedies like ginger or green apples out like you do on the ocean cruises.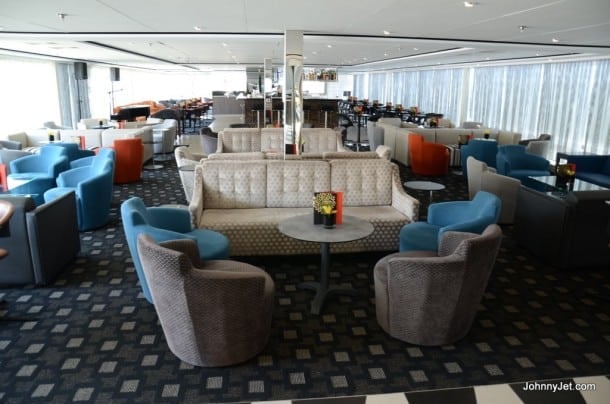 2. You won't feel claustrophobic
Another reason many travelers don't want to go on a cruise is because they are afraid they are going to feel claustrophobic. Again, I was one of those people. But these ships are big (443 feet long) and since they stop at least once a day, you won't even have time to feel claustrophobic or trapped. There's way too much to see and do.
3. You don't have to worry about sinking
One of the best parts of a European river cruise is the fact that land is never more than 100 yards away—so you don't have to worry about sinking in open waters. In fact, the rivers are so shallow that one of the cruise directors said in his welcoming remarks that if we do start to sink, just go up to the top deck and bring a drink from the bar.
4. You don't need to take any tenders
One of the downsides of taking an ocean cruise is that it takes a while to get on and off the ship. There are so many passengers and there are a lot of ports that are not large enough to accommodate these mega ships so they have to use tenders, which takes even longer. On most river cruises, there aren't more than 190 people so there's no waiting and they always dock so there's no need to take a tender. Note: You will most likely encounter a scenario when your ship will tie up to another ship (usually from the same company) so you might have to walk through or even over another riverboat. The worst part about tying up next to another ship is that you may lose your view.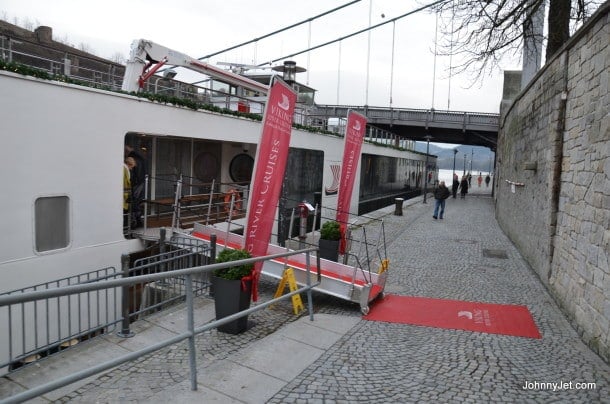 5. No going through security
On big ships, they all have airport-like security, which is another reason why they take longer to embark and disembark. Fortunately, they aren't as tedious and usually only take a few seconds per passenger to go through and for your bags to be screened. On river cruises, they don't have any of that … yet. I asked what happens when a stranger comes aboard and was told that since the ship is so small, the crew members all know who belongs and who doesn't.
6. You can walk from the ship into town
Another huge plus about taking a river cruise is that the docks are usually right in the center of the town. Only once on my two trips did I have to take a bus to get into the city center and that was Vienna. The good news is that the cruise companies offer free shuttles to and from the city and there's also a subway station close to the river in Vienna.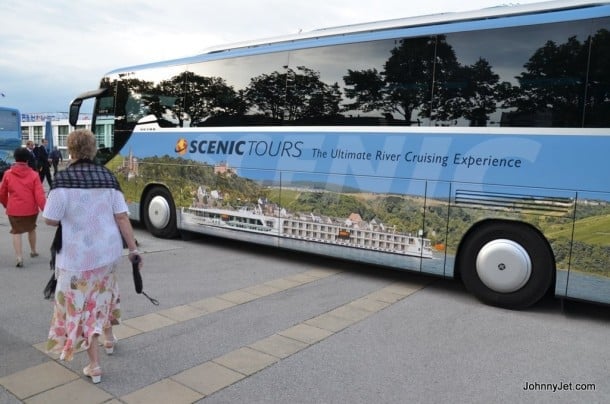 7. Excursions are included
Both cruises that I went on included the excursions so there's no need to hurry and sign up like you need to on ocean cruises. And you don't have to shell out any more money. Note: Every excursion on my Scenic cruise was included – they didn't even offer any as an upsell. On Viking, they do have a few optional excursions that come with a surcharge. One was a trip to a vineyard to go wine tasting and the other was to see a Mozart concert in Vienna.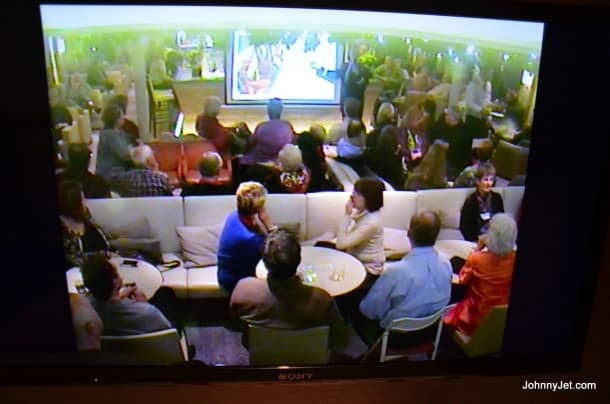 8. You won't get bored
Although river cruise ships are nothing like ocean cruises since they don't have the large variety of restaurants, bars, nightclubs, casino, theatres … you still won't get bored. First of all, you are so close to land, you always have something to see. Secondly, they do have some programing (see below) and a small library with books and board games. But the big reason you won't have time to get bored is that river cruises don't have any sea days so you will be in a new port at least once a day.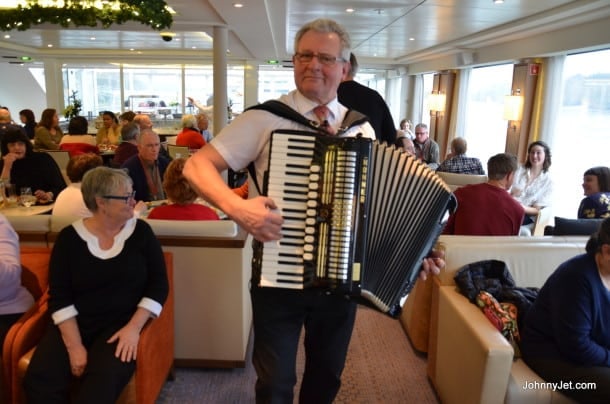 9. Great local talent onboard
Both of my cruises brought local performers to sing and dance for the passengers on multiple days. They also had guest lectures where you can learn about the different destinations or customs. On top of that, they often coincided those visits by serving local dishes and drinks.
10. You can stay connected for cheap
This could be a negative but in this day and age of being connected 24/7, I doubt many people will feel that way. What's great about being so close to land is that you have cell reception almost the whole time. If you have a good international plan (T-Mobile offers free international data), you can always be connected. Also, both cruises that I went on offered free WiFi. Granted it's satellite and super slow but you can still send emails 95% of the time. But don't plan on streaming video or using Skype — it's just not gonna happen with their limited bandwidth.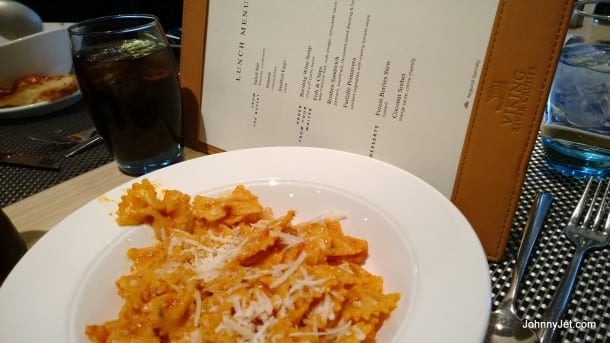 11. Tasty meals
Just like on large ocean liners, all meals are included. But because these ships are so much smaller, they don't offer fancier restaurants for an upcharge. On both ships I went on, the food was surprisingly good and they had two different places to dine – the main dining room downstairs or the bar area upstairs. The downside is that meal times are set and neither offers room service.
So there you have it – 11 reasons to go on a European river cruise. Have you been on a river cruise? Did you like it? Do you agree or disagree with me? Did I leave out anything? If so, please leave your comments below.
Happy sailing!
WANT TO GO? Interested in going on a cruise? We have partnered with Cruise Planners which is a top rated travel agency to help plan your perfect trip. Contact Mike Gelman (1-800-724-5868) and tell him Johnny Jet sent you.