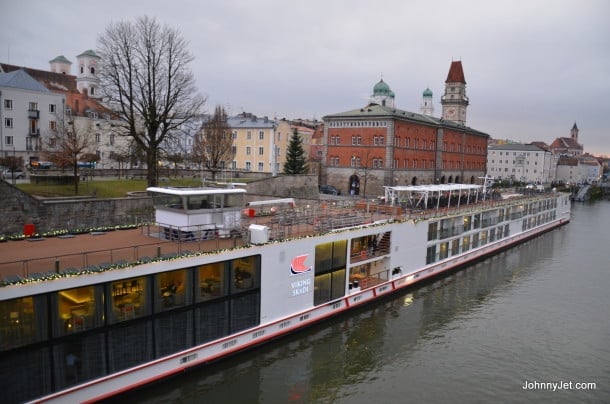 As you probably know by now, river cruising is one of, if not the, fastest-growing segments of the travel industry. Last summer, I decided it was time to put away my "only for old people" stereotype and check out river cruising for myself. My summer cruise down the Danube was so much fun that I went back again last week, this time with my wife, to visit a handful of Europe's Christmas markets. Both were seven-day trips on the Danube and both included numerous unforgettable experiences.
My summer Scenic cruise (here's my story) began in Budapest, Hungary and finished in Regensburg, Germany. My late autumn/winter Viking cruise was virtually the same itinerary except that it was headed in the opposite direction and we stopped in Bratislava, Slovakia for a few hours instead of sailing by as we had in the summer.
Besides the fairytale-like scenery, here are 20 reasons to go on a European Viking River Cruise.
1. New Ships
Viking River Cruises currently has a fleet of 37 ships. Most of their vessels have been built or renovated since 2000. In fact, last March (2013), they set a Guinness Book of World Records record by launching an unprecedented 10 ships at one time. And next year, they are building 15 more.
2. Longships
Viking calls their new vessels Longships and by the end of next year, more than two-thirds of their European fleet will be Longships. Viking's Longships are all 443 feet long, have 95 cabins and can accommodate 190 passengers as well as 50 crewmembers.
3. Friendly service
With the exception of the bus driver who picked us up from the Munich Airport, all of the Viking crew members I encountered aboard Viking Skadi were super friendly. Unfortunately, I can't say the same about some of the passengers (whom I found not to be too friendly) but Viking does a fine job hiring. My two favorite crew members are pictured above; Joey, the program director and Wilhelm, the hotel manager. They were so cheerful, it was infectious.
4. Balconies
There are three floors to Viking's Longships. The top two floors have staterooms that either have a veranda or a French balcony. The staterooms on the first floor, near the water line, just have a window. Obviously, it costs more to be on the top and it's worth it if you like a lot of natural light, fresh air and plan to spend a good amount of time in your room. Otherwise, you can book the bottom floor and spend most of the time off the boat or in the ship's public areas/decks.
5. Comfortable staterooms
The staterooms look small (135 square feet to 270 square feet) but are comfortable and well designed. They all have private bathrooms and plenty of closet and drawer space. They also all have safes (though we didn't use ours once), and all come with air-conditioning and heat.
6. Refrigerators
Each cabin has a mini refrigerator so if you want to buy a snack for later or chill your drinks, it's there. We never opened ours except to take the photo above.
7. Flat screen TVs
The cabins each have a Sony 40-inch flat-panel TV with live TV like CNBC, CNN, National Geographic, MGM Movies, Sky Cinema. There are also videos on demand at no additional cost. Many of them were Christmas- or European-themed to match our trip and Natalie and I ended up watching The Sound of Music, It's a Wonderful Life and French Kiss on the days we woke up early because of jetlag.
8. Live webcams
My favorite feature of the TV was their live webcams. The "View From the Bridge" is great to see the views and weather without having to get out of bed. And I liked to listen to the program director discuss the following day's itinerary without having to go into the lounge. Lazy, right? And at night, the camera is also pointed at Sylvia, the wonderfully talented nightly pianist.
Note: One negative was that the ship doesn't provide passengers with very good maps with GPS, like other ships I've been on.
9. US and European plugs
When I was on the plane to Munich, I was kicking myself for forgetting my power adaptor and power strip but I was pleased to see that our cabin had both US and European plugs, which made things much easier.
10. Bottled water
Every day, our cabin attendant would bring us a new bottle of water. They bottle their own water onboard the ship and use glass containers except when they hand out plastic bottles to the passengers as they head out on a day's excursion. Also, the bar tender freely doles out Evian bottles.
11. Heated floors
I love a bathroom that has heated floors and I was happy to learn Viking has them.  It's extra nice on a winter cruise when it's cold outside and all you want to do is warm up quickly.
12. L'Occitane Toiletries
Speaking of the bathroom, it's small but clean and the shower has decent water pressure and plenty of hot water. It's stocked with large soft towels and L'Occitane bath products.
13. It's quiet
Not only are the walls thick so you can't hear your neighbors (except when they flush their vacuum-powered toilet) but on ships built in 2009 or later, they have hybrid diesel-electric engines. These engines use 20% less fuel and help the ship create its own membrane water treatment plant. And they have noise-insulated engine rooms to reduce noise and vibration. And the balcony doors slide really smoothly so there's no noise from them either.
14.  Most excursions are included
On a Viking River Cruise all but a few added-on excursions are included. One was a trip to a vineyard to go wine tasting and the other was to see a Mozart concert in Vienna. My biggest disappointment of the trip was the concert. Because I was an invited guest, I didn't have to pay the $48 ticket price but if I were Viking, I would switch venues, even if it requires charging more. The place they brought us to was a huge disappointment. The musicians were great but the venue was unimpressive and there was a ridiculously long for the mandatory coat check. I don't understand the mandatory coat check (why??) and on top of that, they charged 1 euro per jacket. Felt like a racquet to me. Here is a photo from the venue I went to with Scenic Cruises over the summer.
FYI: I was told that Viking is the only cruise with its own winemaker.
15. Top deck
Like all river cruises, the very top deck is set up with lawn chairs so you can soak up the sun. Since it was freezing cold out, they didn't have many chairs but you can see it would be a popular hangout in the summer. In addition, Viking even has and a jogging track up there (13.75 times around the track is a mile) and there's an oversized chess board.
16. Aquavit Terrace
At the bow of the ship is an indoor-outdoor Aquavit Terrace for alfresco dining. It was too cold to go outside but we did dine numerous times in the indoor part. This is where they serve a light lunch for those who don't want to go down to the dining room.
17. The food is good
Everyone in our group and all the passengers I spoke to were really pleased about how good the food was. I think out of all the times I ate on the ship, I only had one mediocre meal. And as an Italian I'm pleased to tell you that the pasta was really good. Another plus is that the meals don't take long. Service for the most part is prompt so you won't have any long meals unless you choose to linger over yours.
18. Coffee/tea stations
Although Viking doesn't offer room service and meal times are set, we never went hungry, even when we slept in. The main reason is that there are two, 24-hour coffee/tea stations. They also have hot chocolate and to-go cups. There are also muffins and donuts in the morning and cookies in the afternoon until 6pm.
19. It's casual
You may have heard that on some ships, you need to bring formal clothes for certain nights. Not on Viking. It's casual, though you probably don't want to wear shorts in the dining room at night. Note: The only time I wore a jacket was to go to the concert in Vienna.
20. Local entertainment
A few times, Viking brought in local entertainment to sing and dance for the passengers. My favorite was the group they brought to Linz to sing songs from The Sound of Music. Note: Most Austrians have never seen the movie The Sound of Music. Those who have say it's a Hollywood fairy tale that's not quite accurate to the true story and struggles of the Von Trapp family.
Good to know:

Each Viking Longship is named for a figure in Norse mythology. Ours was named Skadi, the Goddess of winter, hunting and skiing.
All Longships are the same except for the artwork at the top of the main stairwell, which features a painting of whatever the ship is named after.
I brought a pocket umbrella as I always do but the ship supplies umbrellas large enough for two to everyone.
We had fresh fruit in the room but rarely ate it since the breakfast and lunch buffets offered plenty and a good variety.
Viking caters to mostly Americans and I'm pretty sure 95% of the passengers were from the good ol' US of A.
As you can see, Viking is a first class company and there's not much not to like.
WANT TO GO? Interested in going on a cruise? We have partnered with Cruise Planners which is a top rated travel agency to help plan your perfect trip. Contact Mike Gelman (1-800-724-5868) and tell him Johnny Jet sent you.