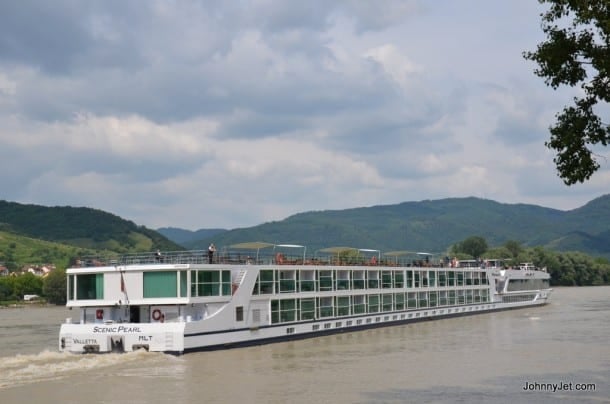 River cruising is one of the fastest-growing segments of the travel industry, so recently I decided it was time for me to put away my "only for old people" stereotype and check it out. I jumped at the first invite I received, which was to join Scenic Cruises on a seven-day trip up the Danube.
Note: The original plans had me starting in Nuremberg, Germany and ending in Amsterdam, but due to Europe's record flooding, my itinerary changed a few days before leaving. I was assigned to a new ship called the Scenic Pearl, and we began in Budapest, Hungary and parted ways in Regensburg, Germany.
Obviously, I had no idea what to expect. But in short, I was pleasantly surprised with the experience. Besides the fairytale-like scenery, one of the best parts of a European river cruise is the fact that land is never more than 100 yards away—meaning you don't get seasick and you don't have to worry about sinking in open waters. On top of that, the rivers are so shallow that our cruise director said in her welcoming remarks that if we did sink, we should just go up to the top deck and bring a drink from the bar. Ha!
Here are my 12 reasons to take a Scenic Cruise in Europe: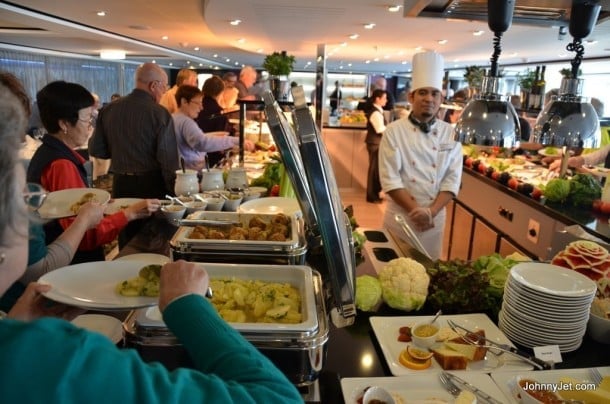 1. Everything is included
Everything you need is included: airport transfers, tips, meals, drinks, excursions…you name it, from the time you land to the time they drop you back off at the airport and pretty much everything in between. At least, everything but the onboard spa, hair salon, satellite phone and laundry. Note: If you arrive/depart earlier or later than the time scheduled you need to arrange for your own airport transfers.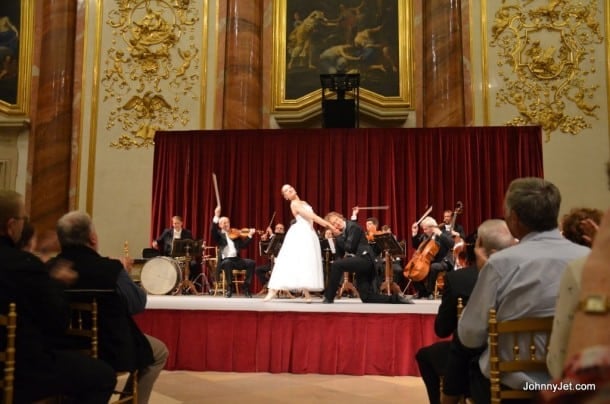 2. All excursions
I know I included it above, but just in case you are skimming, it's worth another mention: All excursions are included! They don't even offer others as an up-sell. Even more amazing (even than their new buses with comfortable seats) is that they arrange for exclusive events like the private performance we received by the Vienna Imperial Orchestra at Liechtenstein Palace in Vienna.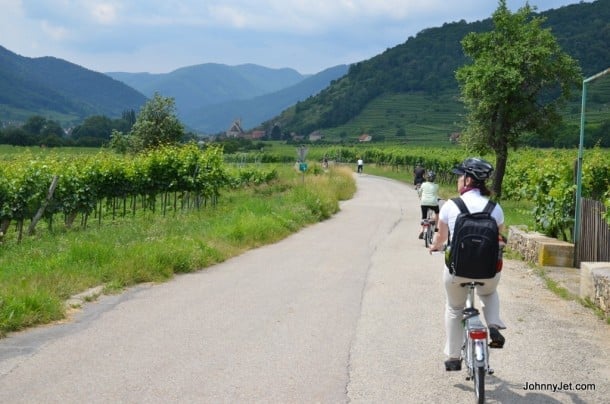 3. Electric bikes
My favorite excursion was a 32-kilometer (19-mile) bike ride through the Wachau Valley in Lower Austria. What made it so special besides the scenery were Scenic's custom-made bikes (they normally have 30 aboard each ship) which have electric motors for a little extra boost. It's not a mo-ped so you still have to pedal for the booster to kick in but it sure does make it easier and fun. In fact, everyone, including me, at our first stop inquired where we could buy one because after these things, riding a bike will never be the same.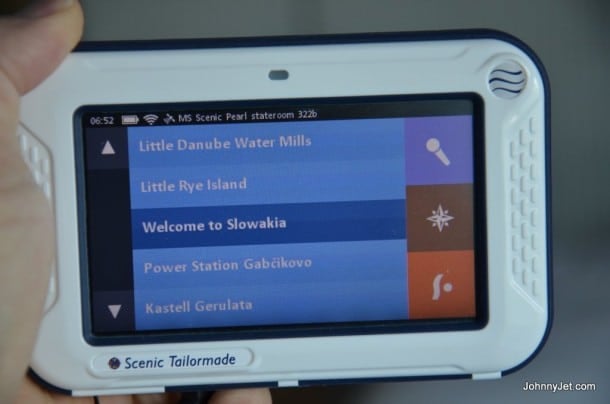 4. Scenic Tailormade GPS guides
In every cabin is a brand new pair of Scenic Tailormade devices. They are exclusive to Scenic and feature over 100 sightseeing touring options, all GPS-activated to ensure the location of the device triggers region-specific commentary. With these devices, you have the choice to take a self-guided walk or cycling tour. What's also nice is that when on a group tour, you can just press the microphone icon, choose the specific channel and you'll hear the guide's commentary. It's brilliant.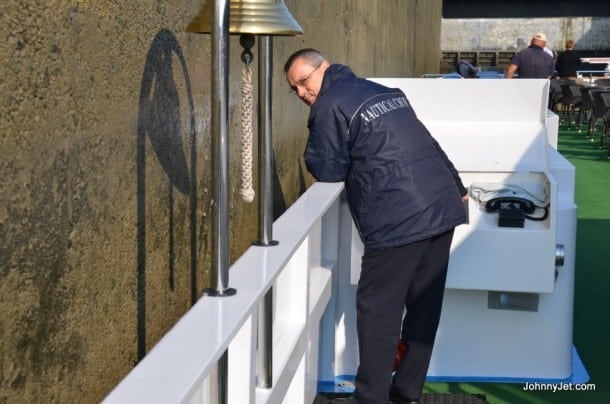 5. More room
Scenic has the largest ships on the market, which is probably why they refer to them as 'space-ships'. They are 135-meters long (443-feet) and 11.45-meters wide (38-feet). I was told by one of their representatives that if they were even two inches longer or wider they wouldn't fit in some locks. But just because they are the biggest doesn't mean they have the most passengers. In fact, Scenic's boats have a maximum capacity of just 171 passengers while other companies hold 220—on similar or smaller ships.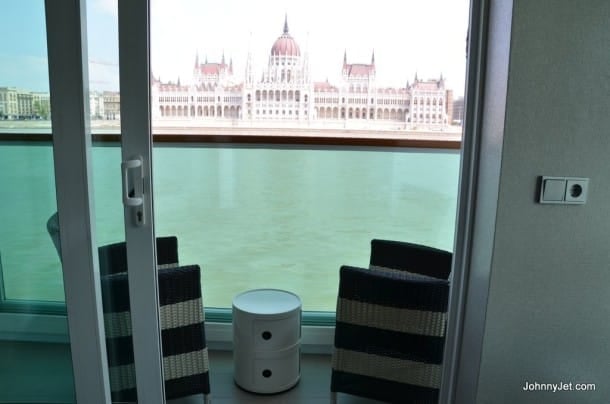 6. Sliding-glass windows
88% of the cabins on Scenic's boats have balconies. The boats themselves are three stories high, and the only cabins without balconies are the ones on the first level. Balconies are approximately 36 square feet and are furnished with two chairs, a table and an electric sliding-glass window. What's nice about the windows is that with a push of a button, you can keep away the cold/heat, rain/snow or bugs. They make for a comfortable atmosphere.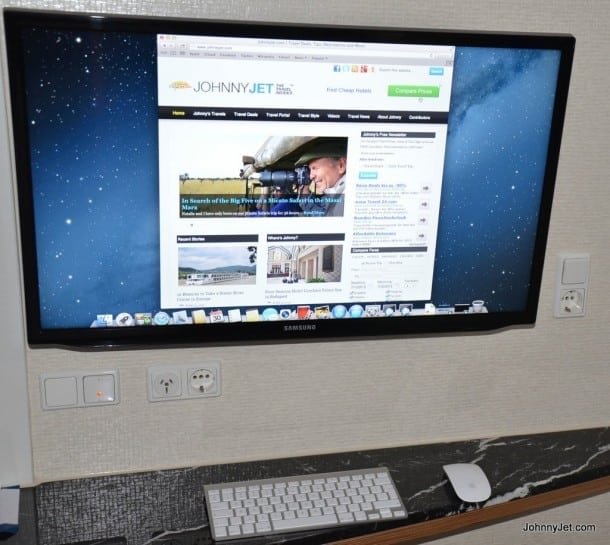 7. Mac minis
Each cabin has an Apple Mac mini computer linked to its Samsung HD flat-screen TVs. The Mac mini provides in-stateroom access to the ship's upgraded Wi-Fi system so you can stay connected to home on the TV screen.
8. Free Wi-Fi
That's right, there's free Wi-Fi onboard the ship. While you're floating through Europe, you can also be surfing the web, updating your Facebook status or Skyping the family back home using satellite and UMTS mobile technology. Note: The signal is strongest in port and didn't work 100% of the time, but it sure is nice to have when it does.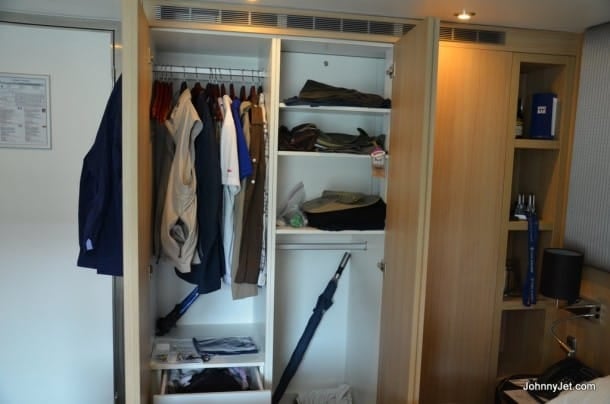 9. Two free pressings a day
There are no laundry facilities onboard, but if you need yours done, you can send it out for a charge (pretty hefty). However, they do offer two articles of clothing pressed per day, per person for free. That's huge for me since I hate ironing.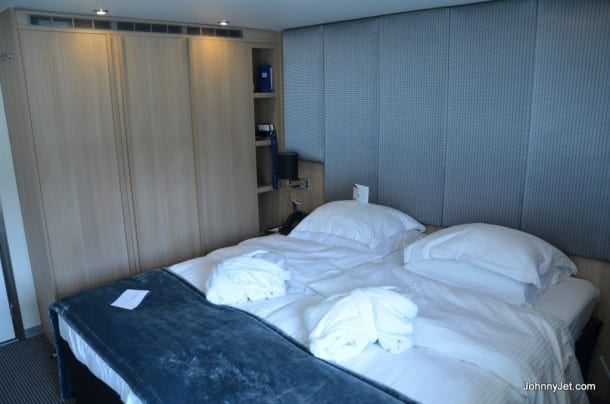 10. Pillow menu
Have a difficult time sleeping away from home because the pillows you're given are either too bulky or too small? You'll be happy to learn that Scenic Cruises has a pillow menu so passengers can select exactly the size/feel that suits them. And, they are happy to give you extra ones if you want them.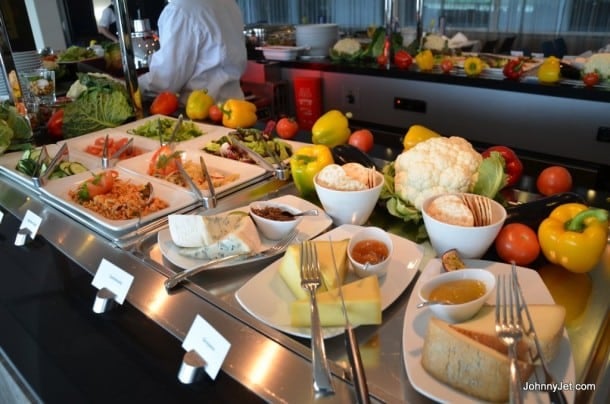 11. Local foods and wines
The food onboard Scenic Cruises is quite good and fresh, and there was always a good selection of local dishes and wines.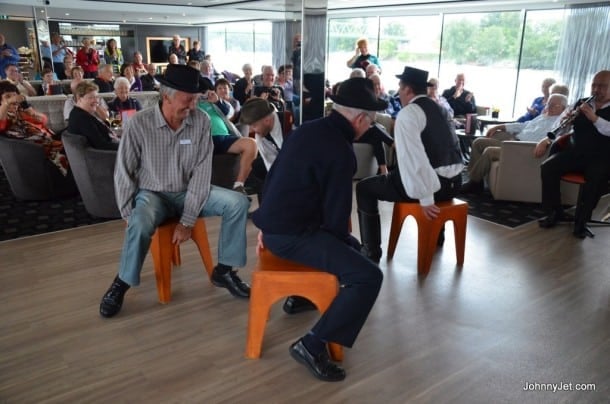 12. Aussies
Finally, Scenic Cruises/Tours is Australian-based, which is why the majority of passengers on your cruise will be from Australia. Out of the 171 passengers on our cruise, 150 were from Down Under! I find it really nice traveling with Australians because they are fun, down-to-earth and casual people who love to have a good time.
Good to know:
They send every guest a backpack before leaving.

There are 68 locks between Budapest and Amsterdam.

3.5 guests to each staff member.

There is no special dress code on board and no requirement for formal jackets or ties.

There's a fridge in each cabin that's fully stocked each day free of charge.

The nightly entertainment onboard isn't much—just one mediocre piano player. However, a couple of evenings they brought in local entertainers and dancers, who were great.

On-board electricity is 220 Volts and cabins are equipped with European and Australian power points. Bring an adaptor and a power strip if you want to charge multiple devices at once.

The engine room is located on the Rhine Deck at the stern end of the ship but it's sound-proofed, and noise was never an issue.

Sometimes riverboats dock side-by-side with other ships, so it's possible you might not have a view in specific ports.

There's one main dining room and a café next to the bar. They also have a recreated Italian restaurant at the front of the ship that can accommodate 32 guests each night. There's no extra charge, but you do need to make reservations once you get onboard the ship.

For those guests on the third floor, there's an invitation-only chef's table, which is in the rear of the main dining room.

If you have special dietary needs, let them know in advance and they can accommodate—unless you require Kosher food.

The staff aren't anal about guests using hand sanitizer before going to the dining room like cruise ships. In fact, the dispenser is kind of off to the side.

There's live TV, an on-demand video library (some free) and a live webcam.

Here's a link to the 

ship's locations.

More 

Scenic FAQs.
WANT TO GO? Interested in going on a cruise? We have partnered with Cruise Planners which is a top rated travel agency to help plan your perfect trip. Contact Mike Gelman (1-800-724-5868) and tell him Johnny Jet sent you.