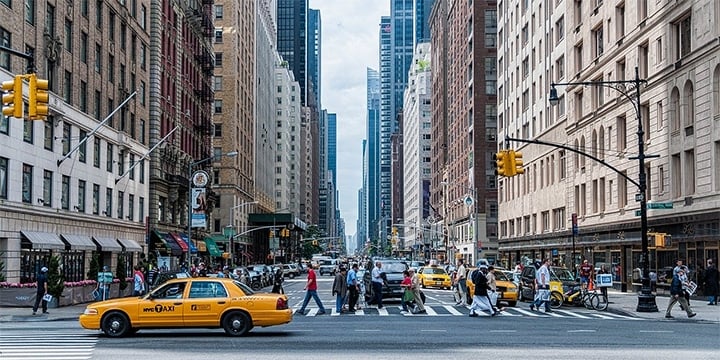 This afternoon, my wife casually mentioned something about a TikTok video she watched last night and I have to admit, I'm a bit stunned. Maybe I've been in quarantine too long. But here we go:
Apparently, back in 1893 (that's right 1893), a man named Ingersoll Lockwood wrote a series of books, most notably, one called Baron Trump's Marvellous Underground Journey and The Last President. These books and the fictional characters within draw some eerie similarities to the current first family of the United States. But the part that really shook me is a scene that plays out in Lockwood's third novel, The Last President.
"The story begins with a scene from a panicked New York City in early November, describing a "state of uproar" after the election of an enormously opposed outsider candidate.
"The entire East Side is in a state of uproar," police officers shouted through the streets, warning city folk to stay indoors for the night. "Mobs of vast size are organizing under the lead of anarchists and socialists and threaten to plunder and despoil the houses of the rich who have wronged and oppressed them for so many years." "
The Fifth Avenue Hotel will be the first to feel the fury of the mob," the novel continues, citing an address in New York City where Trump Tower now stands."
What?! That's crazy, right? What's even crazier, is that the novel's elected president appointed someone named Lafe Pence to his cabinet. This weird connection has been written about before, around 2017, from what I can tell, when people discovered these books and the similarities to today's politics but I'd never heard anything about it until now, thanks to my wife's late-night TikToking. There's definitely some interesting reading on this subject, like this Politico article: Trump Is the Star of These Bizarre Victorian Novels And the Internet is losing its mind.
Good to know: According to Snopes: "Both of the books are archived by the Library of Congress and can be read in full on Archive.org. Baron Trump's Marvelous Underground Journey was published in 1893 and 1900: or, The Last President came out a few years later. According to the Encyclopedia of Science Fiction, Lockwood penned at least one other book about the Baron Trump character, The Travels and Adventures of Little Baron Trump and His Wonderful Dog Bulgar, which was published in 1890."
So – whether you believe this is a century-old prophetic work or a simple coincidence, my one takeaway is that it might be best to avoid New York City in November!  What do you guys think? Drop a comment below – would love to hear your thoughts!
---
Have your own tip? Email it to whitney@johnnyjet.com!
Want to see more tips? Click here for all 1,767!
Want even more travel tips? Sign up here for the Daily Travel Tip newsletter! Enter your email address and check "Daily Travel Tip" to receive Johnny's best tips in your inbox each day!
If you already subscribe to our weekly newsletter, you can sign up on the same page. Just fill in your email and check "Daily Travel Tip" on the same page. You'll receive an email with a link to update your JohnnyJet.com preferences. On that page, just click the Daily Travel Tip box and Update Profile.