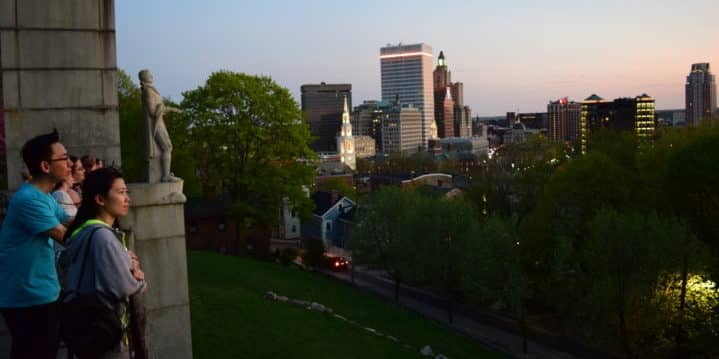 You can find just about any type of food your heart desires in Providence, Rhode Island, one of the oldest cities in the U.S. There are many options to choose from in Federal Hill and the downtown area, from Mediterranean to Peruvian to fresh seafood and amazing Italian in Federal Hill's "Little Italy." And don't forget the coffee scene and the amazing artisan cheeses taken directly from local farms.
I got to know the Providence food scene by visiting many area restaurants and also attending the Grand Tasting at the Eat Drink RI Festival, an annual food and drink extravaganza that showcases local businesses and their food and drink.
This year, the festival was in the convention center and the perfect distance from my hotel—as in actually connected to the Omni Providence Hotel. The friendly staff, the convenient location and the fact that it was newly renovated are the top reasons this hotel was key to sampling all the great food Providence had to offer.
Not only does the city have numerous award-winning restaurants, but—as home to Johnson & Wales University—it is also a major center for culinary arts education. In fact, many of the famous chefs from JWU end up back in Providence. Some well-known alumni include Emeril Lagasse, Tyler Florence and Sam Talbot. After the festival and eating my way through Providence, I came away with many favorites. Here's what to eat in Providence, in six-plus stops:
1. A "grand blind tasting" at Gracie's
Chef Matthew Varga at Gracie's is one of those grads that came back to Providence. Chef Varga sources the freshest ingredients from the restaurant's very own rooftop garden at the Peerless Building. Try the "blind tasting menu" where you are served a 5-, 7- or 9-course tasting paired with wines for each course. (You might ask what is possibly in nine courses…well there are three courses of desserts!).
And that word "blind" is the key. You have to put your full faith in the kitchen for this one because none of the courses are listed on the menu. My favorites included an olive oil cured tuna with artichoke and crispy quinoa; duck breast with morel mushrooms, asparagus, split peas; and a dessert of a heavenly saffron custard, olive oil cake, pistachios, and apricot and honeycomb ice cream.
2. Italian in Federal Hill's Little Italy (incl. ravioli at Venda Ravioli)
The city is perhaps most famous for its Italian food, which is found predominantly in the Federal Hill section of Providence. This funky area is bursting with Italian grocery stores where you can sample cheeses, charcuterie, olive oils, balsamic vinegars, and many more classically Italian ingredients. And you can't forget the famous Venda Ravioli, known for its ravioli.
At Venda, I munched on fried buffalo chicken ravioli (in buffalo sauce!) and wanted to buy all the ravioli I saw in the big refrigerators stocked with ravioli for sale. I had my eye on the burrata cheese ravioli, lemon zest and ricotta ravioli, prosciutto and provolone ravioli, eggplant tortellini, and spinach angelotti.
3. Raw seafood at Oberlin
Because the city is located on the shores of Narragansett Bay, local restaurants also make good use of the abundance of fresh seafood, offering fabulous, creative dishes. A newcomer to the restaurant scene, Oberlin, got me to try my first ever raw scallop. It tasted like a soft pillow of wonderfulness, served with some crunch (sesame and radish).
That was followed by soft pillows of potato wonderfulness, potato gnocchi. The meal was rounded out by raw kingfish and raw dry-aged Vermont wagyu beef with tomatoes and shallots. Many of the menu options are from the bay or greater New England.
Chef Benjamin Sukle of Oberlin (and also birch) is actually a finalist for the 2017 James Beard Award in the "Best Chef: Northeast" category.
4. Peruvian at Los Andes
A strong Dominican population has also made home in Providence, infusing the flavors of Latin America throughout the city. At Los Andes Restaurant, an amazing chef cooks some of the best Peruvian food around. I got to meet Chef Cesin Curi himself at the food festival, where we was making his famous ceviche. He told me that he enjoys making Peruvian food because it blends other cuisines so well. The must-try dish at Los Andes is the ceviche, of course.
5. Cheeses from Narragansett Creamery
Daily handcrafted cheeses are made at the local Narragansett Creamery. The husband-and-wife team uses high-quality New England milk from cows not treated with any antibiotics or growth hormones. We sampled the burrata, Atwell's Gold Italian-style, aged nearly a year with nutty and caramel tones, as well as the award-winner, the Renaissance Ricotta. Beyond the incredible taste of the cheeses, the team's friendly attitude stuck out to me.
6. Coffee milk at Dave's Coffee & Rhody Fresh
If you aren't from Rhode Island, you may not be familiar with the type of milk everyone seems to drink there: coffee milk. I met a husband-and-wife team at the Eat Drink RI Festival that couldn't have been kinder in teaching me about this local staple, which is essentially milk with sweet coffee syrup/flavors. Imagine having that option on the table growing up!
You can try it for yourself just about anywhere in the city. A local brand of coffee milk I enjoyed was Rhody Fresh, a co-op that uses milk, cheese and butter from local Rhode Island farmers. Dave's Coffee also makes a great coffee syrup, which you can also just add milk to (and which I brought home with me!).
---
For more on Providence and the 2018 Eat Drink RI Festival, check out eatdrinkri.com.